Irish stage and screen great Niall Tóibín was last night honoured with the Irish Film & Television Academy's (IFTA) Lifetime Achievement Award at the Academy's 'Life On Screen' event in Dublin's Irish Film Institute.
President elect Michael D. Higgins was on hand to present Tóibín with his award, , on one of his first public appearances since the Presidential election, with both Tóibín and Higgins entering the auditorium to respective standing ovations.
On presenting Niall Tóibín with his award, he said of his old friend "The only reason I am here is to pay tribute to the lifelong contribution Niall Tóibín has given to the world of theatre and film and arts generally and to the necessary subversive humour that keeps us all alive.
"I was honoured to be asked to present him this Lifetime Award. I'm on a temporary silence just at the moment, but I'm very delighted to break it to honour Niall.
"What he has is presence, and to go with that presence is a great sophisticated brain, behind all of that is a great and wonderful heart that not only has compassion in it but aspires to the best things that all Irish people might aspire. He goes on, and will go on and on and on, and I wish him well health and happiness."
The two friends embraced before going on to the auditorium where Tóibín reminisced on his life as an actor and stand-up comedian.
On receiving the Lifetime Achievement Award from IFTA, Niall Tóibín said; "I can say in all honest I never expected anybody would elevate me to that sort of level, I'm not saying there is anything wrong with their thinking, but thank you all.
"May I say it is the greatest honour that I could have to have Michael D on the platform here with me. I can call him Michael D because he is only President elect, once he becomes president I will have to say your highness or your Excellency!
"We have known each other for a long while, I am very flattered and indeed honoured that he came here this evening. If you have any problems up there, just give me a ring. I'll do me best for you!"
Speaking about the event, IFTA Chief Executive Áine Moriarty said: "The Academy is delighted to honour and celebrate the unique and extraordinary talent of Niall Tóibín who is one of the finest actors and comedians of his generation."
The 81 year old actor took part in an in-depth interview with Gay Byrne, with whom he shared the screen many times on 'The Late Late Show'. In front of family, friends and former colleagues, Tóibín regaled the audience of how he spent only an hour on the set filming scenes 'Veronica Guerin', to director Joel Schumacher's astonishment and admiration.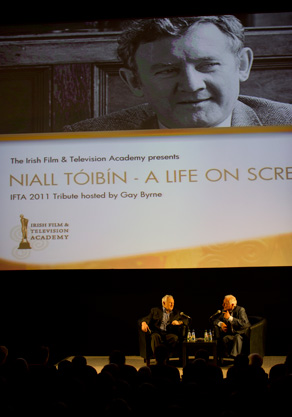 Gay Byrne conducts "In Conversation With..." Toibin
Later in the interview, Tóibín showed his emotions whilst talking about his late wife, Judy, who died after a long battle with cancer 10 years ago. She was a "wonderful woman with a big heart," he said, before telling Byrne the story of their first date at the Dog Racing track in Harold's Cross.
Speaking with Byrne, Tóibín showed his trademark self-deprecating humour, when asked why he got into acting, Tóibín responded "Because I knew I was great and because it made me rich, not really."
Tóibín later thanked Gay Byrne for his encouragement and help during the 1970's when "ladies with religious problems and banners and so on, hounded me on the streets of Dublin" after the controversial 'Time Now, Mr. T'.
He rated his stage appearance as Brendan Behan in The Borstal Boy as the highlight of a long career on stage, screen and television. Tóibín knew the writer personally in the 1950s, describing him as an "absolute howl" when sober but a "pitiful drunk."
Having acted alongside Tóibín on a couple of occasions, Frank Kelly said that Tóibín's portrayal of Brendan Behan was "more like Behan than Behan himself," and spoke of their time together on the 'Ryan's Daughter' set; "we were all very young and we had never seen so much money or so much drink in our lives. We had great fun. I have the happiest memories of hilarious times in Tom Longs pub."
During the event, the audience were treated to a video of some of Tóibín's greatest work, including scenes from Irish classics 'Ryan's Daughter' and 'Bracken', and a clip of one of Tóibín's stand up appearances on the 'Late Late Show'.
Cllr. Tony Fitzgerald, Deputy Lord Major of Cork, was on hand to convey the best wishes from Tóibín's native Rebel County and many colleagues who shared the stage and screen with Tóibín over his distinguished career were on hand to pay homage to the actor.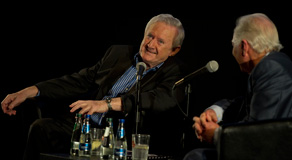 Gay Byrne "In Conversation With..." Toibin
IFTA winning actor Stephen Rea praised Tóibín calling him a "dream to work with;" adding "he is one of the great figures in our business, in our art, I have an immense fondness for him, he has a very sweet nature as well."
British Actress Jan Francis, who starred alongside Tóibín in ITV comedy drama 'Stay Lucky' travelled from the UK for the event and described the IFTA Tribute to Niall as special "because he is a very special man." She described Tóibín as "A consummate professional, but so knowledgeable and interesting and fun, I just loved every second with him."
Having worked with Tóibín twice early in his career, actor Don Wycherley (Bachelors Walk) said Tóibín was a "wonderful connoisseur of the art of acting." Working with Tóibín on stage in 'Borstal Boy' in the early 90's, Wycherley spoke of the presence Tóibín had; "We were all young men, and my god he got respect when he came on stage."
Wycherley spoke of how grateful he was to Tóibín during his time on the BBC drama 'Ballykissangel' saying; "I had a lot of scenes with him and I found him wonderfully welcoming, and he used to give loads of fantastic tips that a young actor, first time on a major role on television would absolutely appreciate, and I will be forever grateful to him for that."
On Tóibín's lasting legacy on Irish cultural life, veteran Irish writer Ulick O'Connor said that Tóibín was a "major actor" who, alongside Donal McCann, "manifested the Abbey style, they kept it alive."
Having known and worked with Tóibín since the 60's, Irish director Louis Marcus (King of the Castle) described his great skill with accents and language; "he displayed his extraordinary gift for mimicry, and he had accents that were absolutely right. We used to play golf a lot, and playing golf with Neil was quite an education. We know he is fluent in Irish, English and German, but he was also fluent in Anglo- Saxon and when he hit a bad shot the language was absolutely ferocious. Since he did hit a fair few bad shots, you would get a great vocabulary over the course of the game."
Talking of his old friend, Marcus called Tóibín "a wonderful performer, a tremendous craftsman, a very cultured man, a great mind, a great sense of humour, what more can one say."
Check out the photos from the event in our Gallery