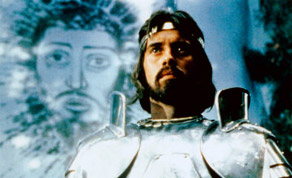 John Boorman's Excalibur
The remake of John Boorman's 1981 'Excalibur' has been shelved, Bryan Singer has told SFX. It was previously announced that the 1981 Boorman film, that launched the career of actors including Liam Neeson, Gabriel Byrne, Ciaran Hinds, Helen Mirren and Patrick Stewart, was set for a remake by Warner Brothers with Bryan Singer (X-Men, The Usual Suspects) at the helm.
Director Bryan Singer confirmed saying "Unfortunately, it is no longer going to happen." Singer also went on to say "I was really enthused to do it. I'm a fan of John Boorman's movie," but said that another King Arthur project brought to Warner Bros. was closer to production, causing 'Excalibur' to be shelved.
It had been expected that Boorman would produce the Singer remake of 'Excalibur' as he shared the remake rights with Warner Bros.
The other Arthurian project at Warner Bros. is David Dobkin's 'Arthur & Lancelot', which is a re-written take on the Arthur legend due for release in March, 2013. In 2004, Disney/Touchstone released a version of the tale 'King Arthur', which filmed in Ireland. It earned Keira Knightly Best International Actress Audience Award and an IFTA for Debbie Corcoran and Ailbhe Lemass in the Best Hair/Make Up Category.