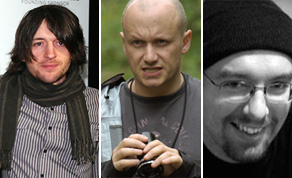 Lance Daly, Lenny Abrahamson & Ruairí Robinson
The Irish Film Board/Bord Scannán Na hEireann have announced latest round of funding decisions. Approximately €3m worth of funding has been offered for the development and production of Irish projects. The results were published on Wednesday, September 7th.
Production funding awarded includes €750,000 to Lance Daly's latest feature with Fastnet Films 'Life's A Breeze'. Lenny Abrahamson, the director behind 'Garage' and 'Adam and Paul', has been offered €720,000 in production support for 'What Richard Did'. The script for 'What Richard Did' is written by Malcolm Campbell and will be produced by Element Pictures. Other features awarded production funding from the IFB include 'Life on Mars, written by Clive Dawson and to be directed by Ruairí Robinson, which has been offered €500,000 and Mark O'Connor's revenge drama/love story 'Grooskill' offered €275,000, which is set amongst the secret Travelling community in Ireland.
Documentaries receiving production support include Trevor Birney and Ruth O'Reilly's 'Beyond the Endgame' which has been granted €100,000, Mark Byrne and Robert Dennis' 'Silent Majority', Morag Tinto's 'The Craic' and Gary Lennon's 'The Doctor's Sword.'
Currently filming in Belfast with a cast including Richard Dormer (Five Minutes of Heaven), Jodi Whittaker (One Day), Liam Cunningham (Hunger) and Dylan Moran (A Cock and Bull Story), 'Good Vibrations' has received €75,000 from the Regional Support Fund. Brendan Muldowney's 'Love Eternal' and Venom Film's Irish/Polish co-production 'Sanctuary' have also each received €120,000 from the Regional Support Fund.
Development Funding in the form of First Draft Loans has been offered to Bridesmaid's actor Chris O'Dowd's debut script 'The Adventures of Super Frank', which he is co-writing with John O'Dowd. 'The Adventures of Frank' has been awarded €16,000. Other first draft loans awarded include €16,000 to Rebecca Daly and Glenn Montgomery's 'Margaret' and €12,000 to Naomi Sheridan's 'Sixty Eight'.
Fiction Development Loans were offered to four Parallel Film Projects: 'Twelve Twenty Three', 'Reeling', 'Memorabilia' and 'Brian Rua'. Fiction Development loans were also given to projects including Brian O'Malley's 'Crossing Salween', Darragh Byrne and Mark Doherty's 'The Valentine Gang'.
Support to the development of Animated projects was given to Brown Bag Films for 'Pillage & Sons' and to A Man & Ink for 'The Overcoat'. Jim Sheridan was awarded funding for International Development for a project titled 'Galway Bay', with Naomi Sheridan and Mary Pat Kelly on board as writers.
PRODUCITON LOANS
Project

Director

Writer

Production Company

Funding Award

Fiction Feature Films

Life's A Breeze

Lance Daly

Lance Daly

Fastnet Films

€750,000

What Richard Did

Lenny Abrahamson

Malcolm Campbell

Element Pictures

€720,000

Grooskill

Mark O'Connor

Mark O'Connor

Vico Films & Black Sheep Productions

€275,000

Life On Mars

Ruairí Robinson

Clive Dawson

Fantastic Films

€500,000

Documentary

Silent Majority

Mark Byrne and Robert Dennis

Planet Korda Pictures

€10,000

The Craic

Morag Tinto

Soho Moon Pictures

€10,000

The Doctor's Sword

Gary Lennon

Gambit Pictures

€12,000

Icarus 3D

Joel Conroy

Fastnet Films

Provisional Offer Of Commitment

Beyond The Endgame

Trevor Birney & Ruth O'Reilly

Below The Radar

€100,000

Showrunners

Des Doyle

Black Sheep Productions

Provisional Offer Of Commitment

Completion Fund

Finding Joy

Neil Dowling

Neil Dowling

True Films

€15,000

State Of Suspension

Clare Langan

Clare Langan Productions

€15,000

Regional Support Fund

Good Vibrations

Glenn Leyburn & Lisa Barros D'Sa

Glenn Patterson & Chris Carberry

Treasure Entertainment

€75,000

Love Eternal

Brendan Muldowney

Brendan Muldowney

Fastnet Films

€120,000

Sanctuary

Norah McGettigan

Norah McGettigan & Gabriel Vargas Vasquez

Venom Limited

€120,000
DEVELOPMENT LOANS
Project

Director

Writer

Production Company

Funding Award

First Draft Loans

The Adventures Of Super Frank

Chris O'Dowd & John O'Dowd

€16,000

Sixty Eight

Naomi Sheridan

€12,000

A Key To The Suite

Morgan Bushe

€12,000

Margaret

Rebecca Daly

Rebecca Daly & Glenn Montgomery

€16,000

Monsters & Magic

Jason Butler & Brendan Butler

€16,000

Fiction Development Loans

The Valentine Gang

Darragh Byrne

Mark Doherty & Darragh Byrne

Ripple World Pictures

€20,000

Crossing Salween

Brian O'Malley

Brian O'Malley

Nine Rivers Media

€30,000

Harm's Way

Cathal Black

Adam Rynne

Blinder Films

€9,000

The Absence Sonata

Thomas Martin

Rainmark Films

€25,000

Devlin

Aisling Walsh

Kate Gartside & Aisling Walsh

Subotica Limited

€17,000

Reeling

Anne Marie Casey

Parallel Film Productions

€15,000

Twelve Twenty Three

Stuart Townsend

Eoin McNamee

Parallel Film Productions

€20,000

Memorabilia

John Butler

Kevin Barry

Parallel Film Productions

€9,000

Brian Rua

Finola Geraghty

Finola Geraghty

Parallel Film Productions

€30,000

Stags

Declan Recks

Eugene O'Brien

Samson Films

€20,000

Beautiful Noise

Damien O'Donnell

Helen Seymour

Coastguard Films

€25,000

Big Silver Lining

Brian Durnin

Brian Durnin & Mark Doherty

Red Rage Films

€16,500

Animation Development Loans

The Overcoat

Jeremy Purcell & Hugh O'Connor

Hugh O'Connor

A Man & Ink

€29,000

Pillage & Sons

Nicky Phelan

Nicky Phelan

Brown Bag Films

€9,000

International Development

Galway Bay

Jim Sheridan

Naomi Sheridan & Mary Pat Kelly

Hells Kitchen International & Jean Doumanian Productions

€25,000