The autumn schedules at Irish broadcasters are peppered with programmes from IFTA-winning production company Screentime ShinAwiL, including the heavily anticipated new Irish versions of 'Masterchef' and 'The Voice', the new sports quiz show hosted by Gráinne Seoige 'Put 'Em Under Pressure' and returning favourites such as 'The Apprentice' and 'Dragons' Den'. IFTN spoke with CEO Larry Bass about successfully localising formats, putting an end to "traveling freak shows" and how reality programming continues to draw audiences.
Screentime ShinAwiL's "newest baby" is the format 'The Voice of Ireland', originally created by John de Mol of Talpa Media and produced by Mark Burnett in the US – 'The Voice'. The hype is huge for the upcoming production, which has already wowed audiences in Holland and the US. "It's a three phased production. It is really a four phased production from our point of view, as it involves the casting stage which we are currently undertaking. We record what is called the blind auditions which will make up the first stage of the programme. This is where the four coaches turn their back to the auditionees and make their decision on whether they get through or not based solely on what they hear, not what they see. The classic line 'some people listen with their eyes' does not apply. The judges will actually have to use their ears." Larry is expecting that 'The Voice of Ireland' will be a hit: "We are expecting great things. It has been a massive success in Holland, beyond expectations. It was so successful in America that they have pushed forward a second series for transmission at the end of Super bowl next year. It's a huge show now on NBC." The format will remain the same for the Irish production – "the only difference you will see in Ireland is that I truly believe there is more talent in this country."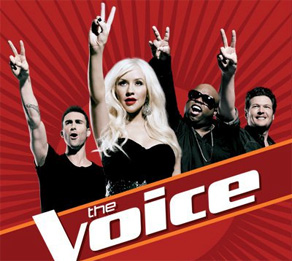 The Voice USA
In a market close to saturation with talent shows, Larry explains that it is the unique format of 'The Voice' that makes it stand out. "What caught my attention when I first saw this and then when it was first pitched to me by John De Mol's Talpa Media was this unique twist on process, where the emphasis is put on the actual talent. It is no longer a traveling freak show. It's about truly talented people. Unless you're talented, you don't even get selected to go in front of the camera." With a partnership with Universal Music and a contract for the winner, 'The Voice' is a show "for people who harbour ambitions and want a future career. Universal are aiming to find not just a great Irish talent but an Irish talent that could on to global success."
Just last week, Kathryn Thomas and Eoghann McDermott were announced as hosts for 'The Voice of Ireland', but Larry is keeping silent on the as yet unannounced coaches. "We are in delicate negotiations with a couple of people. Suffice to say, everybody we announce, will be singers in their own rights. This isn't a job for record producers or managers or journalists. We need coaches who will be able to act as mentors for the talent."
Screentime ShinAwiL are currently in post production with the fourth series of 'The Apprentice'. Originally created by producer Mark Burnett (Survivor), the Irish version has delivered some of the most memorable characters ever seen on Irish TV, from the unfortunate mumbling of Harvard Graduate Breffny Morgan to the whining of Greek senior online advertising manager Panos. These golden TV moments have kept Irish audiences hooked for the last three years. Larry explains that the upcoming season of 'The Apprentice', which is due to air later on this autumn on TV3, is "a different mix this year. The prize offered to the winner is no longer a job with Bill Cullen but it's an investment fund and a new partner in Bill Cullen." This altered format combined with a new series producer, Eugenia Cooney (who was previously series producer on 'Dragon's Den'), means that for the fourth season "the dynamic has changed". But why change what isn't broken? Larry explains: "We were aware that they were changing in the UK and we didn't want to be seen as being out of step. The time for having a programme where you are firing people all the way through and just hiring one person has slightly had its day. The new format means the core of the TV show is based on people and their different ideas. It has entertainment at its heart but also endeavors to show that people are thinking of new business ideas and trying to get new business ideas going, which is really positive. We want people to not be afraid to take a chance on enterprise. There is a lot of doom and gloom around and that can be quite debilitating and we want to foster a sense of entrepreneurship."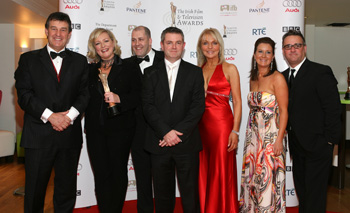 Larry Bass (centre) with the team from The Apprentice at the 2009 IFTAs
The appetite for all things 'Apprentice' has spawned two spin-off shows, 'The Apprentice at Home' and 'The Apprentice: You're Fired'. Both are also produced by Screentime ShinAwiL, with 'The Apprentice: You're Fired' currently in pre-production and 'The Apprentice: At Home' in post-production. Larry says this year's 'The Apprentice: At Home', which follows the contestants 'Big Brother' style "is a far more robust series that last year. I think last year was an experiment that was pulled together in a very short time. We have learnt in many ways from last year's production and the new series adds another dimension to the whole character of the show for viewers of 3e."
Already on our television screen's is Screentime ShinAwiL's Irish version of 'Masterchef'. Originally created by Franc Roddam for the BBC and revamped by Karen Ross and John Silver, 'Masterchef' began on RTÉ Two last Tuesday September 6th and will continue to air twice a week on Tuesday and Thursday nights. Produced by Linda McQuaid and shot earlier this year, the series boasts two of Ireland's finest chefs, Dylan McGrath and Nick Munier. Both Munier and McGrath are no stranger to television, with Munier acting as maitre d' of ITV's 'Hell's Kitchen' and McGrath on RTÉ's 'Pressure Cooker' in 2008.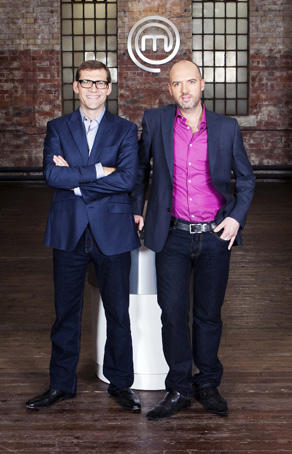 Masterchef Ireland
Larry says the two hosts
"really stepped up to the mark"
for the Irish version of the show. Using a format which has already triumphed with television audiences in the UK, Australia, US and many more countries internationally, does Larry feel pressure for the Irish format to succeed?
"I just think it's like any format. When you bring in any big global format to Ireland, people will compare it to what they see, particularly on UK or US TV. So that means you are being compared to the best - some of the highest production values in the world. We have to make sure that our version of 'Masterchef' doesn't look like the poor relation to the BBC version,"
says Larry. And he is confident that it will live up to its foreign counterparts:
"I have to say, the episodes I've watched to date have not just entertained me but they've enthralled me. Our characters are real and you really feel for them. You live the journey they go on and they are a very exciting and interesting cast. They are packed shows and it is very engaging television. I'm looking forward to see how it performs."
Considering the past success of Screentime ShinAwiL's localised formats, we asked Larry why he felt they were so appealing to audiences.
He says that the secret lies in picking a great format. "The successful shows have really unique parts to them and are great concepts. Having the Irish version of a great show is our right as a nation. We can have our own version of cars, shops or whatever, so why not television programmes?
"For me, the second reason why they work, is because they are real. They don't hide from the fact that they are real people, real situations and the participants are trying to do something that anyone watching could try and do the same. There is dream fulfillment at their heart. We can share experience with the participants, we can laugh out loud or cry with the characters. This is why casting is key to making a good show. You only have one shot at the casting and to have a degree of success you have to do it right."
'Masterchef' can be seen on RTÉ TWO, Tuesday and Thursday at 9.30pm.
'The Apprentice' can be seen later this Autumn on TV3
'The Voice' can be seen later this year on RTÉ ONE
For more information on Screentime ShinAwiL,
visit their website at www.ShinAwiL.ie