IFTN interviews Foley Artist Caoimhe Doyle, Ardmore Sound – one of the team who has been nominated for an Emmy award for their work on HBO epic fantasy series 'Game of Thrones'.
Brought to our attention through an infamous coconut scene in Monty Python and the Holy Grail Foley is a part of the post-production sound process where sound effects are performed and recorded in time with the completed picture. Assimilated into the overall final sound mix of the film, it is one aspect of film and television production that audiences often overlook. We caught up with Ardmore Sound Foley Artist and member of the Emmy nominated team behind the epic HBO fantasy series 'Game of Thrones', Caoimhe Doyle to discuss the trojan work done by the Ardmore Sound team on the epic series which has earned them a Primetime Emmy Award Nomination for Outstanding Sound Editing for a Series.
Caoimhe begins by filling us in on the Irish facility where the action took place - at the Foley stage in Ardmore which has been fostered by Ardmore Sound over a number of years. It is a purpose built studio that is equipped to deal with the most challenging of sound projects, and Caoimhe explains that "it has taken us a number of years to get it to where it is right now. There are a number of musts for a Foley stage, two of these are a virtually complete silent recording environment and the other the ability to make the theatre sound the same as a wide open plain, a gothic cathedral or a modern hospital or office and everything in between. It has a tonne and a half of dirt in a dirt pit with holes in the bottom so we can wet it and drain it. Then we have a six foot puddle that we can flood and do all puddle feet and shallow waters, and if there is anything deeper we have a 2,000 gallon tank which we fill and get into to do the bigger bodies of water, seas and lakes and stuff like that. And we have cushioning around the side so you don't hear the water lapping, you don't get any sense of limit...it sounds huge."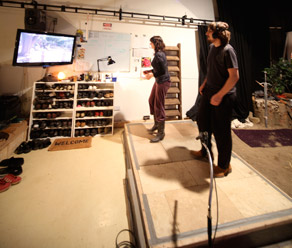 Foley Artists Caoimhe Doyle
& Eoghan Mc Donnell at Ardmore Sound
The Foley stage environment is hugely important to getting the sound of the Foley just right, and the stage at Ardmore has evolved so it can handle the largest of productions. "We have 120 year old maple floorboards salvaged out of the College of Surgeons. Then we have this old wood floor that we used for Game of Thrones…really warm, bassy, wooden structures that we walk upon. We have half of this big surface varnished and half of it unvarnished. So the unvarnished half works well for period pieces – old, rough, dirty auld big wooden areas. And then we have the polished surface for the finer, more modern pieces. There are at least five or six different types of wood surfaces alone." It is in this studio that Caoimhe, along with Ardmore's Foley mixer Jean McGrath and Eoghan Mc Donnell (another Foley Artist  also nominated for an Emmy for Game of Thrones), have completed Foley tracks and on the Main Stage of Ardmore Sound and these tracks are added to the final mixes for productions which include John Michael McDonagh's box-office smash 'The Guard', Neil Jordan's 'Breakfast on Pluto' & 'Ondine', John Boorman's 'Tailor of Panama', David MacKenzie's 'Asylum' and the Glenn Close/Rodrigo García forthcoming film 'Albert Nobbs'.
IFTN asked Caoimhe to tell us more about bringing the action in 'Game of Thrones' to life through sound. Footsteps were the first sounds to be recorded. "When we first get into a movie or TV production, we will do all of the footsteps for each character from beginning to end, for the entire movie – whether they are human, horse, or bird, we cover them first." Caoimhe explains how the acoustics of the Ardmore stage can be changed to accommodate different environments: "If we have got exterior locations we have sound absorbing curtains closed so there are no reflections in the theatre. If it is interior we pull back the curtains so you get as much reflection or slap off the walls as we need. It is that level of fine tuning that we have given the studio that has enabled us to create the kind of soundtracks that we love to create. A lot of stages don't have that level of control over the room. The room is designed to record, really minute, detailed sound – skin touches, and very subtle stuff as well as explosions and big stuff like that – we can do the full range. And all this must be achieved quickly."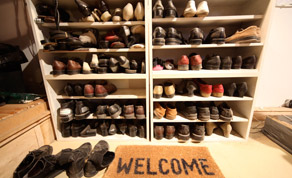 The 'Game of Thrones' series follows a trend for epic TV series with high-production values, in line with other Irish produced titles such as 'The Tudors', 'Camelot' and 'The Borgias'. Caoimhe says that the sheer scale of the show presented challenges to the Sound team. "TV hours are now like epic movies. To fill scenes – scenes with casts of hundreds, and horses and carts and guys getting hung and other guys getting beheaded and all that happening...it's a lot of sound. Just trying to get to everything is the difficult bit. Ardmore have been collecting props for over 15 years so there is a really huge collection of props to choose from, and of course experience gives you ideas of how to create certain sounds. The toughest thing is getting to as much as you possibly can in the time given."
In order to cope with the sheer volume of sound required and to get the clearest narrative results, the Sound team will cover only what is needed, sound editors will cover other sounds. "The guy picking his nose in the back of the screen isn't needed so you just have to keep to the storyline, which is paramount, it is the story that you are trying to assist. We don't want distractions in the background taking away from key dialogue in the foreground." The musical nature of Foley sound is also key, so that Foley can "be woven into the soundtrack seamlessly, and are not grating or annoying or sharp and ugly. The picture will tell you what is going on but sound tells you how to feel about what is going on. It's a subtle but very persuasive tool for the director."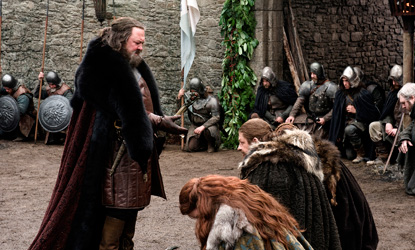 Game of Thrones, filmed in Northern Ireland
So what was the most memorable of the action scenes for the Foley team? "One of the really fun Foley scenes was quite detailed. One of the characters was skinning a deer. It is a long scene with really intense dialogue between a father and a son. And all the time the father is skinning the deer, reefing the skin off, cutting and hacking into it. We love that. That is where we have a lot of fun, in those moments. That scene would come into our studio quite empty because on the set it is just film props, so it doesn't sound of anything much – suddenly when you play back your tracks it comes to life and has a whole other energy."  For this scene the Foley team recorded several tracks, layering the different aspects of sound needed: the initial track to capture the movements of the knife, the next catching in sync the movements of the knife as the hand goes in and out across the carcass. "Then we would add shings – anytime the knife came away from the skin we would add in a shing to add an extra element of sharpness and violence. Then we add the sound of the skin leaving the body of the deer, we have a ripping sound. And then we would have a kind of a viscous element as well. We would keep at it. Knowing when to stop is as important as the first sound you make – because you can make it muddy and cluttered and then you've killed it. So we need to know and be aware of that and sensitive to it being complete, and then just let it be. Especially on these schedules, the work moves on."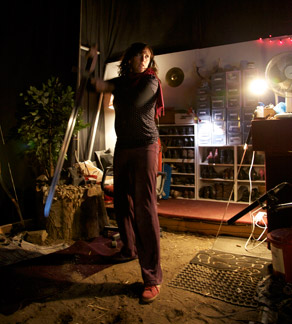 Caoimhe Doyle at work in Ardmore Sound
Caoimhe also revealed her number one Foley Prop - "A chamois! A deerskin – you know you clean your car with it. And when you let it dry it gets all hard and brittle and then you put it in water and it becomes really viscous and we've delivered babies, amputated legs, heads and all sorts with the chamois. It is also good for cooking and even wet fish. I would say that we have used it once on every film I have ever worked on." Other common Foley tools used by the Ardmore Sound team include an editor's trim bin. "It's a big metal bin that used to hold strips of 35mm film. We have used it for big airport hangar doors closing. It's on four caster wheels and you can roll it around with a bass mic buried underneath and it sounds enormous, huge! It's great!"

To create the sounds of stampedes of horses, which are the mode of transport in 'Game of Thrones', they would use the pit with a tonne and a half of dirt. "We will bury a microphone in the dirt – bury it down deep - and then we would have a microphone on top as well. So you would get that bottom end bass belly, like you would hear on the Dark Riders in Lord of the Rings, and then we have the top end for the details of the hoof hitting the ground. For a stampede of horses, you might only need six tracks to get the sense of it. There is only so much information that your brain needs to accept that that is the sound for that group of horses. If the energy behind it is right, you buy it."

For Foley Artists, the process of recording sound is something of a performance. "We very rarely leave something and come back to it because there is a spontaneity when you begin to recreate something, be it footsteps or something more involved like an animated Ice Queen and how she might move. There is something that you get on your first take that more often than not just works, and if you think about it too hard and try to manipulate it too much you lose the sense of naturalness that an audience needs to actually accept and buy into the sound that it will fit the picture.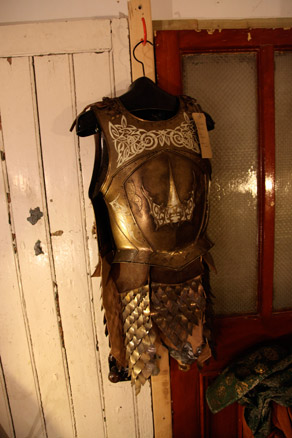 "There's a certain amount of analysing, deciding if it needs to be an organic sound, or it needs to be a mechanical sound, or it needs to be whatever; and that would direct us to the collection of props. I find I have to go quickly – you can't let the energy of the room get caught up when you're trying to come up with something. So you try something and if it isn't working then you put it down straight away and pick up another, and move like that until it feels right." The momentum of the Foley team in the Sound stage is something that is somewhat aided by digital recording as sounds can now be "recorded, then you can layer it, bring it earlier or move it later, manipulate sync a little bit if needs be, but we don't get into a lot of that on the stage. We tend to just record things straight."

Caoimhe herself stumbled into Foley while working as an assistant editor. Seeing Canadian Master Foley Artist Andy Malcolm performing in the stage through a film projector window, "smashing stuff around, and doing a cloth move, and I was thinking – what the hell is he doing? I could just see his back, and I thought, 'that's looks like too much fun to be a job!' So I went in." After discovering that her own capacity to sync sound and body movement was pretty good, she traveled to Canada in 2000 to train with Andy Malcolm in his theatre. Andy has worked as a Foley Artist  on projects including 'The Borgias', 'The Tree of Life', 'Bridesmaids', 'American Psycho' and 'The Pursuit of Happyness'.
Caoimhe has since worked in teams that have created sound for recent Irish box-office smash 'The Guard', Judd Apatow's 'Knocked Up', 'Essential Killing', and was nominated for a Golden Reel Award for David Cronenberg's 'Eastern Promises'. She has also worked on many TV series including 'The Tudors', 'Single-Handed', 'Love/Hate' and 'The Clinic'. Caoimhe insists that it is the unnoticed Foley work that is the best. "We are really into the realism. What we love is when you play back our soundtracks and you can't tell whether it was recorded on the day or not and you 100% accept it. You buy it and it doesn't distract you from the story. That is when our job is done really well – when it only enhances and it doesn't distract."
Foley on 'Game of Thrones' was recorded at Ardmore Sound and sound editing completed at Screen Scene Post Production Facility: www.screenscene.ie
Ardmore Sound have recently completed Foley for James Mather's and Stephen St. Leger's 'Lockout' for Luc Besson and are currently working on an animated feature for Magma called ' Thor- Legends of Valhalla'.
Take a Bow - The Sound Team for 'Game of Thrones':
Emmy Nominees:
Stefan Henrix, Supervising Sound Editor
Tim Hands, ADR Editor/Supervisor
Michelle McCormack, Dialogue Editor
Steve Fanagan, Sound Effects Editor
Andy Kennedy, Sound Designer
Jon Stevenson, Sound Effects Editor
Robin Whittaker, Music Editor
Caoimhe Doyle, Foley Artist
Eoghan McDonnell, Foley Artist
Other team members:
Niall Brady, Sound FX Editor
Peter Blayney, Dialogue Editor
Jean McGrath, Foley Mixer Recordist
Morgan Carparelli, Foley assistant
Fiadhnait McCann, Sound FX Editor