Set in the rural West of Ireland, 'The Guard' has already begun to make its mark on the world cinema stage having premiered at Sundance, recently opened Edinburgh Film Festival and winning Best Debut Film for John Michael McDonagh in Berlin. It is another of Element Pictures' recent success stories (This Must be the Place, Essential Killing), having secured a 20 market US distribution deal with Sony following its world-premier back in January this year. IFTN spoke with producer Ed Guiney of Element Pictures ahead of the Irish premiere at this week's Galway Film Fleadh (July 6th) and nationwide release of 'The Guard' on July 8th.
Written and directed by John Michael McDonagh, 'The Guard' is an unlikely buddy cop story centering around the rather uncouth Sgt. Gerry Boyle (Brendan Gleeson) - an eccentric drinking, smoking, whoring small town cop who teams up with straight laced FBI man Wendell Everett (Don Cheadle) to help unravel a drug-smuggling operation in the West of Ireland.
The script of the film gives centre stage to Gleeson's character Sergeant Boyle, who carries the movie with his perfectly timed lines and pitch dark humour. "I can't tell if you're really mother f*cking dumb or really mother f*cking smart," says FBI agent Wendell Everett to Brendan Gleeson's Sgt. Boyle. It is a role which Brendan Gleeson portrays so perfectly, it seems to have been made for the IFTA winning actor. When I asked producer Ed Guiney if they had always pictured Brendan Gleeson in the role, he echoes this certainty: "The answer is absolutely unequivocally yes. I can't recall if John wrote it for him or not but he was certainly the first actor that came to mind when the script came to me and to anyone else. It was obvious that it was Brendan Gleeson, it would be hard for anyone else to play the role." And how did co-star Cheadle come on board? "John's first idea was Don Cheadle, we sent him the script and he said yeah."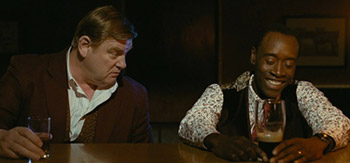 Brendan Gleeson & Don Cheadle in The Guard
Sgt. Boyle's coarse and unflinching manner has him utter lines such as "I didn't know black people skied," and "I'm Irish, racism is part of our culture" to fellow star Don Cheadle. This sort of dialogue has led several reviewers to question if the non-PC style of the film might cause offense to more sensitive audiences, particularly in America. Ed says that this response is "not something that we've encountered. It's probably been screened more in America than anywhere else. I think people understand in a way that the Boyle character is deliberately being provocative. He genuinely isn't a racist himself but he is showing up those who are through his actions. So I think people take it in the spirit of the movie. It reflects the views of people around him rather than his own."
Gleeson's character delivers these crass lines with a rather strong West of Ireland twang. Considering the new trend to subtitle thick Irish accents when distributing Irish movies abroad (such as 'Kisses' for America or 'The Runway' with the traveling community being subtitled for both Irish and foreign audiences), is this something that was ever considered for 'The Guard'? "When you are at Sundance you do these screenings in towns that are nearby," explains Ed. "They are regular mid America towns and so we had a number of those screenings and then we were in Tribeca and we also recently screened in L.A. And I think by and large, people have not had an issues understanding it. It's set in Galway and people do have accents, but they are not incredibly thick and equally I think if you give it a moment, you tune into it and I think you get it. Also the enunciation of the dialogue is very clear. Once you've tuned into it I think it is fine. Yes, they do have a brogue but it doesn't seem to be an issue, in terms of an editing issue and in terms of what Sony are proposing anyway."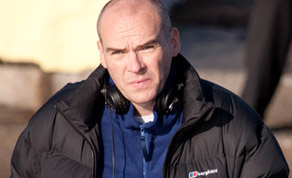 Writer/Director John Michael McDonagh
John Michael McDonagh's first feature has so far been incredibly successful with Variety calling it "Rudely funny and faintly melancholic...a stylish lark whose many disparate elements somehow manage to go down as smoothly as Guinness," and The Hollywood Reporter describing it as a "twisted and exceptionally accomplished variation on the buddy-cop format." It is this strong script which Ed believes bought John Michael McDonagh the right to direct it. "It can often be very difficult for first time directors coming in, but he found the backing to do it because of the quality of the script," says Ed. "Of course the things you look for normally in a film are script, director and cast," continues Ed, but "the thing about that project is that is was an absolutely brilliant script. You read the script and you could see the film which was funny. All of the things that you see in the finished film, you could see them when you read the script. And so when a script like that comes to you, which happens very rarely, it's a no-brainer, you just get on with it. With a script like that you're not looking for anything, it's just very obvious that it's terrific and needs to be made."
The landscape of the film is unmistakably that of rugged Connemara with wild countryside, bog and beautiful beaches. The unique setting of the unkempt West of Ireland meant it could never have been shot elsewhere. "The thing about The Guard is that it was made where it was set." Ed further explains that the locations were always what writer/director John Michael McDonagh had had in mind: "John's family live down that neck of the woods so he knows it very well. He wrote the script when he was down there for Christmas so all the locations that are in the film he had, they were absolutely specific places that he had picked out in his mind. He knew where he wanted to shoot.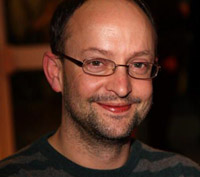 Producer Ed Guiney
"We were based in Solas Studios there, which are good studios, and there is a good infrastructure for filming in Galway. It has got its own kind of mini film and television industry and it is used to having film crews around. It was a very nice place to work, there was great co-operation." So would the producer return to Galway to shoot? "Absolutely!"
'The Guard' has been well received on the festival circuit and will have its Irish premiere at the Galway Film Fleadh this week on July 6th and a nationwide release planned for this Friday. Success is not new to Element nor to its producer Ed, who have previously produced / co-produced hugely successful Irish films such as the acclaimed 'The Wind That Shakes the Barley', Lenny Abrahamson's 'Garage', 'Essential Killing' and the award winning 'Five Minutes of Heaven'. Ed is clear that there is no straight forwards formula to explain Element's success. "I don't know that there is any secret except that we are passionately interested in making and distributing films and with working with the best people we can find. And we just go about doing that. Sometimes is works, sometimes it doesn't."
Guiney says he does believe that the Irish film industry should be making more medium budget productions rather than just trying to attract UK and US production. "I think we should be making those films ourselves instead of just trying to attract them in. We need to be making more films on the same scale as The Guard. We have had a lot of lower budget productions, around a million euro or less, and that is totally valid. But what we haven't had a lot of recently are medium budget films , around a four or five million budget, like 'The Guard' or 'Shadow Dancers', that kind of level. I think we need to be making them ourselves, that is the best way is having them here instead of trying to just attract them in."
Element Pictures will wrap on their latest feature 'Shadow Dancer' next week after filming in locations around Dublin and London throughout June. The cast on the feature includes Clive Owen, Aidan Gillen, Gillian Anderson and Andrea Riseborough and is directed by Oscar Winner James Marsh. It will be distributed in Ireland by Paramount Pictures early in 2012.
The next projects for Element, Ed reveals, will "probably be two Lenny Abrahamson films." Having worked with the director in the past on projects such as 'Adam and Paul' and 'Garage', one currently untitled Dublin based project and another film entitled 'Frank'; written by 'The Men Who Stare at Goats' writers Peter Straughan and Jon Ronson, producing with David Barron (UK producer on the Harry Potter movies), and Film Four. Ed says that they hope 'Frank' will shoot in the UK and the US early next year.
'The Guard' will be on nationwide theatrical release this coming Friday July 8th.
The film's website is www.theguard.ie