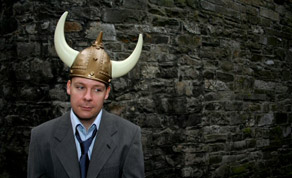 Neil Delamere
Filming will begin for Mind The Gap Films 2x45 minute series 'The Only Viking in the Village' for RTÉ next week. Directed by Conor Morrissey (At Death's Door), the series will see comedian Neil Delamere (The Panel, The Republic of Telly) find out all he can about Ireland's Viking heritage and his own Viking ancestry. He will attempt explore how the Vikings lived; from cooking to travel to combat, going on a unique journey through Ireland's Viking Heritage.
The BAI and RTÉ funded series will be produced by Anne Heffernan (Ireland – Dig It!) and executive produced by Bernadine Carraher (Hands On) of Mind the Gap Films. Filming will begin next week in Ireland followed by one week production in Denmark with Fergal O'Hanlon (Anton) as Director of Photography. Shooting of the two part series will conclude with the filming of two of Neil's comedy gigs on July 19th in the Sugar Club Dublin and the 26th July in the Theatre Royal Waterford.
Post Production on the series will be done in Screen Scene, Dublin and will be aired on RTÉ later this year. Tickets to Delamere's two shows cost €12.50 and are available at The Sugar Club on July 19th (www.tickets.ie) and at The Theatre Royal, Waterford, July 26th (www.theatreroyal.ie/events).