Friday, March 25th will see the release of Irish horror film, 'Wake Wood'. IFTN spoke to writer and producer, Brendan McCarthy (Outcast) who took us through the making of the Irish co-production, his initial skepticism as to Hammer Films' involvement and his future plans to bring Satan back to the big screen.
A former Irish Film Board executive producer, Brendan McCarthy has been involved with the production of many Irish success stories over the years including 'Omagh', 'Man About Dog', 'Breakfast on Pluto', 'The Mighty Celt' and 'Outcast'. 'Wake Wood' sees him try a new role as screenwriter.

His new feature is set in the rural Irish village of 'Wake Wood', whose inhabitants possess the supernatural skills of bringing people back from the dead, for three days, one year after their death. The story follows village newcomers Patrick and Louise Daly who take over the local veterinary practice following the tragic death of their daughter and discover the community's ancient ritual. They decide to bring daughter Alice back but realise that three days are not enough, keeping her and thus breaking the agreements of the ritual… then paying a terrible price for their transgression.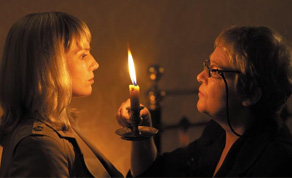 Wake Wood
Starring Eva Birthistle (Breakfast on Pluto) and Aidan Gillen (The Wire), the Irish horror was scripted by Brendan McCarthy when he returned to university IADT's  National Film School to study an MA in Scriptwriting after years spent working in the Irish film industry, commissioning and producing films for the Irish Film Board. The producer tells us he didn't apply with the aim of writing a film-worthy script: "I hadn't any ambition to do that!" he exclaims. "What I was interested in was studying the theory of story structure because, as a film producer, the more of this kind of stuff that you understand the better. I knew that an aspect of it was that I was going to have to write a script and I just thought 'Oh crap! What's that going to be like?!"
Nonetheless, Brendan decided to pen a horror. A big fan of the genre and producer of Irish horrors such as 'Outcast' and 'Dead Meat', he indulged his interest in all things gory and gruesome and finished the course with the 'Wake Wood' screenplay under his arm. Spurred on by the encouragement of his classmates, Brendan decided to take the script further, and called in his old friend, director David Keating to help develop it and Fantastic Films' John McDonnell to produce the film.
Two big boosts followed suit – namely the involvement of Swedish 'Frostbite' production company, Magnus Paulsson and the re-booted UK horror production group, Hammer. Brendan was initially sceptical about getting involved with Hammer, "I had been conscious, because I am interested in horror films, that many people had tried to re-launch Hammer, so I kind of thought – this is probably never going to work anyway, why would I want to get mixed up in something that was probably faulty and would never happen?" says the writer. However, Hammer'sSimon Oakes read the script and offered his company's services immediately which in turn lead to a slightly different approach in the production of the film: "After Hammer got involved, we went through a pretty tough but really interesting development process with them which was a bit more like a Hollywood studio approach.  And as we were going through that process, the company grew and became the Exclusive Media Group. So it kind of mushroomed into this much larger media/film organisation from being just Simon Oakes and a couple of lads on Wardour Street. All of that did have its own effect on us but in the end we all liked the film, and that was that."
The film shot for four weeks during the winter months of 2008/2009 in the tiny village of Pettigoe, Co. Donegal, followed by a one week shoot in a studio in Ovreby, Sweden. Such was the welcoming nature of the village that the film's cast and crew members were presented with a list of contact details for all the occupants and business owners, in case they needed anything. Brendan tells us the Pettigoe locals seemed to thoroughly enjoy hosting the film's production. "I think maybe the fact that it was a horror film meant that it felt a bit bananas and I think everyone enjoyed the nuttiness of it in a way... so that made it good old fun!" he says. "I think in Dublin, people are just a bit jaded of stuff shooting. If they are driving home and a film is stopping the traffic they're not interested, they just want to get home!"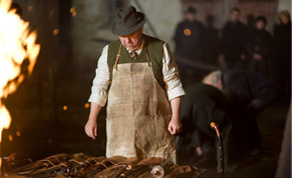 Timothy Spall in Wake Wood
'Wake Wood's stars, Eva Birthistle and Aidan Gillen were confirmed as the two leads relatively early in the production process and both seemed to have had a big impact on the screenwriter: "It was really brilliant that they were attached and they stayed attached," he tells us. "And we are really in love with both of them now.  They became the characters in a perfect way that had been fixed in my mind. And they look fantastic, which is important in films that have an aspiration to a wider audience!"
The film also stars recent IFTA winner, Ruth McCabe (Single Handed), newcomer Ella Connolly and British actor Timothy Spall (Sweeney Todd) who had to step in at the last moment: "Frankly, another actor was meant to play the role of Arthur," Brendan admits. "And he couldn't in the end at the last minute. So we had a big brainstorm and Tim's name came up and we sent him the script and he read it in the car. He didn't quite get to the end before the computer ran out of juice...but he just told us he would definitely do it."

The elaborate ritual scenes of the film are key moments and, in Brendan's words, look "more weird and unworldly" than he had imagined. Many of the film's scarier and more gruesome scenes feature animals and I ask if Brendan had any reservations as to alienating his more 'delicate' audience members. It would seem not. "I think we possibly were a bit rough on the animals. But nature is out to get you! Everyone knows that, you just have to make sure to get it first!"
Telling us that he would definitely consider writing another feature, Brendan is back to working in his capacity of producer for the time being. Working alongside David Keating again, he tells us there are several projects in the pipeline, singling out one in particular: "At the moment we are developing a project called The Cherry Tree, where a single Dad discovers his teenage daughter is having Satan's baby, so that is lots of the same, familiar stuff. I want to bring Satan back because I think he deserves to get back into the movies!"
'Wake Wood' was funded by the Irish Film Board and RTÉ in Ireland, Hammer in the UK, and from Film I Sköne and the Swedish Film Institute in Sweden. British born but Swedish resident Chris Maris (Frostbite) came on board as director of photography, and was joined by a Swedish team which included make up designer Kaj Gronberg as well as sound and camera crew. The Irish team was headed up by production designer John Hand (Eden), art director Owen Power (Song for a Raggy Boy) and costume designer Louise Stanton (Sunshower).