'As If I Am Not There', the feature film debut from Oscar nominated filmmaker, Juanita Wilson (The Door) will start a special national theatrical release on Friday, March 4th. On this date the film will open in several cinemas in Dublin as well as The Gate in Cork. Later this month the film will also open in Sligo, Wicklow and Galway. IFTN spoke to Juanita about the making of the gritty, multi award winning film.
Set during the Balkan war of the 1990s, 'As If I Am Not There' tells the story of Samira (played by Natasha Petrovic), a young woman from Sarajevo whose life is shattered the day a young soldier walks into her apartment and tells her to pack her things. Rounded up with the other women from the village and imprisoned in a warehouse in a remote region of Bosnia, she quickly learns the rules of camp life. However, the day she is picked out to 'entertain' the soldiers, the real nightmare begins.
The story is one that is very personal to Juanita, and it's one she has been waiting to tell: "I think it stemmed from when the war actually happened," she tells us. "Seeing the images of the women that were being held in rape camps and feeling totally helpless to do anything about that. And as a woman it is probably your worst nightmare, in terms of what they had to endure, so it is something that I guess touched me then, and then a few years later when I came across the book, it was immediately something that I was interested in."
A key theme in the film is the exploration of the lead character's sexual abuse at the hands of the camp's soldiers. Juanita speaks of the pains she went to in writing, and later directing the film, to make sure that a very specific tone was given to the grim events in the film: "In the acting style and with the structuring of the scenes, you could so easily fall over into melodrama very, very quickly," she explains. "And what came across in Slevenka's book, and what I think is true about these situations, is that people do shut down in fear. So in that situation you want to be true to that and not portray a different type of heroic action or whatever. It's really quite anti-dramatic in some ways, but it felt true to me."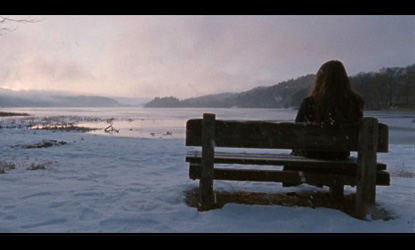 As If I Am Not There
Having found the story she wanted to explore in Slevenka's novel, Juanita spent a year visiting Macedonia and Bosnia. One location in particular proved hard to find, that of the camp where the women are imprisoned. A suitable location had still not been found by the time the film moved into pre-production, when Juanita finally came across the site. On their way to view another location Juanita saw a large warehouse in the middle of nowhere and knew she had found her spot: "It was very different to how I originally pictured it which was more like a typical military barracks," she tells us. "But there was something about the fact that the women would have nowhere to hide, that they would be technically free and in the open, but with nowhere to hide. It seemed like an interesting way of looking at freedom."
As to the casting of the film, Juanita tells us she saw dozens and dozens of actresses before she found the right woman to play Samira. "We didn't physically have an idea of what we were looking for, just in a sense of how you would relate to her in terms of the character. And we looked far and wide, and came close a few times. We would find certain qualities, but never quite right." Finally, a second year acting student and native of Skopje called Natasha Petrovic arrived to audition and though she had no film acting experience, Juanita found the qualities she had been looking for. One has to wonder if Juanita had any reservations giving such a representative role to someone who is not Bosnian? "Of course, because she needed a lot of tuition with the language and the accent, so it was yet another layer," says Wilson. "It's hard to know...my first choice always would have been to find someone in Bosnia, but Macedonia was also part of Yugoslavia, so they were very much part of that world, and I think they were all touched by the war and what happened. I don't know where the emotions came from in somebody so young that she could portray this story."
On the topic of accents and language Juanita tells us that, due to the high level of spoken English amongst her cast and crew, there was no problem with directing the film through her native tongue. With one or two slight issues along the way. "Sometimes with other members of the crew you'd think that something had been understood, but there might actually have been some key ingredient missing," she explains. "Which meant that something would come out of the blue that was meant to be red, or that a baby was a girl even though it was meant to be a boy!" Furthermore Juanita admits that the translation may not always be completely correct throughout the film as she occasionally gave priority to the overall feel of the film: "People watching a scene back with me occasionally said 'This translation isn't quite right' but sometimes you think, 'Well the emotion is perfect, so we'll go with that'. Or other times you would re-do it again. We had a mix of both," she notes.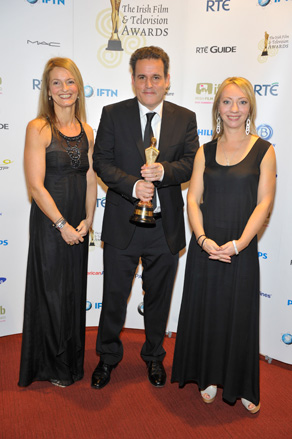 Juanita Wilson (right) with producers Nathalie Lichtenthaeler
and James Flynn
The film had two sell-out screenings at the 2010 Toronto Film Festival, the first of which was followed by a Q&A session where a Bosnian couple told Juanita the film helped them face their past, whilst a Serbian audience member who lost his family in the war congratulated her on the feature. It becomes apparent that this was one of Juanita's main goals in making the film. "For people that have lived through this it is really important that these stories are told for everyone," she starts. "For our understanding and to allow people to move on. Certainly for that Bosnian couple there was a sense that the subject had been closed until she came to see the film and then they were able to open up again and move on. So it's huge from that point of view."
The film's success at the Toronto Film Festival was followed by Juanita being named as one of Variety's Top Ten Directors to Watch - an accolade laced with anticipation, but the director takes it all in her stride. "It is lovely because it is kind of an endorsement for what you are doing which is great," she reasons. "And it helps because it puts you on the map a little bit, particularly in terms of America. So it means that maybe people will take your call...and that really, really helps."
Her most recent spate of awards came from a source somewhat closer to home. 'As If I Am Not There' helped Juanita scoop awards in the category of Script Film, Director Film whilst the feature itself claimed the top prize in the Film category. This support from her Irish peers seems to have really struck the Dublin born director who tells us that the wins were completely unexpected: "I was hoping to come away with one....I never expected to come away with the three!" She admits. "For me personally, getting the script award was fantastic. And then, for a first time feature-film maker, I couldn't believe I got the Director award. But I was really happy that it got the Film award because that reflects on everyone who worked on it, the whole team. And mostly because it is your home town that's awarding you, your home country: it's the first and last place you would like to be recognised."
An Irish/Macedonian/Swedish co-production involving Octagon Films (Ireland), Sektor Films (Macedonia) and Stella Nova Films (Sweden) and based on the novel of the same name by Slavenka Drakulic, the film is produced by Octagon Films' James Flynn (King Arthur) and Wide Eye Films' Nathalie Lichtenthaeler (Cowboys and Angels).
'As If I Am Not There' shot in late 2009 in 2009 with Tim Fleming (The Last Furlong) on board as Director of Photography and it was edited by Nathan Nugent (Sensation).
It will start it's Irish theatrical release in Dublin's IFI cinema, Cineworld, Lighthouse Cinema and Movies @ Dundrum as well as The Gate in Cork on March 4th. For film times and further screening venues visit http://www.asifiamnotthere.ie/asif/where-to-watch/