Oscar nominated and IFTA winning filmmaker Juanita Wilson (The Door) recently returned from her first trip to the Toronto Film Festival where her feature debut, 'As If I Am Not There' screened in the Discovery section of the event.
The Bosnian war drama, adapted from a book by Slavenka Drakulic, follows the story of Samira, a young teacher who finds her life turned on its head the day a young soldier walks uninvited into her kitchen and she is sent to a concentration camp. The film is produced by James Flynn (King Arthur) and Nathalie Lichtenthaler (Cowboys and Angels) for Irish production outfits Octagon Films and Wide Eye Films respectively.
We asked Juanita to keep a diary of her first encounter with the Toronto Film Festival. Her findings and thoughts are below:
Monday, Sep 13th 
Flying across the Atlantic is always a momentous occasion. As soon as we head above the clouds, I can feel myself drifting away into uncertain territory like the ancient explorers, unsure of what lies ahead but hoping for the best. The first major screening of my first feature film - that's exciting and nerve-wracking and it feels like it's happening to someone else. Once the film has been seen and the word is out, you can never go back, it's like the genie in the bottle or Pandora's Box. Suddenly my thoughts, ideas, choices and compromises are public. To be consumed in less than two hours along with all the other films. It's an easy flight, zapping through popular culture, feeling as remote from it as I do from the ground below, realising how out of touch I am, just emerging from my tunnel.
The first thing that strikes me about Canada is the big skies, and then the buildings, tall and reminiscent of New York. It's only twilight here but despite the advice about jet-lag,I can't resist the urge to sleep.
Tuesday, Sep 14th
I pull back the curtains to reveal the city 19 floors below. The lifts are already full by the 14th floor, people grumble and push their way in, apologising they cannot wait. The doors open and we emerge in the middle of the film industry. Everywhere; every seat, every table at breakfast, every coffee queue in Starbucks - film executives, producers, filmmakers are perched, greeting, catching up, checking one another out. A nervous energy makes the whole space quiver. It's exhausting just trying to make it from the lift to the entrance.
A breakfast meeting with my publicist Martin Marquet, who has been so supportive since 'The Door'. Then we go to find Natasa Petrovic, the young actress from Macedonia and Fedja Stukan who have travelled from Sarajevo to be here. We have lunch and catch up. Natasa is back in her final year in drama school and Fedja has just been offered a part in the film Angelina Jolie is currently directing which seems to be more or less the same story as my film – he auditioned for the same part of a Captain - it's so bizarre. Then back to change and prepare for the screening. Dress code here is very informal so no need to panic. Just wonder who will turn up, if anyone. And what will they think? As the time approaches, I feel more removed than ever, like it's not happening to me. Not sure if this is a symptom of stress or whether it's a subconscious attempt to protect myself from anxiety and, I guess, possible disappointment. And what will the questions afterwards be? Forty-five minutes to go and trying to compose a tumble of words, thank you's, full of immense gratitude and nerves...armed with my camera, I follow them as we walk into the cinema to be greeted by our host, David Villa, who tells us the screening is completely full. That's a surprise! We enter the cinema and I take a moment to see who is here, who is interested in stories like this, then a brief introduction and we sit down to watch the film.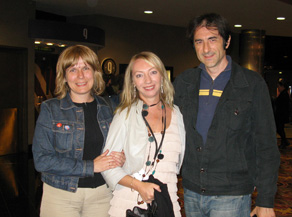 Juanita (centre) with the Bosnian couple who attended a
Toronto screening of As If I Am Not There
I always sit and watch the film with the audience. I try to switch off my critical faculty and just absorb the impact. Each time it's different. I listen for the coughs, the silence, the sharp intake of breath at certain points and any tell tale signs of tears. Back on stage, the reaction is very strong. Questions about the story, the casting, about language, and above all, about why. A respectful silence as Fedja explains what he learnt from the war. A reminder that this is real. That this war shaped peoples lives as far away as Canada. One young man at the back stands up and says he's a Serb who has lost many of his family in the war, I hold my breath and wait...he thanks me for making the film and says I did a good job. This response is so important for me, as a filmmaker grappling with the burden of responsibility for telling a true war story. A Bosnian couple who left because of the war come over to share their story. This is the first time the woman has been able to face the past. She feels she has taken a huge step to come here tonight. Later the Serbian guy insists on buying us all drinks, the small ones that are the most dangerous! And then we make a toast together. His friend, Sara is from Palestine and has another story to tell. This is what I love; the exchange of stories, learning from one another, relating, sharing, celebrating life. It feels good to be here.
Wednesday, Sep 15th
Wake with a call from Fedja and Natasa who are waiting for me in the lobby. I head down for breakfast, but instead find myself on a tour bus heading for Niagara Falls. Breakfast ends up being a sample of sweet Ice wine at a local winery then we head on to the falls. The wine only adds to the drama of being surrounded by the roar of the water. The last thing I expected here was to be a tourist. Wednesday evening the directors of the Discovery Programme are all invited to dinner. This is the sort of thing I dread though for no good reason - no one bites, you meet a lot of interesting people and the food is usually good. Tonight is no exception and I make a note to try and catch some of their movies.
Thursday, Sep 16th
You can really feel the festival winding down. It's a wet and stormy day, not so easy to be optimistic. The hotel lobby is now half empty, the focus of the industry has shifted elsewhere. Only those who want to see films are left. I bid farewell to Natasa and Fedja who head back across the Atlantic to their respective lives. We have news of a positive review in Screen International. Tonight's screening is no big deal. I'm not expecting much except maybe a few die hards who are willing to brave the rain. So we are relaxed as we enter the cinema, only to discover it is three times the size of the first night's cinema and again is completely sold out. I am amazed. The response again is fantastic, the questions curious and respectful. Why did I not cast a Bosnian actress? I explain the search and the combination of qualities and the joy of discovering Natasa. Is ethnicity more important than talent? Again, no easy answers, I just try to be honest. It is so heartening to know that there is an audience for films like this. And it's a privilege to be able to be there and talk to them in person. I leave feeling totally uplifted and energised.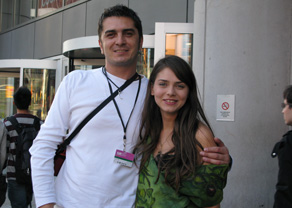 Fedja Stukan & Natasa Petrovic
Friday, Sep 17th
Did a radio interview with Alan Silverman. Never quite know what I'm saying and then it is over. Glad I'm not the one who has to edit it! Other great reviews coming out, in Variety and local on-line reviews. Time to catch some films and get to know the city a bit better. Toronto has a really nice vibe about it; it feels expansive, relaxed, multicultural and easy. It blends the North American positivity with a touch of French, it's a place where everything seems to work. I'm beginning to feel at home here.
Saturday, Sep 18th
The last screening is today at lunchtime. I arrive and to my surprise, it has completely sold out again. This takes my breath away. I am so overwhelmed and feel very emotional, standing there in front of these people presenting this film. It has been such a long and at times difficult journey, but standing here, seeing the tears, it is such an honour to be here, to be able to do what I do. This is why you do it, this is what it's all about. This coming together, this exchange of stories, of feelings. This is the power of cinema.
To read Exclaim's review of 'As If I Am Not There' visit www.exclaim.ca