Irish writer / director Conor McDermottroe (A Woman's Hair, Squaddie) will introduce his feature film debut to audiences on Friday, September 10th when 'Swansong: Story of Occi Byrne' receives a limited theatrical release across the country. The film portrays the life of Austin 'Occi' Byrne who is brought up in Sligo by his alcoholic mother and suffers traumatic bullying at the hands of a local gang because he has no father. IFTN spoke with Martin McCann, the Belfast actor who takes on the central role.
Occi grows up plagued by anger, confusion and pain. In the hopes of unlocking his own identity and overcoming the past that haunts him, he sets out to find his father and discover the secret of his birth. The emotional film stars Martin McCann (The Sound of People, Killing Bono) in the title role alongside Jodie Whittaker (Perrier's Bounty), Marcella Plunkett (Once), Gerard Mc Sorley (Omagh), Brid Brennan (Dancing at Lughnasa) and Owen Roe (Intermission).
The film began life on stage as 'Swansong' - a one man show written, directed and performed by Conor McDermottroe. Conor performed the piece in Sligo and brought the show to the 2004 Galway Arts Festival which is where he met producer Hermann Florin to discuss turning the project into a film. 
Martin's road to his role in the film is equally interesting – the actor, originally a thespian of the stage, was discovered by Lord Richard Attenborough when he did 'A Clockwork Orange'. Martin recalls the part fondly, not just because of what it led to: "I love, absolutely love the character of Alex so the minute I heard that there would be auditions for it – I said 'I have to get this part!" he tells us. There followed parts in Lord Attenborough's 'Closing the Ring' opposite heavyweights Shirley MacLaine (Terms of Endearment) and Christopher Plummer (The Last Station) and a role opposite 'Harry Potter' star Daniel Radcliffe in the wartime TV series 'My Boy Jack'.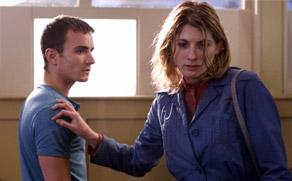 Martin McCann and Jodie Whitaker in Swansong: The Story of Occi Byrne
Martin tells us that he was instantly engaged by the character of 'Occi' upon reading Conor's script. "You read some scripts and you get the sense that the writer has plucked the ideas second-hand because they sound good," he explains, "but Conor is born and bred from Sligo, that's clear from the writing. He was aware of the hardships of mental institutions because he had seen it as a young person. That came across in the story which was very detailed and layered and a it was great read."
A mutual respect for the one another's craft is more than apparent with Conor's description of the filming of certain 'Swansong' scenes: "The camera loves Martin McCann," he says. "His intuitions are right and he understood Occi Byrne immediately, both his journey and the type of character that he is. Martin grew up in a tough part of Belfast and so he probably knows the kind of world that Occi lives in. He looks terrific on screen and can tell so much with his eyes. This is important because all the time there's this inner monologue going on inside Occi's head, questions like: Why have I been treated this way? Why are these people doing this? Martin can stay still and silent in front of the camera and yet you know exactly what is going on behind those eyes."
This 'inner head' acting has alerted other filmmakers to the young Belfast actor – a role as Phaedrus in the Warner Bros. blockbuster 'Clash of the Titans' came along, as did a part as Private RV Bergin in the Emmy-winning 'The Pacific'. "Clash of the Titans' was huge – and a buzz of activity," he recalls. "It was definitely the best example of organised madness I've ever experienced. I only had a tiny part in it but I got to be there for a few weeks. People were working so hard on it and there I was having breakfast with the actors and drinking cappuccinos until they called me on set. And the sets were absolutely amazing!"
Martin spent ten months in Australia working on the HBO WWII TV series, 'The Pacific', where he experienced, for the first time, the phenomenon of being an outsider on set. "What was strange about the 'Pacific' was that I was the only person from these parts who was taken on," he explains. "So I was the only foreigner on set really which was a completely new experience for me. It was very intense but absolutely amazing to do." As to his audition with the series' director, Stephen Spielberg? "I went over to meet Steven Spielberg, having asked Lord Attenborough to put in a good word for me, and he was so lovely - as people on the top tend to be because they have absolutely nothing to prove."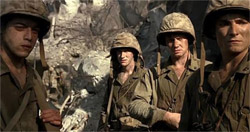 Martin McCann (far right) in The Pacific
'Swansong', to a certain extent, sees Martin reprise his position as an outsider – 'Occi' is generally ostracized from society in the film and, as a Belfast man, Martin was acutely aware of his lack of knowledge of said Sligo society. Thus, a few weeks before principal photography started on 'Swansong' in October 2008, Martin decided to base himself in Sligo. He explains to us that he felt he needed time to work on the character and the accent and slot into the town and its milieu. "I hung around the estates and talked to local guys who were my age from the town," he says, "I also wanted to get really comfortable with the accent – because the Sligo accent is a tricky one, there's a few variations on it and I wanted to be completely comfortable with it." 
The film's 49 day shoot brought with it a huge level of intensity – dozens of locations and high octane scenes had to be squeezed into the short period. One particular day of shooting seems to have brought the frenetic atmosphere to a whole new level, as Martin tells us: "There was one day we were out on a tiny island and I went to get a sandwich - or anything really because I was really, really hungry - and the catering staff had forgotten to put stuff on the boat for us. So all we had was a box of chocolate bars. It was all my childhood dreams come true but at the same time I was glad to get home to a real meal at the end of the day!"  The island adventures for the cast and crew continued when, on a separate occasion, they found themselves having to be flown by helicopter from the island as a result of bad weather.
Did Martin end up, not just understanding the character of 'Occi' but liking him, we ask? A thoughtful pause… "There was something about him I just 'got'," he decides. "Did I like him … It's hard to say – definitely I could understand him and I could see how he got to be the way he is. I could see myself being friends with him - from a distance!"
Martin's latest Irish project was the recent Belfast shoot of 'Killing Bono' – a story of a teenage rock and roll band who face increasing competition from their classmate's band. The classmate in question being U2's frontman Bono, played by Martin. Not having received any formal screen acting training I'm interested to see how one prepares to play such an iconic figure? "I just immersed myself in Bono," the actor says. "I listened to interviews and studied old footage of concerts and I just lived Bono almost constantly for a few weeks. The thing was to capture the essence of young Bono as he was then – his energy, because he is a man who is brimming with energy who has done such a huge amount of work throughout his career."
Coming back to the Irish film in question 'Swansong: The Story of Occi Byrne' has already enjoyed much success. Premiering at last year's Galway Film Fleadh it picked up the runner up prize for Best Irish Feature Film and was also nominated for Best First Feature at the Munich Film Festival earlier this year and has just screened at the  Montreal World Film Festival. 
Produced by Edwina Forkin (Three Days in Dublin) and Tom Maguire (Headrush) for Zanzibar Films in Ireland and Hermann Florin (Une Femme sur Mesure) for Florin Films in Germany, it was co-financed by the IFB, RTÉ, Eurimages, Kinowelt and ZDF/Arte. The movie was shot on 16mm film with anamorphic lenses by Alexander du Prel (Viva Europa!)
The feature will go on release in the Light House Cinema, Dublin and in select cinemas in the Sligo/Leitrim area from Friday 10th September. It will also screen at the upcoming LA Irish Film Festival which launches on September 30th.
For the Irish cinema screening times visit www.cinemanorthwest.com for the Sligo/Leitrim area or www.lighthousecinema.ie for the Lighthouse Cinema.