In a time when gross-out comedies are the safe option for most writers Graham Linehan insists on creating what he calls 'Inclusive Comedy'. This is humour that won't have various family members running for the kettle as a result of unrelenting awkwardness; rather it seeks to find the comedic heart in normally taboo subjects. IFTN spoke with the man who has brought us the three best known members of the Irish parochial community to see what audiences can expect from the upcoming 'Father Ted' documentary, his various ways of writing sitcoms and what his favourite 'Father Ted' episode is.
Graham Linehan is in town. The IFTA and BAFTA winner recently journeyed across the Irish Sea from his London base to take part in an IFTA 'In Conversation with ...' event. Here he regailed academy members and other industry professionals such as actors Frank Kelly, Niall Tobin and Victoria Smurfit and comic Joe Rooney with tales of his evolving approach to script writing and the ups and downs in his career thus far.
The writer has been participating in the Hat Trick documentary that will be shown on Channel 4 as part of a 'Father Ted' night this Christmas – an event that will celebrate the sitcom, written by Arthur Mathews (Wide Open Spaces) and Graham, which ran for three seasons on Channel 4 between April 1995 and May 1998. Graham has worked as a writer and director on series such as 'The IT Crowd', 'Black Books' and 'Father Ted'. He has furthermore written and directed for sketch shows like 'Big Train', 'Little Britain', 'Jam' and 'The Fast Show'.
As mentioned above, Graham is currently working on a 'Father Ted' documentary, something he sees as a way to thank long-time fans of the series: "It's not so much to let it go, because I am in no way sick of the fandom," he explains. "I love things like Ted fest, I am hugely proud that people gather to be silly once a year in the West of Ireland, which is amazing. So it's definitely a case of 'Let's give everybody everything they ever wanted to know about Father Ted but didn't know to ask'."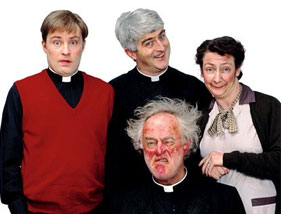 Father Ted
The star of the series, Dermot Morgan who played the title role died aged 45 in February 1998 as a result of a heart attack. The comic died in his home just 24 hours after finishing the recording of the last episode of 'Father Ted' – and a misleading report following the actor's death is another reason behind the 'Father Ted' doc: "It's also a kind of an assertion," Graham says. "An assertion of our place in the whole scheme of things. The night Dermot died BBC News reported his death and said that he wrote and created 'Father Ted'. That was one of those moments where I was standing there very upset, and then I heard this thing and I thought 'Wow, should I say something?' And of course that became a myth that took off.  It was just a way of asserting, or putting our names to it again and saying it was us, it was our baby."
This is the first time all the key players in the series will come back together to visit the sites made immortal by the sitcom. Did it feel strange for Graham to be with Arthur, Frank Kelly, Ardal O'Hanlon and other cast and crew members as a fellow participant in front of the camera? "No," he says emphatically, "It was lovely to be back, hanging out with everyone. We got a taste of what it was like for the actors, hanging around, doing retakes and all that stuff." As to driving Ted's car for the doc? "I'm 42 now and getting in and out of a 70's car … I'm not the best at it," he admits – in what is sure to be yet another treat in store for audiences!
Like fellow comics Stephen Fry and Dara O'Briain, Graham is a devout Tweeter. The writer has embraced completely the online possibilities and opportunities, much to the delight of certain would-be writers – as he explains: "I just love the internet," he starts, "the brilliant thing about it is that, as a so-called employer, I can actually go and find someone interesting. Rather than them sending me hopeful letters and praying that I read something that they send in I can actually search for the people that I am interested in." In fact Graham used Twitter to find most of the writers currently working on the fifth series of the 'IT Crowd'. Graham decided on this tactic as a research into possible writing approaches. A trail that, to all intents and purposes, seems to be paying off beautifully: "I have not worked with a team of writers long, and this thing I am doing at the moment is really an experiment, however, it seems to be paying off at the moment. We are getting ideas for how to play out story lines and I'm noticing that the process is taking a lot less time than it normally would."
Having said that Graham is quick to explain that this does not mean the end of him writing alone, merely something he decided to try out for the benefit of both himself and aspiring writers: "I really wanted to do it - partly to make the job more fun and easier and also because it's just a bit more relaxing. Also, it's nice to be in a slightly competitive environment with funny people. On the other hand I also wanted to bring in some guys who mightn't think of themselves as writers and get them to think in terms of plotting, character development. I felt it might be instructive for them." Graham sees this as a way of demystifying the way to write well for television: "It is almost like writing is a secret and the secret is not being shared widely enough," he muses. "And it should be shared because it would lead to a better cultural environment if more people understood the importance of rewriting and stuff like that."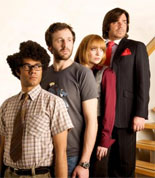 The IT Crowd
This bringing together of a novice writing team may also be a way of Graham's to ward off "Ghost Series", a phrase coined by the writer whereby "the show is dead but there is still another series walking the earth." It's something that clearly irks him greatly, as he further explains the concept: "It's not so much that the sitcoms get worse with age, it's just that they hit a peak. Sometimes, through greed, or whatever, the producers don't know well enough to stop, and they keep limping onwards. That is something that I always wanted to avoid." Coming into the fifth series of the 'The IT Crowd' is the curse of the Ghost Series something he is on the look out for more and more? "I feel with the IT Crowd that I could go on for at least another series," he answers, "I'm not bored of the characters yet, and if you're not bored of the characters yourself yet, there is a good chance the audience isn't either then."
Sitcoms have worked throughout the decades with varying numbers of lead characters – David Mitchell and Robert Webb carry 'Peep Show' between them, following in the footsteps of 'Steptoe and Son' and 'Open all Hours', whilst 'Friends' weaves the storylines of six characters together. Where Graham's more popular works are concerned three seems to be the magic number. 'Father Ted', 'Black Books' and 'The IT Crowd' all feature three main characters - traditionally a favourite quantity amongst filmmakers - but Graham doesn't read too much into it: "It's not hugely mysterious really," he reasons, "you need at least two characters - because they have to speak to someone - and two people talking to each other all the time would get a bit boring, so you need three to provide a bit of extra drama. So, three or four seems to be enough. Also, if you have any more than three or four, then you run the risk of the plots being too complicated."
How would he have coped, on the set of 'Friends'?  "I don't know!  Maybe if I came up with a good enough idea I could juggle all those balls at the same time. It would be a bit like plate spinning. I think you're right though, three seems to be my magic number."  
Another new approach Graham has taken to writing comes in the shape of Andrew Ellard. Yet another online discovery of Graham's, Andrew now works alongside the writer as a script editor. "I am hoping that Andrew will become a permanent collaborator, in the sense of, I really want him to look at all my scripts because he is genius."
That said Graham is immediate in his response to a question about his favourite writing partnership - the ecumenical years with Arthur; the 'Black Book' years with Dylan Moran; or his current situation? "Arthur," he affirms, "Just Arthur. Working with him - that was the best and it was just the most I have laughed. When you look at it, it's kind of hard to explain – the best way to do it is to remember the first time you watched 'Ted' and think about the first time you saw some of these jokes. When you're actually writing it, it's the best feeling, and it's even better because it is coming out of your own consciousness. 'Ted' was the one where we hit the ground running and the show was a success from the off. We knew what we were doing and we did it well, it was pure pleasure from beginning to end." 
In a surprising turn of events the big project Graham is working on at the moment is a stage adaptation of Alexander MacKendrick's 1055 classic caper, 'The Ladykillers'. Can we expect it to bear the mark of traditional Linehan project? It would seem so. "It's the original 'Ladykillers'. It's set in the same time, but what I've tried to do is make it a bit more of a farce. I've tried to keep all the action contained in the house, so we don't ever leave the house. And that way it is more theatrical, and, hopefully, more farcical."
Finishing with a question loaded with personal interest IFTN asks Graham what his favourite 'Father Ted' episode is? A lengthy pause before a rather unexpected answer: "It's funny but the one I really love is 'And God Created Woman'. It was potentially such a cliché - this idea of the priest falling for a woman, but I really think we handled it very well. And I loved the star struck nuns that's one of my favourite bits!"