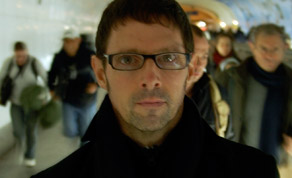 Niall McKay
Niall McKay founded the San Francisco Irish Film Festival in 2004. The festival, which takes place this year from the 23rd to the 25th of September, looks to present the best in contemporary Irish cinema, celebrating everything from features to documentaries to Irish language films. IFTN talked to the festival's founder and filmmaker about the running of the event and the changing face of Irish film.
The San Francisco Film Festival this year celebrates its seventh instalment. Whilst the full line-up for this year's festival has yet to be finalised the schedule thus far includes Ian Fitzgibbon's 'A Film With Me In It' which will launch the festival on September 23rd at 9pm. This will be followed by a screening of Niall's own feature 'The Bass Player' and Conor Horgan's 'One Hundred Mornings' on Friday, September 24th. The festival's final day, September 25th will see a screening of Ken Wardrop's 'His & Hers' alongside a Q&A session with some of the featured filmmakers entitled The Meeting Room and the annual Magners & Shorts Program which will close the festival at 9pm (along with free pints of Magners cider on the night).

Niall's own IFTA nominated feature documentary "The Bass Player: A Song for Dad" was aired on RTÉ in August 2009 and made its North American premiere at the Mill Valley Film Festival the following October. We talked to the filmmaker and founder of the festival about this year's event and his thoughts on Irish film as a whole.  

IFTN: Hi Niall, how goes organisation of the festival so far?

Niall McKay: It's going well. Conor Horgan [One Hundred Mornings] is going to come to the festival, which is great and we've got some brilliant Irish films, so things are going well.  We also have some new people involved and we have a very strong group of young people about my age. But the really fantastic thing is that Irish people in the city are getting involved now.

We are waiting to hear back from Culture Ireland to see if we can receive funding from them this year or not.  So hopefully we will get a little bit because it would go a long way.

IFTN: The festival used to take place in March, and now it's been moved to September, why was this decision made?

Niall: We moved it to September because the St. Patrick's Day window was really hard. Obviously because we have the Irish angle there was always a bit too much going on.

IFTN: Why was September chosen as the new time for the festival?

Niall: Well, I started the LA Irish film festival, so we moved the San Francisco festival to September thinking that we might be able to combine the two. So far we haven't been able to do this because we are showing different films, and stuff like that. But maybe in the future.

Essentially, it just seemed like a much better time in the calendar.  The March time frame was bad from a number of point of views, one being that it was just before the San Francisco International Film Festival.  I feel that, in the best of all possible worlds, I should be recommending films and not be hoping that they won't programme Irish films. They won't run anything that we have shown as we are just before them so, for example, I had 'Once' and they wanted it so I felt I can't stand in the way of a bigger festival having it.  And that has happened a number of times so hopefully it will stop now.

IFTN: How do you decide on what films screen at the festival?

Niall: This year we have been accepting submissions – it used to just be a case of me picking the films we would show.  We used to get some submissions each year but not many. We're not like the Boston Irish Film Festival where we have been receiving submissions for a number of years but we're going to start inviting submissions this year and see how it goes.

IFTN: Is there any reason why it's taken you until now to introduce this submissions feature?

Niall: I think there are more films now, or there are more films that I am now aware of at least.  There was a time when, if a film made it to the catalogues of the film festivals in Galway, Cork and Dublin or if I heard about it when I talked with the guys in Filmbase, I would be able to catch most of them.

There are a lot of films being made now and a lot of them are very good.  And you don't know where they are coming from either.  There was a time when you would probably know where the good films were coming from, but actually you have no idea these days. There are good films being made by people who are being supported by the Film Board and people who aren't and they all deserve to be screened.

IFTN: You have some very strong Irish titles screening at this year's festival, what other titles are you hoping to screen?

Niall: I think we are going to see about launching a New Irish Filmmaker Award this year. We would hope to host established filmmakers each year, budget allowing, but we would like to honour a new Irish Filmmaker each year, so we are going to launch that this year as well.

IFTN: You're into your seventh year as director of the festival – have you seen a change in the Irish projects that you have been screening over the years? Is the Irish film industry evolving?

Niall: Yes, definitely. I feel that when you are home, I feel that there is a continuum; I am almost disappointed when I am home that I can't go anywhere and watch an Irish film.  I know the IFI has started doing it, but with places like the Light House it would be great to actually see an Irish film being played somewhere in Dublin. I understand that 20 years ago we had very few Irish films but there are loads of good films now. I just feel the standard is getting higher and higher and that Ireland is developing its visual sense.

 We were already in Division 1 in terms of writing and creating plays and we have undoubtedly some of the best playwrights in the world. This year for instance 'One Hundred Mornings' is a tremendously strong film, as for 'His & Her's, there is nothing like that film, I have not seen another film like it.  'A Film With Me In It', ok it's a very dark comedy, but it's along the continuum, that film is just so good. 

And, of course, now there are other new films like 'Eamon', and new film makers like Margaret Corkery who are making really exciting and different films. For all the criticism of the Irish film industry I think that filmmakers nowadays are doing really, really well. The evidence is in the films. 

IFTN: Audience wise, have you again seen a change or do you see the same people coming back every year, because they like what they get?

Niall: We have a slightly different audience. When we started off, people who supported these events were slightly older Irish people - people who would have emigrated in the 50's, 60's, 70's and 80's for example. Recently though the demographic has changed, audiences are a lot younger and tend to be more film savvy. Which means of course that I can't just play anything Irish and expect people to come. 

They are an independent film audience, people who go to the cinema regularly.  The unique thing about our festival is that it's really one of the few events in San Francisco that gets this younger demographic out.  The audience is growing and it is getting stronger, there are more and more people coming out who are working in software, and financial services, media, marketing and all that kind of stuff. There is also a group that's grown up called the Irish Network, they have been very supportive of us and we have been supporting them.  It's an interesting crowd of people.

IFTN: On the other side of things, how is your own film making going - since 'The Bass Player' have you been working on anything else?

Niall: Yes, I've been doing the bread and butter gigs and we are also working away on a documentary for PBS on Asian Americans in politics. We have got a couple of films for PBS for their historical cultural programming. 

We're also doing some production for inter-active games.  I am working on a couple of new projects that I would hope to get some interest in but they're only in the early stages yet.