'Zonad', a new Irish feature from John and Kieran Carney, hits cinemas on Wednesday, March 17th. To mark this arrival IFTN caught up with the IFTA nominated actor who fills 'Zonad's latex jumpsuit, Simon Delaney, to talk Harvey Weinstein, singing to schoolgirls and having to choose between film and theatre.
'Zonad' is a comedy about an escapee from a rehab facility, played by Delaney, who hides out in a village in rural Ireland and fools the locals by pretending to be a visitor from outer space called Zonad. The film is written and directed by Kieran Carney (The Last Furlong) and John Carney (Once).

Type the word 'Zonad' into any search engine and you will be inundated with information about a short film version of 'Zonad' made, apparently in 2003, but Simon tells IFTN that the film has been somewhat longer in the making: "It actually goes back further than that - about eleven years ago," he says. "Before the first season of 'Bachelors Walk', the boys - John, Kieran and Tom Hall – wrote the script. John had just got a new camera for himself so we said 'Lets shoot the pilot'. We spent a week in John's apartment in Rathgar and we shot this thing but it never actually saw the light of day, it was never finished or cut or made into a short film or anything really but for some reason there is one clip from it on the net of Cillian Murphy drinking a glass of milk."
This ultimately begs the question – how did it happen that we are now privy to a feature length 'Zonad' project? Simon puts it simply, saying: "Four years ago John and Kieran came to me and said 'look, lets do something together again' and we kept coming back to 'Zonad', the pilot that we had never done anything with. We still didn't know whether it was going to be a TV show, film or whatever. So we went off and wrote the film scripts and we shot it two and a half years ago, did some re-shoots about a year ago and I think it's finally ready to be unleashed on the public."
Zonad
One of the more memorable scenes from the film involves Simon singing a heartfelt (if somewhat inappropriate) song called 'Mysterious Girl' to a classroom of adoring school girls. Who was the driving force behind this Peter Andre-esque tribute to the female race, one has to wonder? "That came from the rather warped mind of John Carney," Simon is quick to inform us. "He wrote five or six songs for the film - two are included in the film and the other three will be on the DVD. 'Mysterious Girl' is one of those things that makes the film original," he says with a pronounced twinkle in his eye.
'Zonad' reunites Simon with John Carney. Having worked together on 'Bachelor's Walk', did he notice a difference in John's approach to directing following his enormous success with 'Once'? "No, he's still the same arsehole!" comes as Simon's natural response followed by praise for his friend's success. "I was looking at him on the red carpet the night of the Oscars and I thought to myself 'Jesus Christ, it's a long way from shooting the pilot of Bachelors Walk'. It's great, and will be great for this film I think. What's more - Harvey Weinstein, on the night of the Oscars, said to John 'I passed on 'Once' and I fucked up', so they won't be as quick to say no to him again which is brilliant."
'Zonad' is based in modern day Ireland, however this is only made clear with the appearance of a DVD player. The timeless location of Avoca in Co. Wicklow and the naïve nature of the film's characters could easily belong to a 1950s B-Movie, exactly the look the filmmakers wanted. It is this unique look that has lead to the film receiving a glowing report from Variety magazine who, in a review, calls it "a fully baked Gaelic nutroll of a comedy confected from equal parts 'Pleasantville', 'The Quiet Man' and the old 'Carry On' comedies." This effect is added to greatly by the IFTA winning score from Bryan Byrne. Simon is full of praise for his colleague "I'm delighted for Brian," he says, "the score is beautiful, it adds a real richness to it and it gives it a real 'Quiet Man' vibe."
A question about the daily wearing of a red latex suit for the film inevitably rears its head. "It was a joy to wear!" is the prelude to an unexpected and slightly uncomfortable (excuse the pun) confession. "I had two big problems," Simon explains. "Firstly these suits are made for women so lets say there was no 'ballroom' in 'the building'. So that gave the costume continuity issues because some days it was to the left and others to the right." And the confession continues, "It took two people to get me into it and three people to get me out of it. We tried powders, oils anything, I mean there were things happening to my body that shouldn't happen to farm animals." Delightful stuff.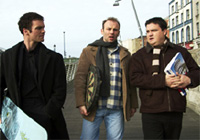 Bachelors Walk
Moving, at a rapid pace, on to a different topic Simon's recent projects such as 'Zonad' and 'Happy Ever Afters' see him starring alongside other Irish stars such as Tina Kelleher (The Snapper), Deirdre Molloy (Intermission) and fellow IFTA nominee, Ger Ryan (The Van) and sees him reunited with 'Bachelors Walk' co-star Don Wycherly. Simon tells us the opportunity to appear with his compatriots and friends is one of the key reasons behind his role choices. "Absolutely, there is such amazing talent in this country. With regards Don, he is as mad as a box of frogs. When I'm working with him it's not work at all. Going back to the 'Bachelors Walk' days, we'd be sitting in Mulligans late in the morning drinking pints of Guinness and then someone gives you a cheque at the end of the week – fantastic! Don is a joy, he is an underrated but fine actor."
Throughout the years Simon has been spread across film, television and theatre – but if he had to pick one which would he choose? "I don't know," he says, following much thought. "My bank manager would like me give up theatre and keep going with film. My heart would be on stage, but I don't know. That's like asking me which one of my kids I'd give up!"
'Zonad' is produced by Ed Guiney (The Guard), Andrew Lowe (Cracks) and John McDonnell (Song for a Raggy Boy). Simon's co-stars include fellow IFTA nominee Janice Byrne (The Clinic), Geoff Minogue (Once) and Donna Dent (Ella Enchanted).

The director of photography for is Peter Robertson (Garage, Inside I'm Dancing), production designer is Susie Cullen (Intermission, Laws of Attraction) and the costume designer for the project is Tiziana Corviseri (Bachelors Walk Christmas Special). The film is edited by Paul Mullen (Once, Bachelors Walk Christmas Special) and the sound is managed by Karl Merren (Eamon).

'Zonad' receives its Irish theatrical release on Wednesday, March 17th.