Friday, February 19th sees the Irish release of 'The Lovely Bones', a film which sees 15 year old Irish actress Saoirse Ronan (Atonement, City of Ember) take on one of her most challenging roles to date – that of Suzie Salmon - in director Peter Jackson's adaptation of Alice Sebold's bestselling novel.
In 'The Lovely Bones' Ronan plays a 14 year old girl who watches her family from the afterlife after she was brutally raped and murdered by a neighbour. IFTN recently caught up with the teen actress to talk about filming the project in New Zealand, her recent IFTA nomination and exploring the world of martial arts!
'The Lovely Bones' is the latest project to come from 'Lord of the Rings' director Peter Jackson who was still in post-production on 'The Lord of the Rings: The Two Towers' when he first read Alice Sebold's bestselling novel at the behest of his longtime filmmaking associates, Fran Walsh and Philippa Boyens, who were huge fans of the book and who would go on to write the screenplay for and produce the film.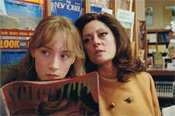 With Susan Sarandon in The Lovely Bones
As mentioned Saoirse plays Suzie, a 14 year old girl who lives in suburban 1970s America and who is brutally killed by her neighbour, Mr. Harvey (a chilling, and Oscar nominated performance by Stanley Tucci). Suzie's parents, Jack and Abigail, are played by Mark Wahlberg (The Departed) and Rachel Weisz (The Constant Gardener) with a turn from Susan Sarandon (Dead Man Walking) as Grandma Lynn.
As to how Saoirse became involved with the film: she and her father, actor Paul Ronan, acted out some dramatic scenes in an audition tape that would ultimately clinch the part for the young actress, to the surprise of the film's production team! "A lot of teenage girls turn up at auditions with a pre-packaged screen persona," Peter Jackson has said "but for Susie, we wanted the opposite, someone who would give the sense of being a very ordinary and real 14 year-old girl. What we didn't expect is that we would find our teenager from Norristown, Ireland."
Meeting with Saoirse, congratulations come first and foremost for her recent IFTA and BAFTA nominations, both of which are for 'The Lovely Bones'. Saoirse reflects that the support from IFTA voters over the last few years has been very heartening: "It's lovely, for the past few years it has happened and it's like, 'Wow'. Yes, it's fantastic." As to the recent BAFTA nomination, Saoirse recalls hearing about it with mixed emotions: "We were in Tokyo promoting 'The Lovely Bones' and I was so tired, I wanted to die," she recalls dramatically. "It was just the worst kind of tired. But then Jane from Paramount came over to me and she had got an e-mail on her blackberry saying 'Stanley and Saoirse have been nominated'. I just started jumping around; I knew Stanley would be nominated but not me. I was so happy; it gave me a bit of energy!"
An IFTA winner for her role in fantasy feature 'Atonement' and following her role in last year's 'City of Ember', Saoirse is no stranger to the use of special effects – however, one has to wonder if she was not a bit lonely spending most of the shoot for the film in front of a blue screen on her own, "Not at all," she replies: "I actually spent quite a lot more time with Mark (Wahlberg) and Rachel (Weisz) than you think. There were a few things that were difficult like one particular scene where Suzie connects with her father from the afterlife. I was in a gazebo and the camera was there and behind the camera was a blue screen so I didn't have anything to look at which was difficult. So there were certain scenes that were hard because things and people weren't actually there. Pete would talk to me during takes - he would describe what was going on around me and we would play music that would reflect the mood of the scene and that helped me so much. The vision of the in-between world was sort of given to me and told to me through Pete."

Atonement
Saoirse's breakthrough international role came in Joe Wright's 'Atonement' where she played Briony, a serious girl whose mistake as a child sets of a series of tragedies. Wright was famously impressed with Saoirse's natural acting abilities – and it seems she got on just as well, albeit on a different level, with Peter Jackson: "Joe can be quite emotional," she explains, "and I don't mean that in a bad way at all. He really touches on your emotions and he is very sensitive. I think he directs more with his words rather than anything else and he will guide you along. Pete is very much involved with everything. Work for him is a lot of the collaboration film making between actor and director and I think that is really nice. He knows that he is the director but has great respect for the actors' abilities - you know what you have to do but at the same time you can experiment with different things and it's really great in that way."
Saoirse is a busy lady – production recently ceased on the set of Peter Weir's 'The Way Back', a feature length drama in which she stars alongside Irish actor and fellow IFTA nominee Colin Farrell (Ondine), Jim Sturgess (Across the Universe) and Ed Harris (The Hours). Despite the stellar cast, for Saoirse the one thing about the shoot that immediately comes to mind are the film's exotic locations. "It was brilliant and lots of fun to do. It was difficult because of the locations which it was shot in, Bulgaria and Morocco which are very different to Ireland." And 'difficult' is a word that will apply to the next few weeks as training for her new film, 'Hanna' begins with gusto. "Six days a week for hours!" she exclaims, describing the martial arts lessons she has begun for the new project that sees her play the title role of Hanna, a girl brought up to be a killing machine. The film will reunite her with director Joe Wright something which she's is very much looking forward to: "I met up with him a few days ago and I'm older and so is he," she says with a sage tone beyond her years. "We have done more things since then. He was only starting out then as well so it'll be great to see how we get on with this very different genre of film."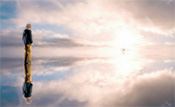 The Lovely Bones
'Hanna' will introduce Saoirse to the world of action packed films – in the role of a trained killer – this comes after her turn as a murdered girl wandering limbo and a busy-body little sister in the form of 'Atonement's Briony, so is she choosing these polar opposite roles on purpose? "I don't want to repeat myself first of all and I don't want to play roles that have been done a thousand times before," she explains. "I want to play girls that people will be interested in and fascinating girls like Susie and Hanna, especially Hanna. Change is good and I really love playing those kind of girls."
Despite her young age and the surreal nature of her job, Saoirse remains a level headed teenager, polite and eager – how has she avoided the pitfalls and trappings of fame that have befallen so many child stars before her? "I think the thing to remember is that you can never predict what is going to happen," she say, "I can't, Meryl Streep can't, nobody can and you have to take every day as it comes and never take things too seriously. You should be doing it really for yourselves because you love it and you have fun doing it which is why I do it."
'The Lovely Bones' is released nationwide from Friday, 19 February 2010