With Ardal O'Hanlon and Arthur Mathews teaming up for their biggest project yet since the heyday of 'Fr. Ted', IFTN caught up with the pair to discuss, with Ardal, appearing on the big screen in his first cinematic lead, and with Arthur, the inspiration for a script based on building a famine theme park.
Sitting opposite the pair in the elegant Dylan Hotel in the leafy Dublin suburbs, as an outsider this journalist can instantly see that this duo have a deep bond and are extremely comfortable in each others company, with the type of friendly ease that develops from knowing someone for many years. Greeting me with the typical Irish handshake, I am instantly drawn into the jovial banter between the two.
Many years on from his role as Fr. Dougal McGuire in 'Fr Ted', Ardal O'Hanlon is funny, sincere and very down to earth, whilst Arthur Mathews' comedically gifted personality in reality reflects, almost perfectly, the witty exchanges which we have watched for years on our television screens.
Over the last ten years Ardal, an accomplished actor, writer and comedian, has enjoyed success and fame, whilst Mathews, who has been quietly penning scripts, has also had success with the TV shows 'Alas Smith and Jones' 'Black Books' 'Stew; and 'I Keano', the hit comedy musical to which he lent his writing skills .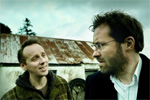 Wide Open Spaces
Not wanting to put a stop to their chitchat and joking, I tentatively approach the reason I have met up with the pair - to discuss their new film 'Wide Open Spaces' shot on location in Prosperous, Co. Kildare just before Christmas 2008.
The film is a quirky Irish comedy, packed to the brim with home grown talent including Owen Roe (Intermission, Breakfast On Pluto), Don Wycherley (Bachelors Walk, Garage) and Gerard McSorley (Veronica Guerin, The Tudors) to name but a few.
The other lead roles came in the form of Austin played by Ewen Bremner (Fools Gold, Trainspotting) and Leonie played by Morwenna Banks (Alien Autopsy, Dream On).
With director Tom Hall (Bachelors Walk) at the helm, producer Paul Donovan, co-Producers Clare Kerr and Ailish McElmeel, exec-producer Michael Garland and Tim Fleming as Director of Photography, shooting got under way in November on the film which sees two, slightly dim-witted, best friends attempt to create a new tourist attraction for Ireland - a famine theme park.
Asking Arthur Mathews where his inspiration for the script came from he tells me: "Well God inspired me. He just appeared to me behind a bush, actually I was behind a bush and he appeared and told me to write a film about isolation and despair in rural Ireland. Oh wait! Actually, no, I just had the notion – I can't even remember - it just occurred to me, it came to me one day. There was no reason and that is probably a very poor answer but unfortunately it is the real one."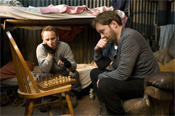 Wide Open Spaces
In the friendly way the two friends bounce off each other Ardal interrupts "The idea alighted like a horsefly," Arthur continues, "Yeah it just got into my ear. But it's so long ago I can't actually remember. I know it was the summer of 2004 when I started writing it."
When Mathews originally started penning the screenplay, he describes the earlier versions of 'Wide Open Spaces' as "very like 'Knocked Up', but it went through about a million drafts as well so you probably could have made three films out of the various scripts along the way."
With a film that neither possesses, nor tries to embrace, the broad appeal of something like Fr. Ted I probed Mathews on his writing technique in an effort to understand how a writer captures the magic, "I think dialogue has to flow naturally so it's the first thing that comes into your head, then you can edit later on. I think it has to be organic as well. I went through loads of script editors on this particular film so you have millions of people giving you notes all the time."
'Wide Open Spaces', which was funded by the Irish Film Board, Scottish Screen, RTÉ and BBC Scotland, is the type of film that possesses characteristics that people from every demographic and socio-economic group in society can identify with. The script, which was tweaked right up until the last days of shooting, at one stage even refers to the 'economic climate'.
So was this a coincidence or was the reference cleverly introduced at the very last minute to bring a contemporary feel to the script, considering the recession hit almost at the start of the filming? "Well when I started writing it we were like Germany in the nineteen seventies," says Mathews. "We were incredibly prosperous - I don't know if anyone remembers that. For a short period, we sort of had loads of money, two homes, but due to the incompetents of the government… Am I right Ardal?"
Ardal: "No, you are wrong to look for scapegoats Arthur! We are just a little rust bucket buffet around the seas of international finance," apologising and winking he adds, "Sorry I have a relative in politics."
Taking the opportunity to find his footing in the question again, Mathews approaches the question seriously, "Ok so it is not mis-management! As you noticed the economic downturn happened very quickly but through clever use of putting in a line like that you can make it appear contemporary and it doesn't look as tough if it was written in 2004."
According to Ardal, Arthur is clever in many ways; "I think Arthur is very like David McWilliams in many respects really. He saw this happening years ago, didn't you? You saw before the boom, that there was going to be a recession after the boom, you knew that. During the last recession he predicted there was going to be another recession further down the line."
The film, which fits in perfectly with our current economic climate, reflects both visually and in content some of the dismal characteristics of post-Celtic Tiger boom Ireland. According to O' Hanlon; "It is just as well this movie came out after the boom because I think Arthur would have been blamed and possibly hounded out of the country. It could shake people's confidences, I'm not saying you should go and see it, but it could really rock people's faith in mankind but it will make them laugh while they go down with the sinking ship."
O'Hanlon, in his first cinematic lead, plays the more serious of the two characters, a step away from his usual funny antics in the likes of 'My Hero' and 'Skins', I ask Ardal what attracted him to the character of Myles? Pausing in contemplation for a split second he says, "I suppose one of the main things that attracted me to Myles it is that he is a very straight character. There are a lot of larger than life extravagant characters in this film, and certainly some of the peripheral characters could have walked out of Craggy Island, but the main characters are a pair of misfits. The one that I play is the more sensible one.
"I also thought the script was very funny for a start, I thought it really tapped into something that would strike a cord with me and with Irish people generally. It's about a sort of disillusionment and melancholy but it is very funny as well."
An absurdist comedy which explores friendship and isolation, the film at times resembles an Irish Western with a range of bizarre characters, I questioned O'Hanlon as to whether he found it hard to play a serious role in such a random cast of characters, "I did and I didn't. You know sometimes you have to fight your instinct to be funny in a role like this; you have to take it very seriously. Also when you're used to doing stand-up and sitcom in front of live audiences, sometimes you feel that you have to give more but that would be wrong. So it is difficult, there is tremendous discipline involved, but I enjoy that, I like a bit of discipline."
Adding his thoughts on the character of Myles and the screenplay in general, Arthur says, "I think it has to be that the character and situation is hopefully what's funny and it is being played very straight."
Ardal, in an effort to echo Arthur's point, tells me "I love watching character studies and I think we were all adamant that we didn't want any histrionics in this film. It was to be a quiet film, no shouting, no forced humor, no real clunky jokes at the expense of narrative or the expense of character. Once we got into it, it wasn't difficult working with Ewen and actors like Owen Roe, who plays Gerard Ring, you get totally immersed in the scenes."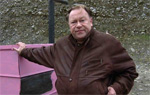 Owen Roe
'Wide Open Spaces' is directed by Tom Hall and once the director teamed up with Arthur, the story crystallised solidly for the first time. Asking the pair what they thought of Hall as a director Ardal smiles, "I thought he was great, he was very cool, and he didn't let the conditions or schedule get to him. His direction was always to the point."
Echoing the praise and laughing at the same time Arthur adds, "It's great I'm very pleased with how it looks. I mean it looks like a film shot in Chechnya or somewhere."
The film itself contains certain elements of Irish humour; from Roe's character, who is obsessed with Ryanair's Michael O'Leary; to Austin's character who paints the famine boat pink. So how will international audiences react to the Irish humour in the film?
"When I was writing this I became engrossed in a few foreign films," says Mathews. "'Uzak' from Turkey, one from Belgium and one called 'Noi The Albino' from Iceland. I kindof liked all those films because they had no plot and nothing really happened in them.
What I especially liked about the film from Turkey is I could really relate to it, it's really simple, about some guy who comes from the country in Turkey who goes to live with his cousin in the city and the discomfort of being around someone you don't really know. I like that sort of thing, not something with too much plot. So I suppose if anyone ever sees this in a foreign country they might think the same way as I do when I see a film from Iceland, that's ideally what I would like to think."
From an early stage writing the script Mathews had O'Hanlon in mind for a character in the film but says "I didn't know which character Ardal would play. We all decided it would be good for the film and Ardal if he played someone who was actually pretty straight."

The banter on the topic of costumes and coats continues for another couple of minutes as the pair ramble on, talking about the freezing cold Irish conditions during the shoot last November/December. The contained space of the yard (or in reality the quarry) where the famine theme park is under construction is almost a juxtaposition to the films title 'Wide Open Spaces'. Visually, the climate and bleak landscape add dramatically to the melancholy of the film and when these elements are moulded together into a visual aesthetic, cinematographer Tim Fleming succeeds in subverting any preconceptions of O'Hanlon and Mathews' work on 'Fr. Ted'.
The Divine Comedy wrote the musical score for 'Wide Open Spaces', having also penned the theme tune to 'Fr Ted'. Wondering if this was a coincidence, the pair laugh and Ardal replies "No, Arthur only knows about four people basically."
In an effort to defend his contacts Arthur responds, "I like to keep it small, if I go beyond four people it gets a bit disorienting for me. It's not a coincidence, it's because I asked them to do it. It would have been great if it was a coincidence but there was method in the madness of it."
The two comedians are teaming up again for an RTÉ comedy which is set to air this Autumn, 'Val Falvey'. Questioning them on their involvement in the series Ardal tells me: "Yeah we have done it, it's in the bag. RTÉ keep all their programs in a bag. It's a huge bag and the scheduler just sticks his hand in and takes out whichever.
"It's a great experience and is still being edited, but I play a TD in it and Owen Roe, who is also in Wide Open Spaces, plays a TD's minder/fixer. They get into all sorts of scrapes with various consequences which will be on our screens in the autumn hopefully."
Meanwhile, Ardal O'Hanlon is in the midst of writing a play for the Gate Theatre but intends to return to stand up comedy in the autumn. Questioning what is on the cards for Mathews, the writer looks at me and quips, "Well we hope to get married!" Grasping the opportunity for one final joke, Ardal agrees, "Yeah settle down, we're building a place in Sligo. You know, formalise the whole thing."
'Wide Open Spaces' opens on Friday July 17th.

'Wide Open Spaces' is in association with Grand Pictures and Element Pictures Distribution.
Cameras were provided by: The Production Depot.
Lighting was provided by: Cine Electric.
Post Production was done by: Arc in Glasgow, Scotland.