Having just completed work on Neil Jordan's 'Ondine', Rebecca Miller's 'The Private Lives of Pippa Lee' and the 2009 animated hit 'Coraline', Tom Johnson, sound effects editor and sound re-recording mixer discusses the "emotional logic" in the films he has lent his talent to working in Ardmore Sound.
Johnson, who has a very colourful filmography to his name, most recently finished working on Neil Jordan's 'Ondine' and Rebecca Miller's 'The Private Lives of Pippa Lee'. 'Ondine', starring Colin Farrell and Stephen Rea, tells the story of a fisherman in southwest Ireland who hauls up a girl in his nets. Theories about the girl's origins blossom as she transforms the lives of the fisherman and local townsfolk. 'The Private Lives of Pippa Lee', written and directed by Miller, stars Robin Wright Penn, Winona Ryder and Keanu Reaves, and tells the tale of Pippa – a woman who moves to a suburban retirement community with her much older husband. After engaging in a period of reflection Pippa finds herself heading toward a quiet nervous breakdown.
With an Academy Award for 'Titanic' and another Oscar and BAFTA for 'Terminator 2: Judgement Day', Johnson has worked as a sound mixer and sound editor for many top Hollywood blockbuster movies covering every genre of film including action, romance, sci-fi, and animation. Johnson, an American living in Ireland, works in Ardmore Sound where he perfects his craft and creates lyrical masterpieces along with the rest of the Wicklow based sound team.
Keanu Reeves & Rebecca Miller
IFTN: You have recently completed work on 'Ondine' and 'The Private Lives of Pippa Lee' – both these films were big projects and at the same time massively different feature films?
TJ: The two films are certainly quite different. For Rebecca's film, not to toot my own horn, but I think I might have been in good tick in terms of being in Ireland. I'm an American and the film takes place in the US so I probably have a sensibility for what she was trying to go for.
One of the first things she said when we talked about the film, was that she wanted it to sound like Connecticut, mainly in the summer time, so I kind of knew what that sounded like already because I had been in the area and, luckily, at the time we were setting it all up I was there too. So I could go and record sound effects and I collected a bunch of stuff that would make the film sound like it was actually where it was shot. A lot of the process for her film was doing that, just getting a lot of background so it would sound like Connecticut.
The whole film is structured so there is a whole time shift between the present and the past that sort of inter-cut with each other. Between Rebecca and me, we came up with a few transitional elements so they would work in a lot of the scenes, as several of the scenes are done in one shot where you go from the present to the past. Basically it was myself working with my own mind and checking in with Rebecca. The relationship between her and me was quite close which was great. I would come up with ideas for scenes and she would come in to discuss it and tweak things. It was an ongoing process and by the time we got to the final mix everything was pretty much the way she would want it to work, if that makes sense?
So did both directors have a very specific vision of the end product they were looking for?
I would say the difference between Rebecca and Neil is that Rebecca had an idea of what she wanted things to sound like from the outset, being that her film is probably a bit more tied to the environment in a way that it became a little clearer to me. Neil, on the other hand, doesn't have a very clear thought process in how he works and I suspect it is the same way in terms of visuals as well. He works very much on an instinctive level. He never really had precise directions for me, the clearest directions came through Tony Lawson his picture editor.
His film deals with a character who may or may not be mermaid, I don't want to give too much away of the film, but there are scenes / shots that take place underwater in the sea and the main direction from Tony was "we want it to sound like another world not necessarily like straight underwater." So, because that was the kind of directive that I had, I came up with sounds for that idea.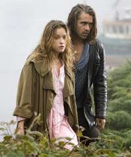 Ondine
I would say 'Ondine' was more difficult. It had three problems; one was the underwater thing, which was actually fun and creative; and the other thing that was hard was the film was shot in Ireland last summer - and I am putting quotes around summer because as you know last summer was terrible it just rained, rained and rained. If you look at 'Ondine', everyone is dressed like it was a warm summer's day but in actual fact for the duration of the shoot it was cold and rainy. The main thing Neil said to me was "we need to make this sound like summer, we need to make it warm," and so that became a little difficult, but I think in the end we pretty much solved it.
The third difficulty was, because the way most films work, a lot of it is shot in a way that there is no background sounds in the original recording - so we had to come up with whole environments for the areas. I kind of ignored the fact that it was shot down in Cork and tried a different approach where it took place in Ireland but in places that are a little more exotic that might not normally be authentic. In certain places in the film we have created this almost other worldly environment, so I would say, in Neil's film, I paid a lot more attention to the emotional quality of the sounds we were putting in. So then, the final way I worked with him was when we did the underwater shot towards the end of the film, there is a kind of a dream sequence that happens so I focused on that and used elements underwater, you would have to see the film to see all these connections. I designed that whole sequence at one point based on all these ideas for underwater and showed it to Neil, luckily he liked it because, for me, it is a hard nut to crack when you are trying to do something abstract, if you are totally off base it could be two weeks of work just thrown out the window.
The other advantage I had was I had the music/sound track as well to use at the climax of the film. I am using a lot of these underwater elements that did work with the music so we were able to develop this kind of soundscape effect which hopefully integrates with the music fairly well.
How different was it working on Neil's 'Breakfast On Pluto' in comparison to 'Ondine'?

It was completely different. In 'Breakfast on Pluto' I was a mixer so I wasn't involved in the design of the sound track from the beginning of the editing all the way through as much as I was on 'Ondine', so I probably had a heavier responsibility on 'Ondine' and as a result it was much more pleasurable and fun for me - as well as more exhausting.
The nice thing about 'Ondine' was we had four sound people. On the whole crew there was myself, Sarah Gaines, Steve Fanagan and Michelle McCormack. Michelle and Sarah dealt with the dialogue world - and Sarah was also the supervisor, the anchor who kept everything together especially when I would go off on my tangent, Sarah would go "No Tom, come back in," so it was great. The crew itself was small, especially in American terms, which I think worked better because we were all able to talk to each other every day and make sure we were doing the same things. I would say 'Ondine' was certainly a great pleasure for me, good fun and in a way I am more satisfied with the result.
When did you mix the two films in Ardmore?
They were on each side of Christmas 2008, January 2009.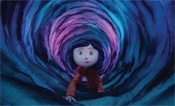 Coraline
Moving on to your other projects, like Henry Selick's 'Coraline', can you tell us in a broad sense how different is it to work on an animated film in comparison to a feature film?
Animated films are quite different because you are starting almost from scratch. Every sound, especially sound effects, even dialogue, everything has to be put in an environment which didn't exist and as a result it is really, really fun and in a way much more creative. But it is not as straight forward nuts and bolt, animation leaves everything much more open until the very end so we are constantly changing things.
In the case of a film like 'Coraline' we were adding things right up until the very end, adjusting, changing environments, where I would put the dialogue in using reverb and when Henry Selick saw it he would say "no that's not quite right," and we would change things. Then the music is always changing so I would say animation is often more in flux until the very end.
The thing I also have to remember in animation is it normally takes approximately three years to make the whole project, not that a feature film doesn't as well, but the process for animation is working in such a minute sort of way; like frame, by frame, by frame. Especially the motion stuff, like in 'Coraline', I think the mindset for the director and picture editors are always focused so much on detail that everything has a lot more detail going into it as well. So it is a different process and outline.
What is the most challenging part of your job?
In editing, the most challenging part is actually discovering the emotional content of scenes and mixing it. Keeping the emotional line of a film consistent so that there is nothing that will jar you as an audience or which will make you want to pull out of a film, unless of course that is the intention.
Often you have to be really careful, because sound can do this and it is something that lots of people don't really see. If you are not careful with sound, sometimes, you can change the emotion content in such a way that it misguides you for a second. It is hard to explain without explaining the whole process but that is our job, in sound, to keep that emotion content. It is the same process for picture editor or director, always creating this line of emotion and it is really important to keep it clear and that is the most challenging thing for us too, we always have to be aware of it.
For me, it is always challenging to be connected to the film so that I know that whatever I'm doing - changing the level, changing the quality of something, featuring one sound effect over another or making the music louder here or lower there or fading things out in a certain way - all of that has an emotional logic and a reason.

There Will Be Blood
You have worked on a variety of blockbuster movies, what has been your most memorable project and why?
Well they are all memorable for various reasons. I would say working with Tim Burton or Robert Redford. In a way it almost doesn't matter which films you pick because they were all such pleasurable experiences. In the work which we go through, both directors sort of respect our talents and look on it as a process of collaboration. You just feel you are part of the whole thing and respected as an artist, so those are high points for me definitely.
One other high point was working with Paul Thomas Anderson on 'There will be Blood'. Paul is a great guy. It was also the association with Daniel Day Lewis, not that I know him, but suddenly there was this Irish connection that I had and plus the way I met Paul was they were doing screenings for Daniel at Ardmore so I became involved with the film as a result of that.
You have won Oscars, been nominated for Oscars, BAFTA, IFTAs and many other prestigious awards how do you keep your feet on the ground in Ardmore
Well, first of all, I live in Ireland which is one of the best places in the world to live. The people at Ardmore are fantastic.
The thing that happened to me when I first worked at Ardmore was that I realised everyone there is so devoted to the film sound process. Everyone is really passionate about it, they truly love the process and, at that point in my life, which was about eight years ago, it was like going back to my beginnings as everyone was so excited about what they were doing and still to this day everyone is.
Where I had worked before in the States it had become more of a business and everybody was like "I'm going to work on this film because I'm going to get an Oscar for that." Everything that was happening was for all the wrong reasons and nobody was working on a movie to make a great sound track or simply a great movie.
In coming to Ireland, the first two projects that I did, one was with John Boorman and the other with Neil Jordan. I was thinking "these are two people that I have respected my whole life and I can come to this country and work with them," it was just amazing to me. John Boorman is one of reasons I went into film in the first place. I was in college when I saw 'Point Blank' and I just thought "oh my god this is a great director," and Neil's films stand out on their own. So that's how I keep my feet on the ground.
'The Private Lives of Pippa Lee' will be released in cinemas 10 July 2009 and 'Ondine' in late 2009 (TBC)
For more information about Ardmore Sound visit www.ardmoresound.ie