Speaking from his base in London, director David Drury (The Cry, Midnight Man) talked to IFTN about his latest drama 'The Take', which premieres on Sky1 tonight. Drury chats about recreating the London criminal underworld in Dublin and gives his thoughts on the latest Red One HD technology.
'The Take' has been dubbed as a gripping family drama about love, power, jealousy and betrayal. Set in East London's criminal underworld spanning ten years from the height of Thatcherism to the birth of new Labour, this four part series is a television adaptation of Martina Cole's best-selling novel of the same name.
Created with the support of investment incentives provided by the Irish Film Board (Section 481 and the International Production Fund), 'The Take' features a cast of talent including; Tom Hardy (Bronson, Stuart A Life Backwards), Emmy award winner Brian Cox (Braveheart, The Bourne Supremacy, Deadwood), Kierston Wareing (It's a Free World, Fish Tank), Charlotte Riley (Easy Virtue), and Shaun Evans (Teachers).
The series is produced by Willow Grylls of UK independent film and TV production company, Company Pictures. A large Irish crew included Owen McPolin (Eden), Costume Designer Allison Byrne (The Daisy Chain) and Production Designer Susie Cullen (Zonad). The Take' was filmed in locations around Dublin including the Dublin Docklands, the John Player Factory and the Lark Inn on Meath Street. The production, which was co produced by Dublin company Element Pictures, Company Pictures (UK) and Warner Sisters for SKY. The Irish facilities companies used on the project included; Production Depot (camera); Cine Electric (lighting) and Screen Scene (post production).
IFTN: So David what attracted you to the story of 'The Take'?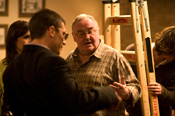 David on set filming The Take
DD: Well, there is rather a mythic quality about it. It reminded me of a Shakespeare story in that you have two princes chasing the same crown. It's the story of families locked in conflict.
IFTN: Have you worked in Ireland before this project?
DD: Yes, I have a good few years ago, again in Dublin on a TV drama for the BBC called 'Runway One'.
IFTN: What were your impressions this time round in comparison to the last time you worked here?
DD: I think it is much the same really it was very, very good. As someone said to me whilst I was over there, the last time I was over was the start of the Celtic tiger and I was there this time at the end of the Celtic Tiger - so I missed the Celtic Tiger in the middle really. There is a terrific infrastructure, it's a terrific place to work and frankly it's easier to work in Dublin than in London. So I have no complaint at all from either occasion.
IFTN: You shot 'The Take' in Dublin was there any specific location that stood out for you as a director?
DD: The flats near the John Player factory. They were remarkable, in that they are remarkable in themselves. It's an urban story so it's supposed to be London but everything that I would find in London I found, in a smaller version as it were, in Dublin.
IFTN: So it wasn't too hard trying to re-create the criminal world in Dublin?
DD: It was a question of creating an urban environment, not so much a criminal world. Essentially what you are seeing is what you are putting in the frame so there were no great problems with that at all.
IFTN: You had quite a cast involved in this project, did the search take long?
DD: Several months actually, you know you always have to be very, very vigorous in your choice of your cast and the people that you invite to join the show. I met lots and lots of actors and settled on something that was a terrific company. They were a fantastic bunch, very, very fine actors indeed.

Kierston Wareing
IFTN: Were there any specific performances that stood out?
DD: They were all very good without a shadow of a doubt. I think Kierston Wareing was particularly good. The core four were very good indeed that would be Kierston Wareing, Sean Evans, Charlotte Riley and Tom Hardy. Brian Cox, of course, is always very solid and powerful. But everybody was superb quite frankly, a very good company and ensemble.
IFTN: Can you describe your directing style when working with the cast?
DD: I am a great one for rehearsals and I worked with the actors very, very closely with the text and then I block on the set rather extensively, as I am not great person with technology.
I would block 360 degrees because frankly you can shoot anything and as long as myself and the company are comfortable with the content of the scenes and comfortable with the space which they are being played in. This could be exteriors and interiors, it could be on a windy hilltop, inside a prison cell, it doesn't matter a damn as long as it is 360 degree and I work from there. What I don't do is plot beforehand, I think it's a question of catching lightening in the bottle. You have got to respond to the situation as it plays in the moment, you have to find it and then you photograph it from there really.
IFTN: There was quite a substantial Irish crew on board with you on this. How did you find working with them?
DD: Excellent, absolutely terrific! I'd worked with the first assistant director before, Konrad Jay, so that was very good, everyone were absolutely tremendous.
IFTN: Owen McPolin from Cork was the Director of Photography on this drama and it was shot on the red eye format? What was the difference in quality in comparison to old projects or can you see a difference?
DD: Yes we did indeed. You can certainly see a difference, it is the first time I shot on HD and it is increasingly becoming useful for lots of different reasons, one of which is an economic imperative, but it was very good indeed and I was extremely impressed, with 35mm lenses the transmission is really, really good. We have even screened in the Curzon cinema in Mayfair, here in London, and it was superb. It had a tremendous cinematic quality about it. It's not Panavision but it is pretty close for what is necessary.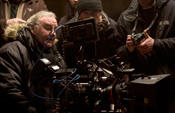 David on set
IFTN: What was the biggest challenge for you on this shoot?
DD: Well it depends on if you mean physical or creative challenge. One of the creative challenges is actually to make the characters fit the settings, it is a very brutal piece, not necessarily brutal in physical but actually in sociological terms and the business of actually keeping the audience engaged, understanding and having a mixture of empathy with the characters and coming back to them was a big creative challenge. There are elements of that which are very tender and very poetic and elements of it which are, in theory, quite repulsive. The things that were violent were endemic to the story and necessary to the characters and it is a question of taking the audience at that point and still bringing them back into the story. I think one of the other things is I felt there was a great necessity to bring as much poetry, I suppose emotional beauty, out of the situation even though there were times when the situation the characters found themselves in was extremely brutal. That was a bit of a challenge but we pulled it off extremely well indeed.
IFTN: What was the highlight of this particular shoot?
DD: Finishing it was! It would be very difficult to say what any highlight was, there was some great stuff in it.
IFTN: What can audiences expect from 'The Take'?
DD: I think is a tremendous roller coaster ride. It is extremely emotional in terms of high and lows. It is extremely fresh and there is nothing weak about it at all, it's very strong. The audience will be completely on the edge of their seats and they never know what is going to happen next and they will be amazed to the extent to which they have sympathy for the characters.
IFTN: What has been your most memorable/favourite project so far in your career?
DD: I really wouldn't know. I thoroughly enjoyed making 'The Take', it was extremely hard work and intense, there were lots of problems to do with weather and illness and all that stuff and I suppose when one finally arrives to something you are proud of. My notions of what it was when I started it have been achieved at the end of it all it is exactly everything that I wanted it to be and I imagined it to be at the beginning of the project.
IFTN: Any advice you can give as a director to potential budding directors?
DD: There is no such thing as perfection, there it no such thing as the perfect project or script, perfection is a myth and I just think it is important that one works and learns ones craft by working as much as one possibly can.
IFTN: What is your next project?
DD: I am hoping to go over to Eastern Europe to make theatrical movie called 'Brilliant Exile'.
IFTN: Finally would you like to shoot in Ireland again?
DD: I would love to shoot in Ireland again. I have large television series, entitled 'Clonbride', which is actually set in West Cork which I am set to direct and executive produce which I think will be next year.