Producer and director Bil Keating talks to IFTN about the television training he oversees at The Bil Keating Centre, the now famous faces that have passed through its doors and lets us in on what he believes gets people ahead in the industry.
For those interested in cutting a career in the television, The Bil Keating Centre runs training programmes in all aspects of TV production with an emphasis on presentation, production and direction. The student's practical studio sessions are mentored with first hand input from some of Ireland's leading industry professionals including newsreader, Michael Murphy, presenters Marty Whelan and Mary Kennedy.
Having recently launched a new casting facility at the centre, Bil chats here about his prolific television career, what inspired him to set up the centre and what sets the courses available there apart from the rest.
IFTN: Bil, can you tell us how you first started your career in television?
BK: I was working as a theatre director quite successfully in London (though I am from the Liberties in Dublin) and an agent approached me and asked me if I would I like to go into television. To be honest with you at the time I was rather blasé about it. However, I went into the BBC and perhaps because of my attitude I was turned down! I had no idea how different television was from theatre and how much I had to learn, so the second year round I tried and I started to learn all about it.
There was no such thing about courses or anything, it was a question of reading and looking at television and so on and I was successful and got the job. I was trained for six months and then I became a fully fledged BBC drama director. I then went to RTÉ and they were delighted – me being an Irish man but I also had BBC training, as there was no great background of technology in Ireland at the time.
What was your role in RTÉ?
BK: I came to RTÉ, thinking I was going to do only drama but the way the place was structured at the time, one had to do just about everything. The very first programmes I did were things like 'Garda Patrol', 'Home Truths' - which was a consumer programme - and 'Buntus Cainte' an Irish language programme. What I put into those programmes was mainly the use of technology that was available at that time. Some of the heads of departments saw this, liked it and then asked me to do a pop show called 'Like Now'. We did the most extraordinary things with what was available to us and at the time it was compared to 'Top of the Pops'. A lot of people couldn't get the BBC in Ireland at that time anyway so we used every possible gimmick in the book. It ran for three years and we got twelve awards including ones from Hot Press, Jacobs and Spotlight.
You have been credited as giving U2 one of their first breaks. Was it through this pop show?
BK: There were other pop shows that happened around the same time and I was responsible for variations of pop shows. We did a thing called 'This Cassette' and during that period met U2. They were really struggling at the time and I took them to a place called the Sportsman's Inn up in Mount Merrion. There was a man there called David Witrom who was famous in those days for bringing in bands from Germany which was the usual thing. I think even The Beatles started some of their work in Germany. I introduced Adam and Bono to David hoping he would take an interest but sadly he didn't and I'm sure he is regretting it ever since! As far as I was concerned I just bought them pint of beer, gave them a show and that was it. I wouldn't say that started them off by any means but that was my contribution.
You were behind some of RTÉ's first ever quiz shows. Why did you decide to go forward with this genre?
BK: Well there were quiz shows earlier and there was one famous one called 'Quick Silver' which is still a joke in the business today. It was a very naïve situation where they didn't have researchers or any in-depth questions and this had become a joke on several levels. One, because the questions weren't very hard and also because a lot of the contestants couldn't get the answers which made it even more laughable. The other problem was that they gave prizes away like shillings and truepenny bits – it was absolutely nothing. So there had been quiz programmes and unsuccessful ones for a very long time and I was approached to do one. I felt the answer was to give a car away and up the whole level of questions and how we approached them. We got a team together and did a programme called Murphy's Micro-quism' with Mike Murphy and it proved to be very successful. We went on from there and devised another programme called 'Where in the World' with Theresa Lowe and that was equally successful.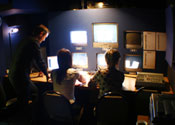 The Bil Keating Centre
What then inspired you to set up the The Bil Keating Centre?
BK: At the time, going back ten years ago, things were beginning to change in television. The business of the reality shows were creeping in, even in their infancy. Standards were changing and there was a gap in the market. There were places that had television cameras and studios but they weren't really teaching the theory of television, as in they were showing people a camera and saying 'Now go out and do it'.
I felt there was a niche and a need to continue, what I believed, were good standards that were set out by the BBC. Without being old fashioned - you can change the content of the programme - but I felt the method of making them within the technology that was available to us could still benefit from that training. I think we proved ourselves right as over the ten years, as the students will attest to, we have been successful in people getting places.
How are your courses structured?
BK: The course at the moment is divided into two areas of basically presenting and/or directing and after that then we do camera work, floor management right through the whole spectrum of any job that's involved in television. The majority of people coming to us are people who want to present and sometimes they change their mind and half way through they might want to do something else and we're happy to facilitate that. After all, for every presenter there could be 20 people working behind the scenes and these are opportunities that we would like our students to avail of.
Can you tell me about the tutors who work at the centre?
BK: We are quite unique in the sense that we only employ working professionals who can teach. We don't employ just people who are teachers or theoretical type persons at all. We have the likes of the Newsreader Michael Murphy, Presenters Marty Whelan and Mary Kennedy, Walter Harrington who is a senior floor manager, Production Designer Alan Farquharson and Margaret Martin who does research for us. .
What would set your courses apart from the others?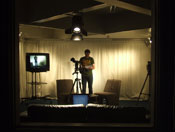 The Bil Keating Centre
BK: It is rather embarrassing to say this but there is certainly one thing - in that we care for the students; we provide for them, they get extraordinary good value. The course fee includes their training, notes and folders, certificates, and back-up and support from the centre once they have completed the course. Essentially, we look after their welfare as well and we are concerned they get value. The training provided is thorough, it's well thought out and we never stop trying to improve on it.
We would never underestimate the fact that television is a cut throat business and people have to work at it. We try to encourage them and make them very aware that it isn't all just glamour and things they see or read in the magazines, there is more to it. It is open to everyone and I believe that you can learn most of the jobs in television, you know hard work, stamina all of that is necessary but you do have to work at it, it's not just there waiting for you.
Do you have any names of people who have trained with you and gone on to forge television careers?
Well, we literally have had hundreds who have gone on to work in the industry in some shape or form. From producers to runners, from presenters to researchers and everything in between. But I suppose the ones that people would recognise would be the presenters, the likes of Lucy Kennedy (Podge & Rodge/The Lucy Kennedy Show), Karen Koster (Xposé), Sheana Keane (The Afternoon Show), Anna Daly & Audrey Mc Grath (Ireland AM), Paddy McKenna (RTE Sport), Trevor Keegan (The Afternoon Show), Avril Murphy-Allen (Desperate Houses) and David Coffey (Dan & Becs) all trained with us. On the production side, some of our ex-students have gone on to produce the likes of 'Dragon's Den', 'The Apprentice', 'The Afternoon Show', 'You're A Star', 'Ireland AM', 'Xposé' and 'The Panel'. It's incredibly rewarding for us to see our students go on to bigger and better things in the industry especially when the vast majority came to us with no experience whatsoever.

What are the qualities you would recognise in people who want get ahead in the industry?
BK: I think the major one is stamina more so even than talent or anything else. Somebody who has a passion wants to work in the industry and is prepared to take the knocks. There will be knocks as it doesn't happen for everyone over night and sometimes if it does happen over night they are sadly surprised that they can go down again. It is a very precarious business and you need to passionately want it. It's easier to answer it the other way around, what would you not look for or what would you not do? The person who goes in for the glamour and the money is destined to gloom and disillusionment. On the other hand if you go in with the passion and if you have a message to convey or want to work badly enough you probably will get the glamour and the money anyway but it's the wrong premise to start with.
Are you working on any television titles or projects at the moment or are you just dedicated to the training?
BK: I am devoted to the centre but also work freelance as a director for RTE and various independent production companies. In recent years, I have directed the likes of 'Crime Watch' for Coco Productions, 'Fame & Fortune' and 'Winning Streak' for RTE, 'Imprint' for Loopline Films and even an Irish Language Dating Show for TG4. Also, having spent the best part of thirty years devising my own shows, I now work as a consultant advising programme makers on how to put their proposals together and helping to format the show for them.
Recently you launched a casting facility at the centre, could you tell us a bit about that?
BK: Well we have a great facility but we felt that it was being underused. Due to the busy schedules of our lecturers, we only get to run our courses three or four times a year and the studio was idle for a lot of the time. So we decided to open the studio up for hire as a casting facility and have also had companies use it to shoot pilots and inserts for their programmes. Apart from having all the equipment you would expect in a studio, we have a multi camera set up and a separate production control room with a talkback facility to the floor which is incredibly beneficial. We're also very lucky to have an excellent location, right beside Ranelagh and Donnybrook, well serviced by public transport with free parking for 200+ cars on the grounds. This is so important these days, especially with our clients traveling from all around the country. Even having a restaurant in the building has been beneficial, especially during the long days and nights!
What do you think of the current programs that are being shown in Ireland?
BK: There are some wonderful programmes coming from the independent sector. I am thinking here of programmes like 'The Clinic' and in terms of the documentaries, they are splendid. Then again you have the most awful, awful trash but I don't just think its Ireland l think it's the way the world is going. I personally detest reality shows. I think they are rather cruel to people because nothing is going to happen to the majority of those who take part. You know the Will Young's are the rarities and unfortunately we have the Jade Goodys', which is just so sad.