Marking the second Irish feature length animation to be released in Ireland in the past year, IFTN talks with director Tomm Moore ahead of the release of his lavish debut feature 'The Secret of Kells'.
Set for nationwide release on Friday 6th March by Walt Disney Studios Motion Pictures, Ireland, 'The Secret of Kells' introduces the vibrant work of director Tomm Moore and the team at Cartoon Saloon, the Kilkenny based animators behind the IFTA winning series 'Skunk Fu'. The film is also the work of a partnership with animators and producers from France's Les Armateurs and Belgium's Vivi Film.
With the backdrop of the Viking raids on Ireland, the animation follows twelve-year-old Brendan who meets an elderly Brother Aidan, the keeper of an extraordinary, but unfinished book of illuminations. Aidan sets Brendan the task of completing this legendary book for which he must overcome obstacles and face his deepest fears to carry out his duty.
Irish talent lending their voices to the film include Brendan Gleeson who plays Brendan's strict uncle, Mick Lally as Brother Aidan and newcomers Evan McGuire as Brendan, and Christen Mooney as mysterious fairy girl Aisling.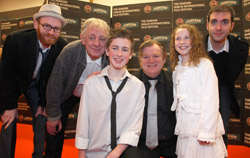 Paul Young, Mick Lally, Evan McGuire, Brendan Gleeson, Christen Mooney and Tomm Moore
Original music was provided by Academy Award nominee Bruno Coulais of the Palm D'or winning 'Les Choristes' (The Chorus) and Irish trad band Kíla. The Film was supported financially by BCI, Irish Film Board, Celluloid Dreams, Canal Plus, Gebeka, FTD Video, Eurimages and RTÉ.
Having the title of Best Irish Film at this year's Dublin International Film Festival under it's belt, 'The Secret of Kells' has also received nominations for the upcoming Cartoon Movie Tributes in France. Last year also saw director Tomm Moore selected by the Screen Director's Guild Directors Finders Series to showcase the film at the Director's Guild of America Theatre, LA. In our interview, Tomm talks to IFTN about the new style of 'illuminating animation' the film encompasses and the current Irish animation industry.
IFTN: Congratulations Tomm on your recent win at JDIFF. How did it feel to win such an award?
Tomm: It was brilliant. It was really exciting and there was a real warm atmosphere afterwards. I hadn't seen Brendan Gleeson or Mick Lally since we recorded the voices three years ago so it was lovely to meet them again. We had to listen to their voices for three years animating it so it was kind of weird hearing their voices not saying the same line over and over again!
When did the idea for the film surface?
Tomm: The very first idea for it was when I was in college in 1999. It kind of came on and off the back burner in studios over the years and it finally went into production in 2005.
Where did you attend college?
In Ballyfermot Senior College in Dublin. I did an animation production course there which at the time it was sponsored by Disney in Paris and before that the Don Bluth Studio in Dublin.
How does the animation process work? Are the characters already developed and drawn before you decide on the voice talent and record the dialogue?

Tomm: They were designed here by a character designer called Barry Reynolds. We then showed them to the actors, recorded their voices and then we animated to the voices.
So once the voices are recorded you incorporate different aspects of their personality and features into the character?
Tomm:Absolutely, we videoed them whilst they were acting it out. We did it in Ardmore Studios a big booth where there was room for two actors at a time so they were able to play against each other. Brendan plays quite an imposing character alright. I think he used to be a teacher so he kind of brought that overpowering personality to it.
How did you get Brendan and Mick on board?
Tomm: We were really lucky, we had a short list and they were at the top of the list and they both said yes. It was amazingly easy to be honest, I am sure I won't get so lucky again!
The Secret of Kells
As a co production with France and Belgium, did much of the animation take place in Ireland?
Tomm: We did all the pre-production, the design and story boards and about twenty minutes of the animation in Kilkenny. We then also worked in Belgium, France, Hungry and Brazil so it went all over the place. The script was written in Ireland but I worked with Frenchman Fabrice Ziolkowski so we had a co-writing job going on there too.
You won the Screen Director's Guild Directors Finders Series in 2008 for which the film which was screened Director's Guild of America Theatre, LA. What was that experience like for you?

Tomm: It was pretty amazing for me because I had never been to the States before. The first place I went was L.A. and it was pretty wild. Trish Long from Disney came over with me and brought me around the Disney studios and we went up to Pixar in San Francisco. What was nice about that is that we are going back to Pixar on March 18th to screen the film to all the animators as they were all very interested in seeing the film in that it was so unusual.
What type of animation was used in creating the film?
Tomm: It is an illuminating animation. We were trying to make it look like medieval art which is kind of flat and really colourful. We used computers but the characters were hand drawn. It is meant to look like the Book of Kells is coming alive if you like.
Yes the style of the animation is very Irish…

Tomm: Yes we tried to keep it Gaelic, but what is very interesting is that the more we researched it the more we realised that the Book of Kells had ink and designs from all over the world in it. So we brought a few monk characters from different parts of the world into it, to show that representation as well.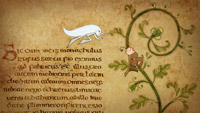 The Secret of Kells
Did you manage to get your hands on the actual The Book of Kells at all!?
Tomm: We were really lucky in that we got a microfiche of really good photography that was used to make the facsimiles. We had really brilliant facsimiles made in Switzerland which were worth a lot of money. With the actual Book of Kells itself… whoever the keeper of the keys was, he was very kind but didn't let us near it at all! We saw it behind glass which was enough anyway.
Tell us about the score for the film?

Tomm: The music was written by the French composer Bruno Coulais. He also did 'Coraline' an animated feature which will also be coming out this year and which was nominated for an Oscar for 'Les Choristes' a couple of years ago. When he came on board we had already asked Kíla who were quite interested to work with a composer as well. The way it worked out was that some parts are solely Kíla with their own songs and other parts are their arrangements of the music Bruno wrote.
How did the financers come on board for 'The Secret of Kells'?
It was at Cartoon Movie in 2001 in Berlin. The producers in France and Belgium were making 'Belleville Rendezvous' which was a respected archived type of animation and they came on board. Once we had that kind of the credo the Irish Film Board and RTÉ joined.
When did Disney pick up the distribution rights for it?

Tomm: We were just putting the finance together and had a bit of work done when Trish saw it, liked it and came on board then. She was very supportive all the way through and now it is in Disney's hands, they are the ones getting it out there.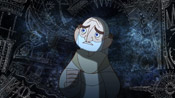 The Secret of Kells
How do you find the current animation scene in Ireland?

Tomm: It is quite vibrant. Dublin is pretty vibrant with some studios doing a lot of television work and doing a lot of computer animation. What we try to do is to be different by developing our own projects and trying to do feature films which are a pretty unusual too. Magma Films are also doing it in Ireland. It is a challenge alright to keep as animation tends to shrink and grow as productions come and go.
What projects are you working on at the moment?
Tomm: I am currently working on a new film. We finished 'The Secret of Kells' in August last year and then there was the usual thing of trying to find the right time to release it. Since then I have been working on a new film called 'The Song Of the Sea' about a field child who has to find her way back to the sea. We are going to the Cartoon Movie in France with it, which is like a forum for animation producers, you show the project you are working on and try to get financiers to cover the work then.