IFTA winning Documentary filmmaker Maurice Sweeny talks to IFTN about his latest project 'Cromwell in Ireland'. Combining documentary and dramatic re-enactments, 'Cromwell' is set to storm onto the small screen this Tuesday 9th September on RTÉ One.
Airing to coincide with the 350th anniversary of Cromwell's death on 3rd September 1658, Maurice Sweeney's 'Cromwell In Ireland' examines the life of Oliver Cromwell and a key time in Irish history where almost 500,000 Irish people died from war, plague and famine during his military campaign.
Presented by historian Dr. Micheál Ó Siochrú, the series combines live action, CGI and documentary scenes to create a major docu-drama exploring the human cost of war and the violent impact of ethnic conflict on a ravaged population. The Tile Films production was commissioned by RTÉ, in association with The History Channel, with support from the BCI.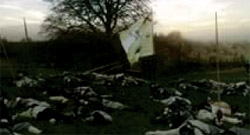 Cromwell In Ireland
Two of director Maurice Sweeney's documentaries, ' Micheál: The Sound of Sunday' and ' Flann O'Brien: The Lives of Brian', scooped the industry's top awards at the 2007 IFTA ceremony in Dublin. Following on from that success the director began work on his latest project charting Cromwell's power struggle in Ireland. Described as Sweeney's "most impressive and challenging work to date", the series proved a great test of the writer/director's skills and experience working behind the camera. Here we find out why he deiced to take on that considerable challenge and how he did it.
How did you get involved in the project?
Tile Films approached me with the initial treatment, asking if I was interested. They had at that stage secured BCI funding along with RTÉ. Originally, Cromwell was to be a three x one hour series. Although there was a decent enough budget, I suggested bringing it down to two x one hours in order to bring some more production value to the documentary. Tile were great in that respect, very open and receptive, considering it was their pet project for quite some time.
What attracted you to the Cromwell story?
I've always had an interest in history, but just the name "Cromwell", evokes a strong response. I was always aware that there were many myths surrounding his reputation in Ireland, so here was a great chance to actually find out about what happened. The opportunity of re-creating a period is always an attraction to a director, if not a little bit daunting.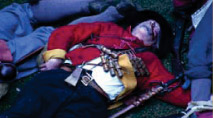 Cromwell In Ireland
You also co-wrote the series, did you have to do a lot of research?
Well there were three of us involved in the scriptwriting, myself Dave Ryan and Micheál Ó Siochrú. We had the benefit of Micheál's expertise and Dave was brilliant about the period. In one sense I had to try and catch up with their knowledge. There was a fair amount of reading but I really enjoyed the research. When it came to filming, you would be comfortable with explaining the scenes to actors or talking to professors from Cambridge.
How long did that process take?
We were still tinkering with script right up to the shoot. Previous to that we had been writing for about six months and we went through about six drafts in all. It needed a lot of reworking in order to try and explain the reason for Cromwell's conquest of Ireland. The ten years previous to his arrival are one of the most complicated and convoluted periods in Irish history. The drama scenes also kept changing as the budget changed.
And how long was the shoot?
In all, we had about 35 days of shooting. We filmed the interviews first in order to get the story down. There were then three long blocks of filming for the re-enactments and we had some pick up days as a contingency for filming pieces to camera for Micheál.
What locations did you use?
We came across an amazing location in Tyrone, just outside Omagh. It was a closed down history park that had 17 th century replica buildings. In essence it was like walking on to a set that had been built for you. We were also conscious of finding landscapes that weren't too well known. The Sperrin's are a really beautiful part of Ireland and even more dramatic in the winter.
For much of the re-enactments, we filmed in England. I spent a good while just driving around England looking at castles and landscapes. Once I had seen North Yorkshire and the Dales, the decision was made. There were some great ruins and landscapes that could easily pass as Ireland. The reason to film in England were down to the Military re-enactments, (Sealed Knot) being based there.
What format did you shoot on and why?
From the outset, the documentary was pitched as being filmed on High Definition. The DOP, Richard Kendrick, was totally familiar with the format. It was great to shoot on, as we were able to think more filmic in the approach.
The combination of drama and documentary, what do you think the appeal of that is for audiences?
I think history can scare some audiences; so bringing an element of drama certainly opens up the subject matter. It's sometimes hard to bring an empathy to lives four hundred years ago, so recreating that period brings a resonance to the period. It also has its pit falls. It can be all too easy to get lost in the filming of the drama. I remember on the shoot the crew saying when are we going to finish the "Film". You have to keep in mind that you are making a documentary. We were also conscious that in many drama docs, the drama element is often used as just visual wallpaper, so we tried to steer clear of that approach.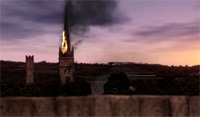 Cromwell In Ireland - CGI
Were you involved in the CGI elements, how does directing those scenes differ from directing the documentary itself?
The CGI planning started about three months before filming. Red Vision were brilliant in bringing myself and Richard, step by step through the process. Much of the CGI was fairly understated, but because we decided to film in winter, the weather conditions made some more complicated.
Steve Lynch at Stellarsound did the music, it seemed quite a complex score. How do you feel about the results?
Steve was brilliant. He really got into the scoring. During the edit, myself and editor, Mick Mahon were working with a temp tracks that Steve had done. When we heard the final version with an orchestra, we were blown away. Steve is really great at understating scenes. It was my fourth time working with him, as he really understands what you are looking for.
And then the costumes looked fantastic as well, there are some great filmmaking elements in there – did you have a big budget or were you stretched?
You are always stretched with budget. At first it looked as though we had a lot to play with, but as always, the resources start to dwindle. Producer Rachel Towell and Production Manager Niamh Maher were brilliant in helping getting the money on the screen. We were always ambitious from the start and hopefully that still comes through.

Declan Conlon
And then the casting, you've got Owen Roe, Declan Conlon and Catherine Walker - did you have them in mind for the roles?
I had seen Owen in 'Skylight' at the Project years ago and, from the start, he was my choice as Cromwell. He always brings something else to a part. We had both agreed that we should humanize Cromwell as much as possible. Declan brought a great presence to the screen. He just looks like the old Irish aristocracy and Catherine also brings some great depth to the documentary. But it was the people of Omagh who came out with their families that really brought the drama scenes together
Work wise, was this a good follow up to ' Micheál: The Sound of Sunday' and ' Flann O'Brien: The Lives of Brian' – a new challenge so to speak?
It was great just to spend a year on the one project, with no distractions. I've been really lucky in the projects I've worked on. But the same team of Richard Kendrick and Mick Mahon have been a great continuity through all the docs. I would have paid to direct the Micheál doc as the GAA is a huge love of mine, and Flann was a great subject to be experimental with.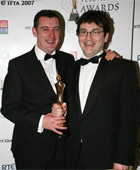 Maurice with Rónán Ó Muirthile at the IFTAs
How did you feel winning the IFTAs?
It was brilliant on the night to win two, especially when your contemporaries vote for the winner of the documentaries. It also provides great slagging from the crew's when you're back filming.
What do you think Irish audiences will get from watching the Cromwell story?
Hopefully it will be an eye opener to such a dark period in Irish history. It is also a period that had huge consequences to modern Ireland. I hope we dispelled some myths about the conquest and brought to light its major impact.
And finally, what's next for you?
At the moment I'm back to the GAA. Myself and Garry Keane are directing a history of the GAA for TG4 and Nemeton.
'Cromwell in Ireland', Tuesday September 9 and 16, RTÉ One