CGI specialist Sue Land of UK visual effects company Red Vision speaks to IFTN on the recreation of 17th century war torn Ireland on Tile Films' docudrama 'Cromwell in Ireland' to be broadcast on 9th and 16th September on RTE One at 10.15pm.
Directed by IFTA winner Maurice Sweeney (Flann O'Brien: The Lives of Brian) and produced by Tile Films, the two part 'Cromwell in Ireland' marks the the 350 th anniversary of Cromwell's death. 'Cromwell in Ireland' stars Owen Roe (Intermission ) as Oliver Cromwell, Declan Conlon (The Tudors) as Hugh Dubh O'Neill and Catherine Walker (Bittersweet) as Elizabeth Price. The series is presented by leading historian Dr Micheál Ó Siochrú and will be broadcasted on 9th and 16th September on RTÉ 1 at 10.15pm and the History Channel in October.
The film recreates the sieges and battles scenes of Ireland's most war-torn eras with large-scale reconstructions combined with ground-breaking computer generated images from the effects specialists Sue Land and Warren Osbourne at the renowned Red Vision.
Land started out working as a graphic designer for Thames TV in London and joined Red Vision in 2003. She has worked on various projects including ' Day of the Kamikaze' (2004) 'Lusitania' (2007) 'Fooling Hitler' (2004) and 'Me, Myself and I' (2004).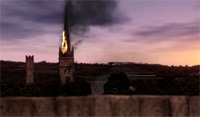 Recreating the Siege of Drogheda in CGI
IFTN caught up with Land to discuss her work on the project to find out what's involved in recreating 17th Ireland and to discuss the latest developments in the world of CGI.
How did you get involved in the 'Cromwell in Ireland' Doc with Tile Films?
Tile Films had seen some of our work and got in touch.
What preparations were involved with re creating the 17 th century background and figures?
Red Vision has a strong background in historical reconstruction particularly this period. However we rely on the production company, in this case Tile Films, to provide us with the 'current thinking' and specifics on the particular moment in history we are recreating. This usually takes the form of stills of historical sites - if they still exist, contemporary paintings, engravings, historical documents, maps etc.
What equipment and software do you use?
Maya for 3D, it's pretty much the industry standard. Digital Fusion for compositing, it's one of several good packages out there and it works well within our pipeline, and Red Legion which is a crowd simulation software developed in-house, it's very adaptable to the needs of our clients.
Can you describe your techniques?
The script is usually the starting point, from there we go through a pre-production period of meetings and storyboarding sessions to identify the effects shots/sequences and visual style. The sequences are then be broken down into a series of asset lists which include reference material, textures, data, models, filming requirements etc. Once into production, stills, blockout animations are generated for the offline. The final stage is the finished renders which are dropped into the programme at the online stage.
How did 'Cromwell in Ireland' differ from other projects you've worked on?
Usually the graphics play a primary role in a programme. In 'Cromwell in Ireland' they supported the dramatic reconstructions, opening out the recon sequences and establishing a sense of location and season.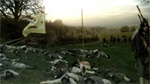 Cromwell in Ireland
What has been the most challenging aspect of this project?
Unexpectedly the weather. Heavy winds made rigging bluescreen almost impossible. Weather conditions which alternated every 10 minutes between bright sunshine and heavy rain made for a challenging shoot, but gave us some wonderfully atmospheric backplates
Who else was involved in the editing process? And how do you collaborate with them?
Tile Films did their post at Egg in Ireland. Initially there is quite a bit of blockout traffic and rough cuts being sent between us and the offline company until the edit gets to fine cut at which point the effects shots can be taken to their final stage. This way of working maintains a good level of shot flexibility in the edit before the expensive final stages are started.
Red Vision is based in the UK. Does your work in CGI ever require you to travel to the locations the film is based in?
Yes, especially if the effects shots are complex or if there is a high level of unpredictability in the shoot. Every shot goes through a pre-production stage but once on location things tend to change. If we're on location handling the effects shot it's one less thing the director has to worry about. Unexpected problems can be resolved quickly, saving valuable filming time and expensive post production fixes.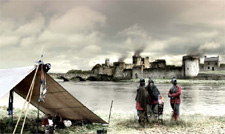 Cromwell in Ireland - attack on Limerick
Can you describe one specific scene from the film, and maybe go through the process involved in recreating it? e.g. equipment, techniques, facilities involved?
Shot CG_51-1---
Camera pan across a battlefield after battle.
This shot is broken down into elements (filmed, CG, matte painting) It was decided to achieve the pan by filming three HD plates and digitally combining them. This allowed for the decision on the speed of the pan to be determined later in the production process.
Several passes of each plate were filmed to allow for multiplication of the live action foreground extras.
Tests were then done to confirm speed of pan.
Blockout of shot supplied to edit.
CG troops were added in the background and Live action Foreground trooped were roto scoped over.
The sky was replaced.
CG Smoke and atmospheric fog added.
Final shot delivered
---image CG_51-1-finished.
Do you find more Irish productions are moving more towards using CGI?
It seems to be a worldwide trend, which is good news for us.
Red Vision also worked in virtual gaming - can you explain the link between this and CGI effects for film?
Red Vision have always retained a substantial R+D and technical development team, creating innovative tools and procedures for the CGI and animation teams. In 1999, Red Vision developed what proved to be probably the most advanced CGI based virtual horse racing product in the world, drawing on the core skill sets of the R+D and TD teams. This was later developed into a product range generating over £1 billion per annum in betting and gaming take, and operated by a Red Vision subsidiary, Virtual Racing Systems, which was acquired by Inspired Gaming Group Plc in 2006.
In creating the VRS product range, Red Vision applied many of the skills, procedural IP and techniques that it had developed for film and TV CGI and VFX. VRS is now a wholly owned subsidiary of IGG Plc, and Red Vision is a wholly owned subsidiary of Red Vision VFX Ltd., which is the head company in all Red Vision group ventures, including Film Red and Altered Visions and is a stakeholder in Wide Eyed Entertainment, the Indie production company formed by ex-Impossible Pictures co-founder Jasper James and others.
Are there any technical developments talking place in the CGI field at the moment that you're excited about?
Lots, but I guess the work being done on fluid dynamics is pretty amazing and the advancements in tracking/motion capture software.