With Magma Films' animated feature and series 'Oops! Noah is Gone!' securing key MEDIA Development Grant funding this week, IFTN caught up with Moe Honan and Ralph Christians from the Galway based production house to find out what other projects the busy company have in the works.
Magma's 3D animation, 'Oops! Noah is Gone', has secured €80,000 funding from the MEDIA Development Grant in the Single Project category. The animation, aimed at 8-12 year olds, is set to be made into feature length film and a 26x26" series, both with a budget of €6 million. Written by Marteinn Thorisson (The Ugly Duckling and Me) and directed by Tobi Genkel, the project has also received funding from the Irish Film Board and the Hamburg Film Fund.
"We will be finished the script in about three weeks and have completed the characters and the design," confirms Magma CEO Ralph Christians. "The feature film will be produced first. When you work with CGI in 3D it's different from 2D as it is very expensive to create a character, you have to do the rigging, then create the character and do the compositing. So we take these high value characters that we created for the film and transfer them into the TV series, the same way we did for 'Ugly Duckling and Me'."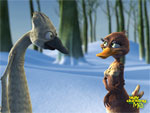 The Ugly Duckling & Me
The animation, created by Christians and produced by Honan, follows the story of a group of creatures who are forced to survive forty days of rain and flooding after Noah's boat leaves without them. Peter Bohl at Magma's Hamburg studios will oversee the animation design, with editing taking place in Magma's Galway HQ.
"The film and series will feature creatures we have never seen before as they missed the boat when Noah was leaving, so it has been great for the designers' imaginations. There is a comedy element too because all the characters have to get on and survive together. Animals that are predators under normal circumstances have to turn vegetarian as they can't eat each other!"
'Oops, Noah is Gone!' also holds a contemporary message for its young audience, teaching them how we need to cooperate and collaborate with people of different religions, race and backgrounds in order to survive and flourish. The project has already sold to German broadcaster ARD and secured pre-sales in Hungary and Czech Republic. Distributors in Germany, France, Spain and Scandinavia have also expressed interest.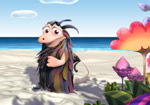 Oops Noah is Gone
Another animation project in the works at Magma is 'Just a Thought…' a series inspired by the Karsten Kiilerich's Oscar nominated short 'When Life Departs'. The original short, in the Belgian language, saw children reveal their thoughts on the topic of death, but Magma's series will illustrate children's views on a wider variety of issues. Two pilot episodes of the series focusing on the topics of Love and Money have already been produced, one in English and one in German.
"We wanted to talk directly to children about the various issues in life - the universe, love, death, being sick or angry and just explore that side of children's imagination," explains Moe Honan. "We interviewed the kids at length and recorded them talking in a very conversational style. We included children from lots of different backgrounds and social classes so we could hear different opinions. Then we added the visuals, which are very childlike. We've kept it very simple."
The project will take part in the upcoming Cartoon Forum, with Magma hoping to secure funding for 26 five minute episodes of the series. The German language pilot episode has already aired on German channel ARD, receiving a great response form the German audience.
"We broadcast one pilot on ARD and received more than 25,000 emails from people reacting to it," says Christians. "Adults love to hear the clear and straightforward responses of young children."
Magma's live action feature 'The Summer of the Flying Saucer', directed by Martin Duffy, recently opened the Dublin Cinemagic Film Festival, receiving a warm reception from its young audience. The film, which follows the story of a young boy in 1970's County Mayo who falls in love with an alien girl, screened on the market at the Cannes Film Festival.

Summer of the Flying Saucer
"People loved the film at Cinemagic because it's just so Irish," says Christians. "Kids find it amazing because it is about a time that has passed, before we had mobile phones and Nintendo DS. It received a good reception in the Northern European countries also, where people are familiar with the Irish cultures. We are currently working on securing and Irish and UK cinema release date for that."
Magma is working on a crime action series, aimed at an older audience, called 'Green Scene'. The €40 million budget series will be co-produced by European Broadcaster EBU, the company behind the Eurovision Song Contest. Christians says of this exciting project:
"The series follows a group of scientists and cops who belong to a specialist branch of Interpol. The group fight environmental crimes such as the dumping of hazardous waste and the smuggling of protected animals. It's a mixture between 'CSI' and 'Prime Suspect' and is aimed at adults. The main character in the series is Irish."
"We have 12 storylines developed and all of the characters and we hope to film in the UK. We are very excited about the project because environmental crime is very prevalent at the moment, many organised crime groups are turning to it because for most environmental crimes you will receive a fine rather than go to jail."
Magma is also nearing completion for their animated feature film co-production 'Thor'. The action/comedy/adventure 3D animation has a budget of €9 million, with two thirds of this funding already secured from Iceland. The film, developed by Icelandic animation company CAOZ, is a co-production between Magma Films Ireland and Germany's Ulysses Films, part of the Magma group. The film tells the story of young Thor and his coming of age as the super hero god of the human world and protector of Asgard – the City of the Gods. Thor is forced to choose between his ultimate dream to save his father's kingdom and fulfill his destiny as a God, or save the life of his friend.
Magma is one of the few Irish companies that marries animation productions with live action features, but Christians doesn't find this a daunting task.
"We have different people working on the animation and the live action projects, so it doesn't really get confusing," says Christians. "The two actually complement each other – we can use our CGI animation team to create very good special effects on our live action projects, which we did in 'Summer of the Flying Saucer'. We would eventually like to produce a feature film using a CGI animated character."