As Dublin based post-production house Yard Media prepares to celebrate the one year anniversary of their Hume Street premises, IFTN talks to manager and editor Lawrence Fee on what the company has been up to since the move.
In early 2007, Yard Media upped roots and left its old Leeson Street premises for a bright new Georgian building on 16 Hume Street. With a new, more central location equipped with the latest editing technology including Avid Symphony, Final Cut Pro, Smoke, Grading, After Effects, 3ds Max, DVD Authoring and Duplication, the company's last 12 months have been busier than ever. The company offer a full range of SD and HD post-production services including off-line and on-line editing, compositing, 2d & 3d graphics and multi-media.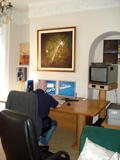 Yard Media
So why did Yard Media make the move to Hume Street?
"It was a better premises, really," says Fee. "We went from having three floors in Leeson Street to a full building in Hume Street. I was nervous we would be in too central a place by moving here but actually there haven't been any negative points to the move, it's been great."
With a career that spans 25 years, Fee is one of Dublin's most experienced editors. The former engineer, who learnt his craft in RTÉ, has numerous big name credits under his belt, including 'MTV Europe Music Awards 1999', and is well qualified to handle the steady stream of high-profile clients that come through his doors.
"My view on the market in Ireland is that you have to cover all mediums including commercials, programming, film and corporate," he says. "Since Christmas we've completed commercials for Actimel, Brown Thomas, Cow and Gate, Mitsubishi, Opel, Panorama, Tiger Beer and the Sunday Independent."
In late 2007, Yard Media completed posting on Simon Fitzmaurice's short 'The Sound of People'. The Irish short, produced by Noreen O'Donoghue, went on to receive a Sundance Film Festival nomination earlier this year, was recently named Best Short Film at the 8 th Jameson Belfast Film Festival and will screen in Irish cinemas from the 16 th May with Robert Downey Jnr. starrer 'Charlie Bartlett'.
Lawrence Fee
Fee also took charge of post-production duties on the 5th Annual IFTA Ceremony, broadcast on RTÉ and BBC 2 in February.
"We did all the nominees inserts, The Red Carpet Show for RTÉ and the IFTA show broadcast on BBC 2."
In the same month, the off-line editing on Gerry Stembridge's Irish shot feature 'Alarm' was completed by Mary Finley in Yard Media. "Another project we recently completed post on was 'Cursed', an XI production, directed and edited by Jason Figgis," says Fee. "It's a feature length docu-drama produced by Jonathan Figgis and follows paranormalist Uri Gellar's preparation and subsequent trip to Venice. It is interspersed with disturbing images from his experiences in the ancient city. "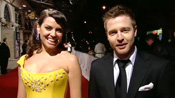 IFTA Red Carpet Show
The company have recently welcomed a new addition to the editing team. Alastair Mayes, with 15 years experience in TLS and Nats in London, moved to Ireland to join Yard Media at the beginnning of April. The RTS nominated and Promax winning editor is delighted with the move. "I am fortunate to find a big hitting post house which is versatile and dynamic enough to be able to move swiftly in this ever changing market," he says.
Mayes has already completed editing on a music video for New York rock outfit 'We are Scientists'. The music video, produced by Red Jam and directed by D.A.D.D.Y., was shot on location in Wicklow.
And what is the team working on at the moment?
"We have nearly finished working on feature documentary 'Waiting for the Light', produced and directed by Ciarin Scott," says Fee. "It's an Atlantic Film Alliance production on the life of legendary Irish filmmaker George Morrison. It's due to air on TG4 in the autumn and will hopefully have its cinema premier at the Galway Film Fleadh in July."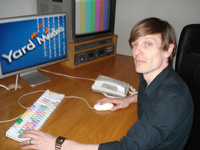 Alistair Mayes
Yard Media's excellent reputation for delivering high quality work means that clients keep returning again and again. With a staff of five, Yard offer a personal touch and bespoke service that ensures they deliver the product their clients want.
"In post-production I don't think much of your business comes from advertising, it's more word of mouth and personal recommendations. As your reputation grows, more people feel comfortable coming."
"I think what makes us stand out is that we are a small, intimate boutique style post house, and myself and Alastair have 40 years of editing experience between us. We have extensive experience of all things television."
So how will they celebrate their first birthday?
"We are having a little soiree in our Hume Street premises and The Unicorn Piano bar. We conveniently back on to The Unicorn so we will continue the party there!"