As Disney's 'Hannah Montana & Miley Cyrus: Best of Both Worlds Concert in Digital 3D' bursts onto eight Irish cinema screens this weekend, industry watchers are heralding a new era for cinema experiences. IFTN caught up with Trish Long, Vice President of Walt Disney Studios Motion Pictures, Ireland, to discover more about the 3D revolution.
With the recently released 'U23D', filmed on U2's South American Vertigo tour, taking in €89,528 on its opening weekend alone, and last year's 'Beowulf' reaching Number 2 in the Irish box office, 3D is clearly a crowd-pleaser. 'Hannah Montana & Miley Cyrus: Best of Both Worlds Concert' follows the successful 3D format.
The movie features actress/ singer Miley Cyrus in concert. Cyrus is the star of The Disney Channel's hit children's TV series 'Hannah Montana', which follows the adventures of 14 year old schoolgirl Miley Stewart who leads a double life as popstar Hannah Montana. As Hannah, she tours the world with her songwriting dad, Robby, played by Miley Cyrus' real-life father Billy Ray Cyrus. The movie was filmed on the 2007 Hannah Montana/Miley Cyrus concert tour.
With plenty of buzz surrounding the film's opening, IFTN is eager to discuss with the woman behind the Disney release this weekend, Trish Long, what this means for the future of Irish cinema.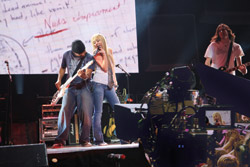 Hannah Montana
IFTN: What makes 'Hannah Montana' different to other 3D movies like 'Beowulf' or 'U23D'?
Trish Long: Well it's the first major movie we've released here exclusively on 3D. 'The Nightmare Before Christmas' went out exclusively on 3D in October 2007, but at the time there was just one screen that was able to show it, Movies @ Dundrum, and it took in over €100,000 in one screen. That was five months ago and now there are eight screens that can show 3D, which is a very interesting comparison.
What do you think the concert format lends itself so readily to 3D?
The most important thing about every movie is that it has to be authentic. In that it does exactly what it says on the tin, for want of a better term. For example, you've got something that is a concert movie, which this is, and from the beginning we envisaged to use 3D. Then the lovely thing about the end result is it gives you the experience of being at the concert.
I sat yesterday at the preview screening in Dundrum with three or four hundred kids aged from four to 15 for the special screening and they were all responding as if they were at a concert. I think 3D creates a particular experience that lends itself to this type of activity.
Are Irish children familiar with the character of Hannah Montana?
In Ireland and UK it would be viewed differently then it would be in the US, where everyone would have the Disney Channel. Here the Disney Channel is part of a particular package that people need to buy into, so less people have access to it. But what I've been amazed at is the level of awareness of Hannah Montana and Miley Cyrus and the knowledge and response amongst that age group here.
It's quite fascinating to see that amongst that age group, who are quite cool in their own way in that they might not respond to the normal traditional advertising, is that they have very high awareness of Hannah Montana. Already the demand for tickets via ourselves or our media partners is very substantial.
Why do you think so many cinemas have equipped themselves for screening 3D recently?
Well over the next few years you have lots of 3D movies coming out - 'Journey to the Centre of the Earth', 'Fly me to the Moon', 'Bolt', 'Crude Awaking', 'Tin Tin' 'Ice Age 3', and Disney will be releasing 'A Christmas Carol' and the 'Toy Story' movies on 3D too.
Do you think more cinemas will become equipped with 3D in the near future?
I would imagine so, I mean there is a huge appetite for 3D.
What differences do you notice in how an audience responds to a 3D film as opposed to a regular 35mm film?
I think that when movies lend themselves to naturally being on 3D then it means that they are authentic experiences. In 'Hannah Montana', you have things like drumsticks and various things coming at you off the screen. You can see the camera moving around the singer when she's performing. You can see the hands of the kids in the real audience as they go up to the stage waving, clapping and screaming. I think that encouraged the kids in the audience to get involved, it breaks that barrier in a way.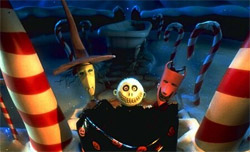 The Nightmare Before Christmas
In another sense, a film like 'The Nightmare Before Christmas' is just a stunningly beautifully visual movie and people who are cine-literate really appreciate the 3D version, the animation was really enhanced by 3D.
Do you think Disney is leading the way in the 3D era?
Disney has a very clear policy because of who we are and the kind of movies we make that its very much a priority for us to release our films on 3D. We also feel that as cinema becomes equipped for 3D that we want to ensure that we can service them.
For example with 'Toy Story' it was already innovative and it lends itself easily to 3D.
So I think that's where the authenticity comes in. It must bring a whole new breed of life into it, it must make sense, it must actually work for the audience. That's what were looking at doing.
What other 3D films will Disney be releasing?
We are going to re-release 'Toy Story 1' in 3D in October 2009, and in February 2010 we are re- releasing 'Toy Story 2' on 3D and 'Toy Story 3' later that year.
Digital film is another big change hitting cinemas at the moment. What do you think are the advantages of this format?
From a digital point of view it means the maintenance quality is much easier. Even if a film is shown two hundred times it will not have deteriorated in the way that a 35 mm. For the audience attending it will be a more consistent and higher quality experience. Also it could and should mean that the cost of striking prints will be different to the virtual printing and should hopefully mean that once a cinema has become digital that there is more possibility off being able to service all cinemas in a first run.
I think what needs to be emphasised is, yes, there are big technological changes happening. One is from 35mm to regular digital, and I think in the next ten to five years that will be the main format for delivery. The appeal of digital is quality and then I think the appeal of 3D is the word is used authentically, as opposed to being layered on a project afterwards.
Do you think more cinemas will be turning over to digital in the next few years?
I think what we're beginning to see for the first time in over one hundred years in cinema is a drastic change. For years it's been 35 mm and I think in the next 5 -10 years 35 mm will become the rarity.
'Hannah Montana & Miley Cyrus: Best of Both Worlds Concert in Disney Digital 3D' will screen in Cineworld, SGC Dungarvan, The Gate, Cork, Dun Laoghaire IFC, Movies at Dundrum, Movies at Swords, Omniplex in Mahon and Lisburn.

Check out the Hannah Montana trailer here.