A new installment of two-part drama 'Single-Handed' is set to air on New Year's Day on RTE 1. Owen McDonnell plays probing Garda Sergeant Jack Driscoll, who leaves no stone unturned in his quest for the truth. Here, IFTN does the questioning.
The first 'Single-Handed' two-part drama, directed by Colm McCarthy (The Big Bow Wow, Murphy's Law), aired in March of this year. Filmed over four weeks on location in Connemara, the series saw Garda Jack Driscoll investigate the mysterious death of a young immigrant woman, found dead in a local caravan. In the second offering, 'Single Handed - The Stolen Child', Jack is on the case of a missing two year old boy, while his mother goes out of his mind with worry. Locals point the finger at the boy's father, but Jack, never satisfied with a simple theory, probes deeper, unveiling more hidden secrets in the picturesque village.
First time around the clever drama attracted 40% audience share on its broadcast, and RTE were quick to commission a second installment. A directorial changeover sees director Anthony Byrne (How About You, Short Order) take the helm and this series also stars Ian McElhinney (Rough Diamond, The Clinic), IFTA winner Ruth McCabe (Inside I'm Dancing, Any Time Now), David Herlihy (The Clinic, The Running Mate), Charlene McKenna (Pure Mule, The Kitchen) and British actress Caroline Catz (Doc Martin, The Bill).
Owen McDonnell's many theatre roles include 'Cruel and Tender' at the Project Theatre, London; Calipo Theatre Company's production of 'Wunderkind'; 'The Lieutenant of Inishmore'; 'The Plough and The Stars' and 'A Doll's House', both at the Abbey Theatre, Dublin. He previously appeared in 2003 film 'Conspiracy of Silence', directed by John Deery. 'Single-Handed' is his first television role.
Owen with Charlene McKenna in Single Handed
IFTN: How did you get the part of Jack in the first series of 'Single-Handed'?
Owen McDonnell: I was actually back in Galway, doing 'The Lieutenant of Inishmor' in the Town Hall. I knew Maureen Hughes, who was the original casting director, and she just rang us and asked three of the cast to go to Dublin. I read for director Colm McCarthy and did a little bit of improv, and they seemed to like what I was doing and rang me back the following day and said 'Do you want to do the part?.'
You mainly worked in theatre before, did you always want to do TV as well?
Yes absolutely, it's different but very similar at the same time. I'd done a bit of film, but no television at all. The problem with television, sometimes the scripts aren't great, but this was such a good script that I jumped at the opportunity to do it.
What do you think are the differences between acting for theatre and television?
In television it's so much more technical, you have to know where the camera is and what size the shot is. You can say so much with so little on TV, whereas on stage you have to gauge the space that you're in. It's similar in that if you're performing in a large space on theatre obviously you have to give a bigger performance, similarly if you're doing a very tight shot on camera, it could be down to a certain look in your eyes…the problem with camera you get away with nothing, you always have to be very present and in the moment.
Do you prefer working in theatre or television?
To be honest, I like both. With theatre, you get a much more immediate buzz, you finish your show and people are saying 'That was great'…well, hopefully they're saying that! With television I love not just the acting process but the crew, there's a crew of 50 or 60 people working together, everybody has there own jobs and getting that amount of people to work as a unit to get those shots is great. It was great filming 'Single-Handed' in Connemara because you're all away on location and everybody's away from home, so there's a great sense of community, and that's great. And obviously, it's a buzz to see the final thing.
How has your career changed since 'Single-Handed' was aired in March?
Not hugely! It's been fine, I did a couple of plays in between the two shoots. I don't get people recognising me in the street or anything like that, people generally see the Garda uniform and once you're out of the uniform you're fairly anonymous. It hasn't changed hugely, hopefully we will be doing some more 'Single-Handed' this year, not just one, but we'll see.
How did you feel when you found out RTE commissioned a second instalment of 'Single-Handed'?
I was delighted because Barry Simner, the writer, is so good. I get on very well with the producers and the cast that I'd be working with again, five or six of us were retained from the first series, so it was great. And for me, because I live in London, it's kind of like coming home as well.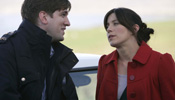 Owen with Caroline Catz
The first 'Single-Handed' saw your character Jack solve the case of a young immigrant girl who died in mysterious circumstances. What does Jack get up to in the second series?
The premise of the second one is that a child has gone missing, Charlene McKenna plays the child's mother, so she is obviously going out of her mind with worry. It's presumed the father has taken the child, so that's the basic 'whodunnit' mystery side of things. Then there's all the personal stuff that affects Jack, with his life, his relationship with his father and the uneasy truth that has developed between them all comes into play as well.
Did you find that Anthony Byrne had a different directorial style than Colm McCarthy?
He does have quite a different style, when you're got a director of calibre of Colm McCarthy or Anthony Byrne you can't dictate how they are going to shoot… Anthony went for a much more handheld feel to it, using a lot of available natural light, so from an acting point of view it was great because the turnarounds were much quicker and we probably got more time in front of the camera as a whole. He has a very personable style of directing, he kind of lets you get on with your own thing and he's pretty astute, if there are any problems he's generally able to sort you out fairly quickly.
Did you find it strange working with a different director this time around?
I was a little nervous about it because obviously it was Colm who had cast me the first time round. Anthony inherited five characters, he had no say in that, so he was left with the five of us from the first series! So from my point of view, I probably put myself under a certain amount of pressure to not let him down.
What do you think is different with the second 'Single Handed?'
I think in the first one, because the characters were new we had to do a lot of establishing work and establish the world in which they live in etc. Now that world is already established, so this one is able to probably click along at a slightly quicker pace. There's probably one or two more story elements there so it's a little bit more frantic.
This time around we shot within a ten mile radius of Renvall, because we realised the first time there was quite a few logistical difficulties, we were 25 miles away in the middle of a bog with a couple of generators and stuff like that. There was also a quicker turnaround - two ten day fortnights.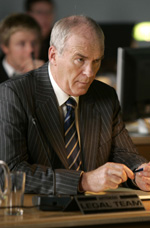 Ian McElhinney as Jack's father
Do you think if people haven't seen the first 'Single-Handed' they will be able to follow the second series?
Yes, it stands alone, it's its own story, it's pretty clear what Jack is and what the relationship with his father is from the outset. They don't follow chronologically directly on from each other, it's a number of months later, things have changed, Jack has got a lot more comfortable in the community that he's in. He's still trying not to become the policeman that his father is, but I think we probably see more of his father in this one.
As regards your own acting background, do you have any formal acting training?
I trained in the Central School of Speech and Drama in London from 1996-1999 and worked quite a lot in London for the first couple of years after I left. Since then I've been kind of going back and forth between Ireland and England.
Did you go to drama school straight after your Leaving Cert?
No, I went to university for a while in Cork. I did a lot of work with the drama society down there, probably too much because I didn't finish the degree! Then I went to Australia for a bit and didn't go to drama school until I was 21.
Was acting always what you wanted to do?
I think it probably was. I did a lot of Irish language dramas growing up in Galway with Macnas and it was something that I always knew that I enjoyed, but growing up in Galway in the nineties, it wasn't necessarily pursued as a career. But since then I've come round to the idea, well it's the only thing I can do now so I'm stuck with it! [laughs]
Do you think there are a lot of roles for young Irish actors in the Irish film and television industry at the moment?
There certainly seems to be, RTE have really pulled their finger out and they are making a lot of quality drama and there seems to be a lot of decent films being made as well. When we were shooting the first 'Single-Handed' in October 2006, I remember we were all saying as actors it's great, that everyone we knew seemed to be working, there seemed to be shoots going on all over the country. So I think that's a good sign for the industry in Ireland, definitely.
You are currently based in London. Do you think it's necessary for an Irish actor to establish themselves abroad in order to remain prolific in their work?
Not necessarily, I don't think so. With regard to Irish films, it can sometimes be detrimental to be overseas, even though the two places are very close, they are two very different industries. Some people I know who have moved over here have made the decision just to work here. There's always interesting films being shot in Ireland and Irish actors being cast in them. I don't think it necessarily hurts anyone to stay in Ireland, or Dublin. I stayed over here in London because I came over here to train and I've a life and a home here.
Was there ever a time in your career when you felt like giving up?
I was very lucky starting out, the first job I got was a production of 'Antigone' at the Old Vic. So I went from living on about £200 a month as a student at college to making twice that in a week! And quite stupidly I thought that was how it was always going to be! I did have a period in about 2000 where I didn't work for a long time and I ran pubs, but that was really hard work, so I decided I really had to make a go of the acting. I've kept ticking along since then, it's great to be able to do a job that you enjoy.
Are you keen to gain more work in film?
Yeah, I think with films, from an acting point of view, because it's a condensed period of time there's always something happening and it's always interesting work. Luckily with 'Single Handed' they are like self-contained films in themselves, but some TV work just portrays the mundane aspects of life and I find that quite difficult. So yes I would love to get into more films.
What projects have you got coming up?
To be honest, I'm not sure, I was meant to be doing a play in Galway, 'Whistle in the Dark', with director Tom Murphy but that's not happening now. So that's kind of taken three months out. I'll find out in January if we're doing more 'Single-Handed' in April and besides that I'm just available for work!
'Single Handed' screens on RTE One at 9.30pm - 1 & 2 January 2008.
'Single Handed' is produced by Touchpaper TV and Element Pictures.