IFTN speaks to Kirsten Sheridan about her latest feature 'August Rush'. The 31 year old director talks about making the film in New York, following advice from her Oscar nominated Dad and her take on the Irish film industry.
It's been six years since Kirsten Sheridan burst onto the scene with her debut feature film 'Disco Pigs'. Starring a then relatively unknown acting duo Cillian Murphy and Elaine Cassidy, the low budget indie premiered at the Berlin Film Festival and won awards at festivals around the world. Since 2001 Sheridan has had two children, co-wrote the Academy Award nominated 'In America' and spent over two years developing and shooting her second directorial outing 'August Rush'.
The film is a modern musical fairytale about a young couple; the man - a talented musician, the woman - a concert cellist; who spend one momentous night together in New York. Circumstances divide the lovers and afterwards the woman bears a child from whom she is then separated. Years later their teenage son begins a quest to find his parents, convinced the music he hears all around will bring them back together.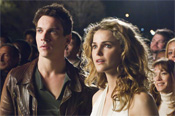 Jonathan Rhys Meyers & Keri Russell in August Rush
The $30million feature was produced for Warner Bros. with Southpaw Entertainment. Sheridan's debut film carried a €3m budget, so was it a daunting prospect to return with, in Irish terms, such a large scale project? "I never think of it in that sense," says the director. "There's more money involved but that just means more opinions. I was as daunted doing this as much as I was doing Disco Pigs because, to me, it's about a script that I love and how am I going to be true to that . To not let it down, that's the only thing that gets me freaked out." And what of the creative freedom an indie film offers a filmmaker, was that something she missed? "There's a spontaneity to the kamikaze style that I missed and I want to go back to that," she adds, "but I suppose if you're in the middle of Central Park and there's 10,000 people there, you can't do that on 100 grand!!"
Unconventional and imaginative, the tender story was written by 'Hook' writers Nick Castle and James V. Hart and based upon an idea that originated with producer Richard Burton Lewis after his own son was born. A key scene where the young baby reaches out of his crib, as if to conduct a symphony, sparked the idea for the film and also grabbed the interest of the Irish director. "When I read the script I was thinking 'God that's bizarrely serendipitous'," recalls Sheridan. "In my first film I did a scene where these two babies reach out of their cribs and join hands so that image hooked me in. I was lucky, the producer sent me the script after he saw that scene in Disco Pigs too, and after watching In America."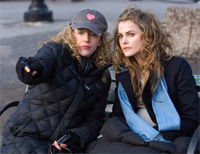 Kirsten Sheridan on set with Keri Russell
The film boasts a distinguished cast with Irish actor Jonathan Rhys Meyers (Elvis, The Tudors) and 'Felicity' star Keri Russell as the separated lovers, fourteen year old Freddie Highmore (Finding Neverland) as their musical prodigy son August, Terrence Howard (Hustle and Flow) as a social worker and Robin Williams (Good Will Hunting, Good Morning Vietnam), who becomes August's mentor when he reaches New York city in search of his folks.
In addition to the cast, the director was surrounded by an array of talent behind the camera including Oscar winning Scottish DOP John Mathieson (Gladiator, Phantom of the Opera, Kingdom of Heaven), US production designer Michael Shaw (Boys Don't Cry) and three time Academy Award nominated editor William Steinkamp (Tootsie, The Fabulous Baker Boys, Out of Africa).
Sheridan also enlisted the prowess of composer Mark Mancina and legendary producer Phil Ramone, who have eleven Grammy Awards between them, to bring the musical elements of 'August Rush' to life. Ramone produced the three tracks sung by Jonathan Rhys Meyers in the film and the story culminates with a melodious classical concert sequence in Central Park, which composer Mancina drafted 70 versions of before the final one was selected. In fact, the entire score for 'August Rush' was completed before a single frame was shot, and Sheridan describes this inverted style of filmmaking as "a nightmare!"
"Just from the practicalities of shooting it was a mind melt!" declares the director. "You're talking about having playback all the time, so for every bar of a song you need to know exactly where the camera is. You need to do a huge amount in pre-production. Storyboard, visualise and shot list the whole thing…"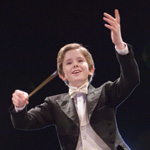 Freddie Highmore as August Rush
So with such a strong musical influence in the film, was the director equipped with a musical knowledge to carry her through it? "I have no theoretical or intellectual music in me at all," she says with a chuckle. "I don't know the language, I don't know how to speak it, but that was good because it totally freed me up.
I could say 'let's take Moondance and play it as a waltz', who cares? 'Let's take a gospel song and instead of it being about happiness let's make it about a child who has no mother', make it raw and painful but we sang it like gospel song. I was able to turn it on its head, and I think if you were laden down with all the intellect and the rules it would be urrrrrrrgh!"
No doubt another string to Kirsten's bow is the experience that comes with being the daughter of Jim Sheridan, a six time Oscar nominated director/writer/producer and one of Ireland's most successful filmmakers. So did her famous father offer her any advice during the shoot? "The only advice my Dad gave me was a funny one liner. He came down to the set and he was like 'What's the story?' I had ten minutes to shoot a scene and luckily it was a scene where Johnny and his brother had a fight and I was able to shout 'RIGHT GOOOOO!' because we had to finish by 8 o'clock. And Dad was like 'Just do what you f***ing like! No buts, just do what you f***ing want'."
But the young director picks up tips from her father, without him ever having to articulate it. "He doesn't give advice, it's more that you watch how he is with actors, how he is with the story and how utterly important it is to him. How he's so open and vulnerable when he works with actors – watching that is where I've learned."
And are those techniques something she would try to emulate in her work?
"I would try," she says. "I see the results he gets, not just for the film, but the results for himself by working that way. He loves chaos, he loves throwing it all up in the air and seeing where it lands. He's cut throat honest with actors and it's the only way to be with them. If you're not honest they can smell it a mile away. They are the ones who are out on a limb, they're the ones who are vulnerable – so you have to be able to say 'no that doesn't work'."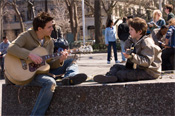 August Rush
'August Rush' was released in the US in October and won mixed reviews. The sentiment was hard to swallow for some US critics, but its charm, excellent acting and musical accomplishments were praised relatively across the board. Containing what Sheridan describes as a "European edge", the film should perform well in territories outside North America and being compared with 'Oliver Twist' should fare well for the festive season. The director is unapologetic for her choice of projects and believes she's drawn to quality stories that have a special human interest. "Everything I'm working on at the moment has some kind of human quality to it. I wouldn't be into action movies or I wouldn't be into just straight genre. I would do comedy if it was something like the Full Monty, but it's got to be something with a heart."
Another six year hiatus is not planned for Sheridan and, through her production company Blindside Films, she hopes to shoot the true-life romantic drama 'It Could Be You' in 2008 and is also writing/developing a number of scripts. "We try to option scripts and get stuff financed," says Sheridan and agrees, like many filmmakers in Ireland, it can be discouraging when her projects are stalled, but she tries to persevere. "It's always a long time but sometimes you come back to projects that were stalled and you realise you were stalled at that time in your life too. It can be frustrating because development can be hell. When you have an idea and you write it down, you get notes from this studio and then that exec leaves and you get notes that are the complete opposite. That process can be hell, and I think my Dad's advice is probably right, just do what you want to do, if you can!"
And what of the Irish film industry in 2007, does she think we're in good shape at the minute? "I think it's quite exciting," she enthuses. "Obviously Once is a huge highlight for us. John Carney's style and approach to things is fantastic. If it continues like that it'd be great, it just frees people up so that you think you can just go out there and do it. That's the only way forward really, you can't wait for people. It gives people the wherewithal that you would say 'just keep running and don't wait for people to catch up with you'."
'August Rush ' is released nationwide on the 23rd of November.