IFTA-winning director Anthony Byrne's latest feature 'How About You' will reach Irish cinema screens on 16th November. IFTN caught up with the Dublin born director to discuss the pic.
Anthony Byrne's latest feature 'How About You', funded by the Irish Film Board, Section 481 and UK incentives, is a stark contrast to his IFTA nominated debut, indie film 'Short Order'. Byrne's latest offering, based on a short story by Maeve Binchy, follows the tale of free spirited Ellie, a young woman with a short fuse left in charge of the residential home run by her older sister over the Christmas period. While most of the residents have left to spend the holidays with their families, four cantankerous residents remain. The comedy kicks in as we watch impatient Ellie deal with the residents' outrageous demands, leading to personality clashes and plate-smashing confrontations.
Filmed in Ireland over six weeks in Autumn 2006, 'How About You' boasts a stellar cast of Oscar winner Brenda Fricker (Inside I'm Dancing, My Left Foot), Oscar winner Vanessa Redgrave (Atonement, Julia), BAFTA nominee Joss Ackland (Miracle on 34th Street, First and Last), Oscar nominee Imelda Staunton (Nanny McPhee, Vera Drake) young British actress Hayley Atwell (Mansfield Park), Irish actress Orla Brady (Nip Tuck, Proof) and the late Joan O'Hara (Fair City).

Short Order
'How About You' marks a change of direction for Byrne, whose 2004 debut 'Short Order', with its surreal setting and quirky plot, could have set him down the indie-film route. But this film offers realistic characters and a simple, straightforward plot. So why the change of direction?
"I felt after 'Short Order' that I'd sort of set myself up as a director that does art house indie films or obscure films like 'Meeting Che' before it," he says. "But what I really wanted to do was to work on different genres and work on different projects. It was a simple as that. I didn't want to do films like 'Short Order' for the rest of my career."
The project came about when the film's producer Noel Pearson was impressed by a viewing of 'Short Order', and approached Byrne with the 'How About You' script, penned by Jean Pasley. A film set in a residential home doesn't seem an obvious choice in this youth obsessed culture, but Byrne saw a message in the story worth telling.
"I hadn't seen a film about old people and when I read it, it seemed very familiar to me," he explains. "I was thinking it was kind of like this movie, or that movie, but at the end of it I couldn't think of anything it reminded me of, I geuss it was just the style that was familiar.
I wanted to make an honest film about people in a residential home, without touching into the serious side of life in a nursing home, because that wasn't the film that we were making. We were making an entertaining, feel good film but within that it was to touch upon the reality of these places, and I just liked the characters, so that was what drew me in."
The movie, with a budget of approximately 5 million euro, was shot for one week on location in Rostrevor, Northern Ireland, and five weeks on location in Mount Usher house and gardens, Ashford, Co. Wicklow. Instead of using sets, the house was completely renovated, with each character able to have their own room, giving the set a 3-dimensional, realistic feel.
"The geography was set up, everyone had their own room, you were able to go in and walk around and you had that kind of sense that you were moving through a space so it wasn't like you were in a set and not being able to open the door."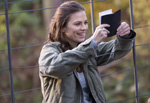 Hayley Atwell
Hayley Atwell, at just 25 years old, was a spring chicken amongst her older acting peers, but the acting veterans were quick to take the young actress under their wing, and the chemistry between her character Ellie and the older residents bounces of the screen.
"It was all very good natured," says Byrne. "I think for Hayley as an actor, they were all very supportive and very generous as well because it's tough for her, she's only 25 so it's difficult for a young actor who doesn't have the experience to step into a room with Joss Ackland, Imelda Staunton and Brenda Fricker and do what she does and they were very cool with her."
'How About You' is the second time Byrne has worked with Redgrave, and he was keen to cast her in the role of Georgia in his latest pic. For a young director, working with the likes of Ackland, Staunton and Fricker may have proved a daunting task, but not so for this 32 year old director.
"More than anything they really want to be directed," he says of his 'How About You' stars. "They don't come in and tell you what they should be doing. For the most part, you would show up and talk to them, and they really want to be directed, they don't want to be making it up as they go along.
So you have that conversation with them and say 'this is what we're going to do, this is where the camera is going to be and it's going to be like this' and they just say 'Great' and then you start getting into the scene. So I'm not really intimidated by who they are."
The worst thing is to stand in front of an actor and tiptoe around them and not tell them anything because they're kind of looking at you and saying 'You want to tell me something so why don't you just tell me because then we can sort this out and I can do it better".
This is the first time Byrne has directed from a script he hadn't written himself, having penned all his previous shorts as well as 'Short Order'.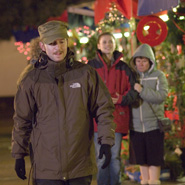 Anthony Byrne on set
"I was looking forward to doing it, that was another thing I was excited about, you always take a script and you try and make it your own, that's what directors do. With this it was very clear that the kind of film we were making and they were very clear about the characters they wanted to do before shooting and once we had agreed and sorted everything out it was an easier process to get through but the fact that I was directing somebody else's script was no problem at all, it was a good thing rather than a bad thing."
'How About You' is very much a character study, made in a classic filmmaking style, without the need for special effects or gimmicks to bring it to life. Set mainly inside the house, Byrne allows the film to breathe by cutting indoor scenes with scenic exterior shots of Ellie down by the river.
"It's not a fancy film it's a very simple story and it's told in a very smart way and it serves the story rather than me doing some fancy directing stuff. The stuff on the crane, on the river, moments like that make the film breathe, because it is very difficult to make a film set in a house for such a long time and keep it interesting but I think we did do that."
Byrne has recently finished rural cop drama 'Single Handed', at two-part drama series set to kick off on RTE on New Years Day. Shot on location in Connemara, the drama is once again a change of direction for the chameleon-like director and stars Irish actor Owen McDonnell (Conspiracy of Silence), Charlene McKenna (Pure Mule), Ian McElhinney (Omagh, Closing the Ring) and Ruth McCabe (The Snapper, Breakfast on Pluto). The drama tells the story of a child that has been kidnapped, with McDonald playing a Garda in a small town trying to solve the case.
So what's next for the busy director?
"If 'Single Handed' was going again I would do it because I really enjoyed it and there was great freedom to the drama. I really enjoyed that and working with the producers. And I'd like to do another film with Noel that we're talking about at the moment, it's called 'The Runner' and is set in South Africa, we'd like to do that some time next year."
"'Short Order', 'How About You' and 'Single Handed', each one is completely different and they're all completely different and within different genres so I'd like to continue to doing that."