Appearing in the second series of the BBC drama series 'The Street' this week, IFTA winning actress Ger Ryan (Stardust, Intermission, Family) talks to IFTN about working in Ireland, winning her IFTA and those pesky four ways...
Ger Ryan's long list of acting credits include the award-winning TV series 'Amongst Women', her iconic role as Paula Spencer in 'Family', John Crowley's box office hit 'Intermission' and Aisling Walsh's controversial drama 'Sinners'. Starting out in theatre, Ryan is now a familiar face in Irish TV and film and picked up the Best Actress IFTA for her role in TV drama 'Stardust' earlier this year. The versatile actress recently played office cleaner Vera in Lenny Abrahamson's RTE drama 'Prosperity', and will appear in BBC drama 'The Street' and Penny Woolcock's modern adaptation of 'Exodus' on Channel 4 later this month.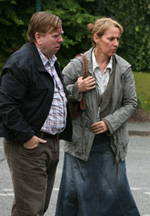 Ryan with co-star Timothy Spall in The Street
IFTN: What have you been up to since winning the Irish Film & Television Award for Best TV actress in February?
Ger Ryan: Well my father died shortly after the IFTA's, he was sick at the time of the awards but I couldn't mention it when I was accepting the award because we had to mention all the families that were lost in the Stardust disaster. Since then I worked on 'The Street' an English production, and 'Prosperity', I had small role in that.
How do you prepare for you roles, do you use any particular method?
I don't break it down into any analytical, intellectual exercise. For me, when I read any character I think 'there but for the grace of God go I'. If I had had that life, if I had been born there, if I'd had that education or lack of, how would I be in those circumstances? I put myself in their shoes. It's a bit more emotionally painful I have to say, but it's the only way I know how.
What kind of directorial style do you prefer?
I like directors that like actors. You'd be surprised how many directors don't! A director that knows actors and likes actors, knows that it's not about telling an actor how to play a role, otherwise, why don't they do it themselves? My dad used to always say, 'You don't buy a dog and bark yourself!' It's about a level of trust, and knowing that the actor knows their craft.
I just find there's a lot of homework that isn't done when they're casting these days. I've noticed there are two types – there's people who say 'Look we need somebody who knows what they're doing in this role' and there are directors who really don't know what actors do. There are some directors who come from a very technical aspect, but no actor can play what's in another person's head, and if you do, it will be rubbish, it comes across as untruthful it comes across as not good.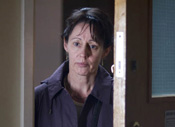 Ger Ryan in Stardust
How do you prepare for very emotional scenes like those in 'Stardust'?
You never can prepare yourself. In particular, in 'Stardust', the problem sometimes is explaining to others why you're withdrawing from them. There is kind of a lack of understanding in Ireland about certain scenes taking an enormous toll out of you, and that need an enormous amount of focus. They really do - from the moment you wake up in the morning you know that you are going to have to spill your guts all day, and so you can't spend any time on chit-chat because you have to keep that emotion at your fingertips, you're building it all the time.
I remember one day, I don't know how many people asked me what was wrong, and I really wanted everyone to go away! You have to be focussed. There are other days of course when you don't have to be like that, you can be chatting and laughing and it's such a pleasure to work with cast and crew in Ireland. The cast and crew are just brilliant to work with over here in Ireland, I just love it. But if you've got a job to do you need to be able to do that job, and I have to say the working conditions have gotten worse and worse and there are those nasty, nasty four-ways that are like toilets.
They are illegal - health and safety should be put on to them - but nobody cares about actors. I'm not being precious at all about it because I'm not a precious person, but I'm a professional. And to be put into a grey, beige wooden box that is dirty, no air in it and to be expected to prepare and to be able to carry what they want you to carry onto the screen in order for something to be a success, believe you me. I have asked producers to spend eight hours in one of those and none of them have taken up my offer. They are the most depressing, unbelievably unprofessional horrible things.
Why do you think conditions have gotten worse for actors?
I think it's due to tighter budgeting, there are certain things that you can cut back on. I will never again go to work where there are no facilities whatsoever, I'm not going to mention what job it was this year, but I won't ever, ever do that again. I just won't do it. There are things that actors do that no other member of the crew has to do - like no other member of the crew has to undress the minute they get into work. They don't have to wear clothes that aren't suitable for the weather. If you've no facilities, you have to carry your own gear on your back from sets around the city and hang around and with all your clothes that you've come into work with, your script and everything. No-one else has to do that.
You have worked a lot in England. Do you find the conditions in the UK better?
Oh god, yes. They have a long history of knowing actors in England, in Ireland we don't, we like stars. But if you're ordinary, everyday actor they just think "Sure they'll put up with anything". They have this image of actors needing the job and putting up with anything and not saying anything, and that's kind of sad really because there is an enormous amount of talent here and people are putting up with very bad working conditions. The thing is, an actor needs a dressing room. If you want an actor to be focused and prepared for what you want them to do, they need a space to do that in between scenes. You get what you pay for. It's a credit to a lot of the actors and the crews here that they have come up with some stunning work under extremely different conditions.
But its not about pampering people, this is about the bare minimum needed to do a good job. You wouldn't keep a dog in those four-ways! That's my campaign since I started acting, get rid of the four-ways on behalf of every actor!
You've carved a prolific acting career for yourself while remaining mainly based in Ireland, was it always your aim to stay here?
Before I started acting I lived in Greece, Spain and the States for a few years, so when I came back and decided I was going to start acting it was always my intention to stay here. It's kind of a bit perverse, but it was like "Look, this is where I'm from", I wanted to play as many different types of Irish women as I could, which really hasn't happened, but there you go. There were times when I did work a lot in England in the late 90's, and I thought maybe I should move. But then I thought "No, I don't want to move, I like where I am", and life to me is more important than work.
Do you think there are enough film and TV roles for female actors in Ireland or do you think it is dominated by roles for men?
I don't know about it being dominated by men as such, but I think that if you read any script you'll find a preponderance of male parts, in all shapes and sizes, but the women are still very much pigeon holed into roles like young beauty, the girlfriend, the mother – whenever I read a script and it says 'the mother' I always go "Ah yes the beige blob in the corner!". It just says something. I think it might be changing now, it is very slowly changing and you notice it now a bit more. But I just think that it's an age old thing, maybe it's because not enough women are writing or directing. But I actually think it's where the money comes from, that's the type of films that are made. We are used to seeing male stories, with men being the protagonist, as opposed to women being the protagonist.
Would you like to see this change?
Any actor worth their salt would. There's a real fascism that women involve themselves in big time, in this body fascism, that you have to look a certain way, you have to be a stick insect, have the silicone breasts -it's happening in Ireland now. You have to look a certain way and I just find that kind of distasteful really. It's not real.
Did you ever get the urge to move to the US and try and break into the acting scene over there?
No never! I lived in the US for a few years before I got into acting, but have no desire to work there whatsoever! Anyone who got involved in acting in the eighties and got into the craft of it, fame was never the issue, making large sums of money was never what motivated us. It was more about finding good roles, and exploring things.
Do you prefer playing comic parts, or more serious roles?
They're both great. When I started off in theatre an awful lot of the roles I did were mainly comic, but for some reason I then got involved in doing tragedy after tragedy. You do get a bit pigeon-holed, which is fine, because each role is a completely different experience. For me it's about the experience of working with people. I've worked with amazing people, and nobody can take that away from you. For me, if the experience is good, it doesn't matter and it just becomes this joyful thing to be going into work everyday. And Irish crews are hilarious, they have the best sense of humour, but very tough conditions sometimes.
Did you start out working in theatre? Is that something you would like to get back into?
I did try and make a promise to myself when I moved out of Dublin that I would try and do theatre once a year, but then the last time I did a play, it was such a negative experience that I thought 'you know what life's too short!' Unfortunately, you get to the stage where you think, what they pay in theatre for a week, I can make in a voiceover doing an hours work. When you boil it down to that, and they don't help you with anywhere to stay, and I'm too far to commute, you just think look, life is too short and yes, I adore theatre and I love the process of it but I'm not prepared to leave my home for a few months.
Do you think theatre is dieing art?
No I don't think that at all. You've got very passionate theatre people, and you always will have, because there is an amazing vibe in theatre. When you get together this group of people, you become very close very quickly and you spend three to five weeks rehearsing. If it works it's just the most amazing feeling and you don't get that working in film and TV, it's a different feeling. The live audience, it's just fantastic.
We've amazing playwrights, I've been very lucky I've worked with a lot of new playwrights. And for the first time your bringing their work to an audience, and there's no feeling like it. It's not to do with the money, it's to do with the fact that they'll bring people over from London and put them up in apartments, but they won't do that with people outside Dublin. I subsidised the theatre for long enough in the eighties by working for nothing, so I'm not going to subsidise it any more. I've a mortgage to pay. For some theatres it would be no problem for them to get subsidised accommodation, but they don't do it, because they don't want to set a precedent. If they want an actor from London or the States they'll spend a fortune putting them up.
Are you working on any film or TV projects at the moment?
I've got 'The Street' coming up, starting next week. I did a film called 'Exodus' over in England which is an extraordinary film, that will be on Channel 4 at the end of the month. And I did 'Dorothy Mills', I'm going to be working with Aisling Walsh again on 'The Daisy Chain'. This is my fourth time working with Aisling, she's brilliant I love her. I'm playing some kind of child psychologist. It's a wonderful script. I worked with her year's ago on a TV film called 'Forgive and Forget', that was the first time I worked with her, and I've done a few things with her since, she's just brilliant to work with.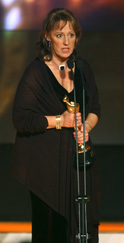 Accepting her IFTA
You won the Best Actress IFTA earlier this year. Do you think it is important to be recognised by your peers in the industry?
I do think it's a lovely thing. I kind of have a problem with going to those kind of do's, because years ago it was specifically people working in the business that went. Now sometimes you go along and you kind of think 'Why's Rosanna Davison here?' But I have to say last year in the RDS it was such a good night, and you get to see people you haven't seen in quite a few years, usually in the smoking room.
'Stardust' won best drama also so it must have been a good night for cast and crew?
We did have a really good night. Though because of the nature of 'Stardust', you're kind of not thinking of yourself, you're thinking about the families, that was your job. If it had been a normal kind of drama, maybe the win would have been different. I very rarely drink, but I did get drunk that night! So it was a great night and it was a fabulous evening. I have to say it worked much better in the RDS, when they were in Burlington everyone was squeezed in like sardines and it was not enjoyable, the RDS was fantastic, because there was space and everyone could wander around. I just thought it was a wonderful evening we had really good night, expensive but good.
Ger Ryan – Selected Credits:
The Street (TV, 2006 – 2007)
Prosperity (TV, 2007)
Exodus (2007)
Damage (TV, 2007)
Stardust (TV, 2006)
Malice Aforethought (TV, 2005)
Frozen (2005)
The Return (TV, 2003)
Intermission (2003)
On Home Ground (TV, 2001-2002)
Sinners (TV, 2002)
Queer as Folk 1 & 2 (TV, 1999 - 2000)
Shades (TV, 2000)
Northern Lights (2000)
A Love Divided (1999)
Amongst Women (TV, 1998)
Plotlands (TV, 1997)
Driftwood (1997)
Moll Flanders (1996)
The Van (1996)
Family (TV, 1994)
War of the Buttons (1994)
After 68 (1993)
The Commitments (1991)
Stephen (1990)