Irish actress Elaine Cassidy will soon be gracing cinema screens in Anand Tuckerís ĎAnd When Did You Last See Your Father?í based on the award-winning memoirs of Blake Morrison. IFTN caught up with the 27 year old Wicklow native to discuss her latest role.
Elaine Cassidy's big break came while still a teenager when she took the title role of a pregnant abuse victim alongside Bob Hoskins in Atom Egoyan's 'Felicia's Journey'. Not one to be type-cast, this led to a string of varied roles – she played a mute ghost alongside Nicole Kidman in 'The Others', starred opposite Cillian Murphy in Cork-based feature 'Disco Pigs', and played Hitler's sexually abused niece in 'Uncle Adolf'. Her television work includes the starring role of undercover detective Amy Harris in Channel 4's BAFTA nominated 'Ghost Squad', and BBC series 'Fingersmith', which earned her an IFTA nomination.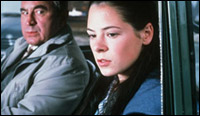 Cassidy in Felicia's Journey
Her latest role is that of Scottish maid Sandra in 'And When Did You Last See Your Father?' where Cassidy holds her own alongside Oscar-winner Jim Broadbent and housewives heartthrob, Colin Firth. Sandra is the live-in maid at the Morrison household, who catches the eye of a teenage Blake, played by newcomer Matthew Beard. So what attracted her to the role?
"The script I think speaks for itself," she says. "The script on its own is as powerful as the film, it just makes you feel and care about the characters and triggers off personal feelings for everyone. It was such a powerful script, and Anand [Tucker] was already attached to direct, Jim and Colin were already attached, you know there was nothing going against it. So it was really an easy one, there was no decision to be made."
The film shot over seven weeks last summer – five weeks on location in London, Sussex, and Derbyshire, followed by a two week shoot at Twickenham Studios. It explores the strained relationship between Blake (Firth) and his father Arthur (Broadbent), as Blake comes to terms with his father's cancer diagnosis and imminent death. The story consists of a series of flashbacks to the 1950's and 60's, as a forty-something Blake reflects on a childhood and adolescence overshadowed by his larger than life father.
Cassidy masters a strong Scottish accent in the film, a far cry from her own soft Irish brogue.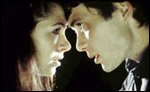 Disco Pigs
"I worked with this amazing lady called Joan Washington, a dialect coach," she explains. "I had a session with her and she's just brilliant. You just have to put the work in, you have to do exercises and whenever I do an accent that's kind of the way I approach it. I've never worked in a Scottish accent before, but it gets easier as you go on. The one I went in with before doing any work on it was really shoddy, you just have to put the work in."
She is no stranger to different dialects, having played a Corkonian in 'Disco Pigs', a Canadian in 'The Bay of Love and Sorrows', and worked in Received Pronunciation in 'Uncle Adolf'. Does she enjoy the challenge of taking on a different accent?
"Yeah, it always comes from the character and you have to be true to the character," she says. "The place they're from is integral to who they are, and its one part of the job that I really love doing. It's lovely to work in a new accent and try and master it, and it's another skill that you've kind of obtained."
"I prefer not using my own accent. I've only acted in my own accent a few times before. The one that was really quite daunting at first was 'Ghost Squad'. Originally I wanted to play her from London, but they were adamant that they wanted her to be from Ireland. I had to do my own accent, it was quiet scary! It's quite off-putting because you're hearing your voice coming out yet you're saying stuff that you wouldn't say, I think the adjustment at the beginning is harder when you're working in your own accent."
With the Irish accent rarely heard on international productions, does she feel that having an Irish accent is a hindrance when reading for roles?
"If I'm talking to other people I think some feel that it's been a hindrance to them. I've never felt it, though. I don't know what goes on behind closed doors, I don't know if I've lost out to parts because they've said 'Oh, she's Irish'. I suppose with 'Uncle Adolf' that was the first time I've ever done RP, and thinking back I'm really grateful, because a lot of people in the industry can be short sighted, and until you've done something and have been tried and tested they just kind of think 'Oh that's what you do because that's what you've done before and you can't do anything else'."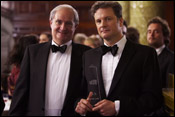 Jim Broadbent & Colin Firth
The petite brunette does not shy away from a script with challenging scenes. TV series 'Fingersmith' saw her character Maud in a love clinch with co-star Sally Hawkins, while 'And When Did You Last See Your Father?' required Cassidy to film a love scene with young actor Matthew Beard, who makes his feature film debut in the role of the teenage Blake Morrison.
"That was my first day, and Matthew was only 17!" she laughs. "I was like 'Hi, I'm Elaine, nice to meet you, yes I've got plasters on my nipples and flesh coloured pants on', so that was kind of awkward. He handled it great though, he must've been nervous but he didn't show it. There's always something that you're not looking forward to doing and it's a weird day at the office, but all you hope for is the person you're working with is nice, and he's lovely Matthew."
The actress talks enthusiastically of her co-stars, in particular screen veteran Jim Broadbent, whose credits include 'Moulin Rouge', 'Bridget Jones Diary' and 'Vanity Fair'.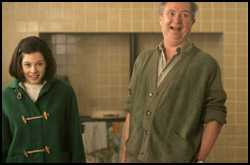 Cassidy with co-star Jim Broadbent
"I'm a huge fan of James' and it was so lovely to meet him and find out that he is a nice guy, a lovely man," she smiles. "It would have made me see him in a different light if he had been a horrible man, I would've been like 'Well you're still a very good actor but I don't like you as much'. It would be an anti-climax, but that's never really happened to me, that someone I really admire has turned out not to be nice."
"It's always nerve wrecking meeting someone for the first time because you will be working so closely with them, but I treat everyone the same, if someone's nice to me then I'll like them, if they're not nice to me, I won't! Regardless of who you are and what you do, it's nice to be nice. That's what I kind of take to and respond to."
Cassidy has come a long way since making her acting debut at age five in a school production of 'Pinocchio'. Bitten by the acting bug, she knew a thespian's life was for her, but decided not to opt for the drama-school route.
"I haven't got any training, just work experience. Different strokes for different folks though. I mean, I've gone down the path I'm meant to be travelling down and you know whatever my path is meant to be, if I stay true to myself that's the path I'll continue on."
"I've always wanted to be an actress," she says. "It was always where I channelled my energy, it was something I thought I had a very slim chance of making a reality but wanted to give it a go."
And give it a go she certainly did. Now based in London, the Wicklow-born actress has established a reputation in the UK that has allowed her to work steadily over the past few years, in theatre, TV and film. Her latest role is that of Lucy Honeychurch in ITV's adaptation of 'A Room With a View', the classic E.M. Forster novel. So can she see herself ever returning home to film on her home turf?
"I want to work in Ireland again!" she exclaims. "I'd love to now that I'm not living at home. It's better than any exotic place, filming here, so hopefully something will come along."
ĎAnd When Did I Last See Your Father?í is a Number 9 films production, produced by Stephen Woolley and Elizabeth Karlsen, with cinematography by Howard Atherton and editing by Trevor Waite, production designer Alice Normington.
The film goes on general release on October 5th.