With 'The Tudors' about to begin broadcasting on BBC2, IFTN discusses the making of series one in Ireland at Ardmore Studios with producer James Flynn, examining the show's success and why the production returned to Ardmore for series two.
Showtime series The Tudors is one of the biggest TV series to be filmed in Ardmore studios to date. The Wicklow studios hosted the first season of the $35 million dollar project from May to October last year, with filming on the second series currently underway.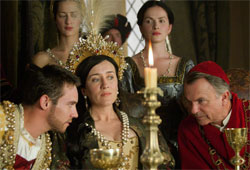 Jonathan Rhys Meyers, Maria Doyle Kennedy & Sam Neil
Series Executive Producer Morgan O'Sullivan was responsible for bringing the project to Ireland, through his film development and production company TM productions Ltd. James Flynn, a director in that company and one of the producers, tells us how and why The Tudors came to Ardmore.
"There are a number of reasons why we would bring a project to Ireland," says Flynn. "One, we have the English language, which is actually a unique selling point. Two, we have the locations. In this case we didn't have the Tudor buildings, but that's where the studio came in. We also have Section 481 finance, the IFB International Production Fund and an official Irish/Canadian Co-Production Treaty.''
There are only a handful of Tudor buildings in Ireland, a fact that may have presented an obstacle to filming here. The Ardmore crew rose to the challenge, however, constructing a large-scale set of intricately detailed Tudor buildings, with Tom Conroy appointed Production Designer. This, along with judicious use of locations such as chapels, corridors, exteriors, the Phoenix Park and historic locations including Kilmainham Jail and Dublin Castle, created an authentic Tudor look for the series.
"I think Ardmore has been essential because we only have a few Tudor buildings in Ireland. We used the Studios to recreate the Tudor sets, and then combined this with a lot of the beautiful locations that we have here. We have fantastic sets in Ardmore, and the other locations really added to it; we have a very powerful opening sequence in Kilmainham Jail."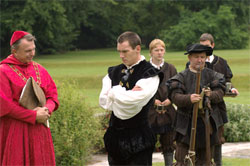 The Tudors on location
"The Tudors was originally developed as a 90 minute pilot," explains Flynn. "My business partner, Morgan O'Sullivan, worked closely with Showtime Entertainment and writer Michael Hirst in expanding the 90-minute film into a 10-part television series, so it was a natural progression that it would be filmed in Ireland."
O'Sullivan started working on the scripts in mid-2005, working closely with BAFTA-nominated writer Michael Hirst (Elizabeth, Fools of Fortune), with pre-production on the series beginning in February 2006. The project was structured as an Irish-Canadian co-production with Canadian company Peace Arch Entertainment attached. Other production partners included Ben Silverman's Reveille Productions and UK-based production company, Working Title.
"We needed massive exterior shots of Tudor buildings so we explored the possibility of using a top visual effects company in Canada and this together with Canadian content elements such as casting and post-production enabled us to structure this project as an official Irish-Canadian co-production. As Ireland has a treaty with Canada, we went into partnership with Peace Arch Entertainment Group. They were the sales agent on the film and our Canadian co-producers. That company also took responsibility for the post and the special effects."
Flynn states that Ireland offers many incentives to foreign filmmakers, amongst them the 481 tax incentive. Ardmore's close proximity to Dublin city is also a huge draw for foreign cast and crew alike. Approximately 80% of The Tudors was filmed at Ardmore with the remaining 20% filmed on location in Dublin.
"In Ireland we're able to use the 481 tax incentive not just for film but also for television, so that was a huge selling point. The access to both rural locations for exteriors and the closeness to the city is another point that makes Ardmore so attractive, both creatively and in terms of the fact that actors like coming to a capital city in Europe. We have a studio that's not in the middle of nowhere, that has very strong facilities and very good crews."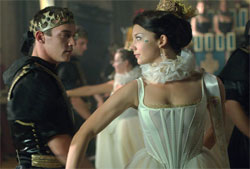 Award winning costumes by Joan Bergin
Having mainly worked on feature films at Ardmore, a long-running TV series was a new and welcome challenge for Flynn and O'Sullivan. Their experience of feature films gave them and the Ardmore crew the confidence to handle the large-scale TV series.
"The great thing about Ireland is that the crews and the studio personnel all have a feature film approach. The Tudors was written by a very strong film writer Michael Hirst who had written, among other projects, Elizabeth for Working Title, so I think there was an ability here to approach The Tudors like a feature film. The ambition for the project was that Showtime wanted to compete with the likes of the Sopranos, Entourage or Rome, some of the high-end HBO projects that have that kind of filmic feel."
The 'filmic' feel to the series meant that the Ardmore crew pulled out all the stops for the production. Their hard work was recently recognized when The Tudors crew picked up two Emmys at the 2007 awards, one going to Irish costume designer Joan Bergin and costume supervisors Ger Scully and Jessica O'Leary, and a second to the series' Canadian com poser Trevor Morris.
"The project had a high-end international cast, a first-class crew and very high quality scripts from a feature film writer. I think there was a natural fit which meant that, despite our possible lack of experience at producing long running TV series, the feature film experience at Ardmore gave us the confidence to take on the task."
A substantial amount of the cast and crew on The Tudors were Irish, with Frank and Nuala Moiselle of Moiselle Casting responsible for casting. Dublin-born Golden Globe-winning actor Jonathan Rhys Meyers (Bend it Like Beckham, Mission Impossible 3) is the star of the series, playing King Henry VIII, with his first wife Queen Catherine of Aragon played by Irish actress Maria Doyle Kennedy (The Commitments).
Home-grown talent continues behind the camera, with Irish directors Brian Kirk (Middletown) and Ciaran Donnelly (Cold Feet, Proof) helming episodes of Series One, and Dearbhla Walsh, Ciaran Donnelly and Colm McCarthy directing episodes of the second series.
"We believe the Irish cast and crew are very strong, and can do a great job. Where possible, we're always looking for Irish cast and crew. If you look at the Jerry Bruckheimer films we've done or the Barry Levinson films we've done, you'll see that most of the crew are Irish, with as much Irish cast as possible. You compete if you don't have to bring people in from all over the world."
The first series of The Tudors aired in the US on the Showtime channel earlier this year, receiving the largest audience for a TV series in the channel's history. Irish audiences gave the show a similarly warm welcome, when the first episode aired on the 4 th September on TV3 to 168,000 viewers.
Filming on the second series of The Tudors began on 4 th June, continuing until early November. This series will see veteran Irish actor and Oscar-nominee Peter O'Toole (Troy, Joan of Arc) join the cast as Pope Paul III. O'Toole joins a stellar cast that, in addition to the Irish contingent, includes New Zealand actor Sam Neill (Jurassic Park), Britain's Jeremy Northam (Gosford Park) and Natalie Dormer (Casanova).
The Tudors is an Irish Canadian co-production produced for Showtime, in association with TM Productions (Morgan O'Sullivan and James Flynn), with finance from Peace Arch Entertainment and Bord Scannán na hÉireann/the Irish Film Board. The second season is currently filming at Ardmore Studios.
Series one of The Tudors is currently airing on TV3 on Tuesday's, 10 pm. Series one begins on BBC2 on Friday 5th October at 9pm.
For information about Ardmore Studios contact Kevin Moriarty
Phone: +353 1 2862971
View a trailer for The Tudors at www.ardmore.ie
By Angela Mullin