Tom Collins, the Derry born writer/director/co-producer of Ireland's first bi-lingual feature film 'Kings' was in Dublin this week with the film's lead star, Irish actor Colm Meaney. IFTN caught up with the duo to discover more about the film, released nationwide this weekend.
'Kings', adapted for the screen from Jimmy Murphy's acclaimed stage play 'The Kings of the Kilburn High Road' , is a dramatic tale of friendship, loss and the isolation of a group of Irish men living in London. Interspersing flashbacks of a lost youth in Ireland with the harsh realities of modern life, the director paints a poignant picture of broken promises and unfulfilled dreams for six men who left the Connemara coast to find their fortune, reuniting 30 years later to mourn the death of one of their brethren.
Writer/director Tom Collins first encountered 'Kings' watching a live performance of the play in London's Kilburn High Road. The response from the local London audience convinced the director the film had to be made. "I thought this was something that could be really, really important," says Collins, "the audience were just fantastic, I couldn't believe they way they were reacting, almost like the characters of the play were in the seats beside me."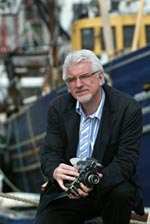 Tom Collins
With this in mind, Collins set about acquiring the rights to the material and formulated a new way to inspire Irish funders and spark interest in the project – the Irish language. Collins and fellow producer Jackie Larkin found themselves in possession of a hot script and financiers such as the Irish Film Board, Northern Ireland Screen, Broadcasting Commission of Ireland and TG4 boarded the project quite quickly.
"People were very interested," the director recalls, but 'Kings' was more than just pulling in the money and getting a film made. "I'd been to Kilburn and met, over the years, Irish speakers in London on trains and sleeping rough. I always wanted to try represent that. We live in this Celtic Tiger and these are people that owned half a dozen acres in Connemara which would be worth an absolute fortune now and somebody is building their holiday home on it. I was taken by the fact that now, they've nothing."
Another person who found the idea of 'Kings' and an Irish language feature attractive was Colm Meaney, a well known actor in Ireland and abroad with feature and television projects including 'The Commitments', 'The Snapper', 'Under Siege', 'Star Trek Deep Space Nine' and 'Intermission' in his back catalogue. A fervent supporter of the industry at home, Meaney was "fascinated" by the script for 'Kings'. "You read the script and that's what grabs you, that makes you want to do it" says the 54 year old actor. "It was very much the case with this, I found it very powerful and very emotional."
" I was thrilled by the fact that there was a film being shot in Irish," adds Meaney, "I'm a big fan of TG4 and when I come home I always watch it. I think they've done a great job out there with very little money and it's the most interesting television going today." However, 'Kings' isn't merely a one trick pony as critically, for Meaney, it was the narrative and his character, Joe, that convinced him to take the part. "There were such great emotional characters written here. Getting that right was most important…There's a lot to Joe in that he's the successful one, the one that has done well and made money, but obviously he's got his own demons within that. In a way I suppose some of the other characters, their dilemmas are simpler and clearly visible. His problems are not. That was I thought was an interesting character to play."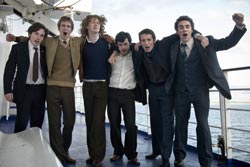 The ferry scene
With an ensemble cast that also features talented Irish actors; Donal O'Kelly (Spin the Bottle); Brendan Conroy (A Man of No Importance); Donncha Crowley (Angela's Ashes); Barry Barnes (Veronica Guerin) and Seán Ó Tarpaigh (Ros na Run); 'Kings' began production in September 2006. Shooting on 16mm, five weeks of principal photography commenced on locations in Belfast, Dublin and London and additional scenes were shot off the Connemara coast and on a ferry to Scotland.

From script to screen, the process took four years, but not an arduous one says the director, as it gave him time to experiment with his first feature film, 'Dead Long Enough' in 2005. "I regard myself as a documentary filmmaker so 'Dead Long Enough' came up and I learned a lot".
Having worked with cinematographer PJ Dillon on his debut project, Collins enlisted him once again for 'Kings', "I think he is the best in the country," he says. Working on contrasting looks between past and present, the director and DP concentrated huge efforts on the pub scenes, as the group of men gather for a wake and the climax of the film's emotional drama unfolds.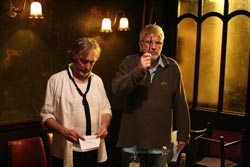 "Pub scenes were the hardest to shoot" - Collins
"The pub scenes were the hardest to shoot. It was a real challenge for PJ Dillon because you were in a small environment and trying to create something cinematic. We never used a tripod; it was all hand held and we had a great emphasis on the micro look, of skins, of fingers, smoking and we kind of inverted cinema, for want of a better word. We tightened it on the faces, the eyes, the beards and wrinkles. We made that our landscape."
So what of the potential box office prospects for 'Kings' now that it's being released across Ireland? Colm Meaney believes this is the right time and the perfect film for Irish audiences to get excited about Irish movies.
"If somebody had asked me ten years ago if I was going to make a film as-gaeilge I would have said no," states the actor. "I would have loved to but where are you going to get the financing? It's hard enough to get money to make a film at all, but to make one in Irish? I wouldn't have thought so. Anybody who feels their Irish isn't up to watching the film, of course, it's subtitled. So it's like watching any other film in French or Danish and I think they'll be surprised by how much they actually do understand. I'm thrilled, it's a terrific film and being in Irish is a plus."
Director Collins adds, "We found the money in Ireland which was fantastic and we could really concentrate on what we wanted to say which gave us great freedom to achieve. All that money is only seed funding really, we're not at a level where we can make big films yet because we need outside investment and you notice it when you get good films coming out of it. I hope I've honoured their investment by producing the goods."
' Kings' is released nationwide from 21 September 2007.
A High Point Films & Television presentation, produced by Jackie Larkin (Newgrange Pictures) and Tom Collins (De Facto Films production), and co-produced by Michael Casey (Green Park Films), in association with the Northern Ireland Screen, the Broadcast Commission of Ireland and TG4 with the participation of Bord Scannán na hÉireann/The Irish Film Board.
PRINTS:
Dublin - Cineworld and Screen
Cork - Mahon
Point Galway - The Omni
DIGITAL:
Dundrum , Dun Laoghaire and Blanchardstown
Sligo , Portlaoise, Dungarvan
View the Kings trailer here
By Tanya Warren.