Hugh O'Conor in Speed Dating
'Speed Dating' a new Irish feature debut from writer/director Tony Herbert opens in cinemas this weekend. Produced independently on a micro budget, the romantic comedy boasts an impressive ensemble of Irish acting talent. In our interview, IFTN meets the writer/director and featured cast member Don Wycherley.
In October 2004, aspiring actor Tony Herbert completed the screenplay for 'Speed Dating' a romantic comedy based upon the fast paced dating phenomenon. Teaming with his friend and business partner, John Conroy, who has worked in the camera department on various features (including Charlie & The Chocolate Factory, The DaVinci Code, King Arthur), the pair began to gather independent finance for making the film.
Using their industry contacts they recruited Ned Dowd (King Arthur, Reign of Fire, Wonder Boys) as Executive Producer and the screenplay began to stir interest from investors. The project came together fast and just one year later Tony Herbert began filming his debut feature. With a large cast and crew to assemble on a tight budget, Herbert assumed the roles of producer, director and actor whilst Conroy naturally also added director of photography to his producing tasks.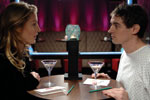 Flora Montgomery and Hugh O'Conor in Speed Dating
Heading the 'Speed Dating' ensemble cast is Hugh O'Conor (Bloom, The Boy From Mercury) who plays the lead role of James Van Der Bexton. Depressed from the break-up of a long term relationship, James turns to speed dating without much luck. The story takes a mysterious twist when he turns his attention towards a woman who frequents his local pub. But when the woman disappears, the police begin asking questions which, suffering a bout of amnesia, Van Der Bexton is unable to answer…
Other cast includes IFTA nominated actresses Nora Jane Noone (The Descent, The Magdalene Sisters) and Flora Montgomery (When Brendan Met Trudy), IFTA winning actresses Charlotte Bradley (About Adam) and Dawn Bradfield (Pure Mule), 'Bachelors Walk' and 'Veronica Guerin' star Don Wycherley and emerging Australian actress Emma Choy, who plays Van Der Bexton's heart 's desire.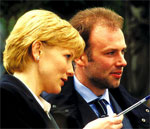 Don Wycherley with Cate Blanchett in Veronica Guerin
Completing four weeks of production in December 2005, the film was awarded completion support by the Irish Film Board and was snapped up by BVI Ireland for its home turf distribution (20 prints).
When IFTN meets Tony Herbert and Don Wycherley it's clear the old friends are in good spirits. In recent weeks 'Speed Dating' has won awards at the European Film Festival and Malibu Film Festival, so an international push is likely to follow the enthusiasm mounting for the nationwide release this weekend .
IFTN: So with the release on the way and a good reaction so far internationally, how are you feeling this week?
TONY: We're all delighted that it's finally arriving and that it's going to be out there. The reaction so far has been great and the audiences seem to be laughing in all the right places.  In Florida they were laughing wholeheartedly and that was great because if the humour travels, then it will work here.
IFTN: Watching the film I noticed quite a mix of genres – comedy, mystery, thriller – how would you describe it?
TONY: I think at its heart it's a romantic comedy but I like ensemble pieces and I like the element of the other genres coming in too. I wanted to try and make a film for a couple who wanted to go out on a date, they would both enjoy.
Hugh O'Conor
DON: I think it would be a good date movie actually.
IFTN: So with rom-coms traditionally marketed towards a female audience, do you think this will appeal to the guys as well?
TONY: I certainly hope so.
DON: I never saw it as a film just for the ladies. I think guys would like it as much as females and I don't think it's aimed directly at a female audience.
TONY: It was written, directed and produced by guys…
DON: …who are both very romantic!
IFTN: So Don, you put in a great comic performance as a police officer in the film - what attracted you to the role?
DON: When I was sent the script I just got a laugh out of it. I saw potential for the detective part and I thought I could add value to it, I could have great fun with him.  The script was well crafted and Tony writes a lot of characters that all intermingle and work well together. I knew I would have great fun giving it a go.
IFTN: Where you on set for long?
DON: I suppose in terms of days I wasn't.  But I was always around because myself, John and Tony go way back so I was always dropping in to see how it was going.
Tony Herbert in character with Hugh O'Conor
IFTN: Production of the film was independently financed, what was the budget?
TONY: There was a budget?
DON: Yeah, this is Ireland! (laughs) I think all credit to Tony and John, it was their concept from the start and they got the people on board with minimal pay.  Then BVI and the Irish Film Board came on later, but they shot it all on their own really so that's fair dues to them.  It showed great cahonas shall we say.
IFTN: Had you approached the Irish Film Board with the script before filming?
TONY: Not with Speed Dating, no. 
IFTN: So it was always going to be independently produced – what do you think was the major factor in getting this movie greenlit?
TONY: Speed dating itself. The whole concept of speed dating, it hadn't really been done before.
DON: I think the Film Board has a tough job deciding what to fund. But then at the end of it all when they see that we've gone to this much effort – a fantastic cast, a good script and this is where we're at - now help us. That's what the Film Board is for. 
TONY: You could spend your life sending scripts to financial institutions and never get anywhere. You eventually have to bite the bullet and do it yourself.
IFTN: In terms of the cast and crew – how did you pull them together?
DON: I worked with the producer John Conroy before on a short, and then I did another short that Tony had done.  On that short, Luke Griffin who plays my sidekick in the film was on it. Fair dues to Tony, he's worked with us before on smaller projects, so then when he makes a feature he calls in the old favourites…
Nora Jane Noone, Tony Herbert and Liam Carney
TONY: I come from an acting background, so for a lot of the actors, the ones that I've worked with before, I knew that they were good and I knew I could work with them again. We had a casting director Gillian Reynolds who saw a lot of people and sent me tapes.  There are 54 speaking roles in the film so it was a tough film to cast, but it was the most crucial thing. I remember when the script went out to Hugh O'Conor, our line producer Adrian Devane and Gillian Reynolds asked me 'What's your plan if he says no?' and I was like 'that's it, I don't have a plan B' because the film would fly on the role of James VanDer Bexton.
DON: I was working with Hugh at the time on 'Showbands' and I was like 'have you read the script yet? Have you read the script yet?' It's a small industry so I was with him the whole way – what page are you on now???'
IFTN: Tony, coming from an acting background and this your first feature, did you employ an y specific techniques working with the cast?
TONY: I suppose the greatest benefit having an acting background is that it teaches you to listen. I think, especially with a lot of first time directors, don't have that. First I would always let the actors play it their way and then slightly impose my ideas on them.  Otherwise, it's like getting a Rolls Royce and leaving it in the garage. There's no point having a really good cast and not letting them express themselves. Obviously you want to shape and mould it how you think it should be but you also have to give the actors freedom. I worked briefly before with Jim Sheridan and that was something I saw him do and I think he's a fantastic actor's director.
IFTN: Had you done any director training?
TONY: When I was in drama school we'd often direct each other 's theatre shows which gave me a basic understanding. Then on any film set I've ever been on, even if I was there as an actor or I was visiting a friend on set, I would always be fascinated and watching the director. 
DON: Basically plagiarising their style!
TONY: Absolutely! I think that's vital because every director is different and when you watch them it's fascinating to see how they react and how they work.
IFTN: And how did you find the whole low budget directing experience?
TONY: I was speaking to somebody young starting out in the business recently and they were telling me about their "vision" and I don't think vision and low budget film should be used in the same sentence. It's fine for Ste ven Spielberg or Martin Scorsese to have a vision, because they have a budget and they can buy anything they want. When you're shooting a low budget movie, your vision goes out the window.
DON: Yeah, you're just not going to get that helicopter shot…
TONY: You have to think laterally. Whatever your plan was starting out that day, some of it, if not all of it, goes out the window. So you start thinking on the spot and come up with stuff there.
DON: There was a good crew there who always kept things together, they kept things going too.
IFTN: And Don, any plans to direct yourself?
DON: In Ireland it's hard to jump across the different divides that are there.  I don't know if that's in our own heads or is that an actual reality on the ground? I don't know until I actually do it. It's certainly something I wouldn't mind doing, either in theatre or film/television but I'd probably start with a short. I wrote a short before for TG4 and Frankie McCafferty directed it. It was great but if it was now I'd probably have the confidence to direct it myself, I didn't at the time. I still get a great buzz coming up to a character, working with directors, and there's nothing better than what I do, but I'd never say never.
Speed Dating is released across Ireland from the 20th of April 2007 through BVI (Ireland).