Anne Hathaway in Becoming Jane
'Becoming Jane', a love story inspired by the young life of author Jane Austen, opens across Ireland this weekend. Surprisingly the film depicting English society of 1795 was shot entirely on location in Ireland. IFTN discusses the shoot with director Julian Jarrold.
In recent years, fans of Jane Austen's novels have seen countless big and small screen adaptations of her work. In 2007, 'Becoming Jane' is tipped to offer a fresh look at Jane Austen's life and work, depicting the world that motivated her to become one of history's most revered romantic authors.
'Becoming Jane' is director Julian Jarrold's second feature film. His debut, the comedy drama 'Kinky Boots', was a worldwide hit in 2005 and earned its star Chiwetel Ejiofor a Golden Globe nomination. Jarrold, whose television work includes 'Great Expectations', 'White Teeth', 'Silent Witness' and 'Cracker', began working on 'Becoming Jane' before he found acclaim with Kinky Boots, developing the project over a two year period with screenwriter Kevin Hood. Following the success of 'Kinky Boots', the director was happy to return to 'Becoming Jane', "It takes you over and obsesses you" he says. "There's plenty to get ones teeth into and once I'd secured the leads James McAvoy and Anne Hathaway, I knew I had to make it."
James McAvoy & Anne Hathaway
The film stars Anne Hathaway (The Devil Wears Prada) as the legendary British writer, presenting Jane in the years before she found literary fame and focuses on a little known love affair she had with a roguish young Limerick-man, Tom Lefroy, played by James McAvoy (The Last King of Scotland), which was considered an influential part in the shaping of her work. Illustrious supporting cast includes Julie Walters (Harry Potter), James Cromwell (LA Confidential) and Dame Maggie Smith (Gosford Park).
For Brit director Jarrold, it was this new approach to Austen's work that first sparked his interest in the script. "I thought it was great that this story was looking at her as a young woman and not a stuffy, forbidding, 40 year old spinster that sometimes she's presented as. She was lively and fiesty and young, kicking against society. I thought that was fresh and I liked the idea that this was a different way into the Austen landscape. It's not an adaptation of one of her novels, it's a light, comic and serious interplay between her life and work. I liked that idea of those connections and exploring them."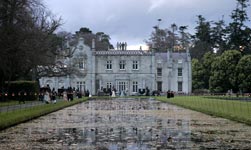 Kilruddery House - Bray
The Austen landscape of 1795 London and Hampshire was replaced by Dublin, Meath and Wicklow locations for the 8 week shoot of the film. Popular tourist areas such Dublin's City Hall, Kilruddery House and the Irish Georgian houses on Henrietta Street all feature in the film, as well as more remote locations including Higginsbrook House in Trim and Charleville Forest in Tullamore.
Originally considered a controversial move by the filmmakers to shoot such a distinctively British movie on Irish soil, it appears the gamble has paid off since these locations mesh seamlessly with the Austen narrative, even fooling some of the author's most avid fans says Jarrold. " Initially I wanted to keep it secret because I thought in England there would be a bit of a backlash. I didn't want to oversell the Irish thing in England because there could be a reaction to it because people are very protective of it. I thought people would be like 'Well it doesn't look like Hampshire does it?" But in fact we had a screening in Winchester with a lot of locals and a lot of Jane Austen Society, an expert audience, and they all came out and said 'where did you film that? Was that near Basingstoke?' Then I said 'Actually it was all in Ireland!' It was great."

Becoming Jane
The €12.7 million project had an Irish spend of almost €7 million and benefited from the Irish Film Board's International Fund in 2005. 116 Irish crew were employed on the project, with 17 Irish actors and provided over 1,250 days work for extras on the film.
Shooting in Ireland for the first time, Jarrold was pleased with the levels of professionalism and crew standards that he found. " It was very good, the crews here are excellent," he says, "as good as in the UK, if not better actually. All were prepared to travel outside Dublin for any location that was required so it was very easy to do it. It has a different look, this film, maybe because of the rain, because of the lush Irish landscape and because we found these unspoiled areas. I was very, very happy with it and I think it was much better than if we had shot in Hampshire ironically."
A big hurdle for the director was the tight 8 week shooting schedule, imposed by the high standards of production and relatively low budget. With two large ball scenes to shoot, he describes the project as "ambitious". Since 'Becoming Jane' is produced independently by Ecosse Films, we ask Jarrold if time and money constraints are a challenge of filmmaking every director has to face?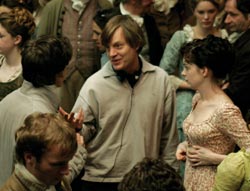 Jarrold with Hathaway and McAvoy on set
"Yes, I think in all filmmaking you will have that pressure," he says, but he identifies the positive aspects of working in this manner. "We had the advantage that we weren't part of a studio, we had a bit more independence so we were able to deal with the story the way we wanted to, be a bit more truthful to it, perhaps than if we had a studio looking over our shoulder. I suppose I'd rather that than a lot more time and money and you end up with something you are slightly embarrassed by. I'm very proud of 'Becoming Jane' so having that independence is important. It's a constant battle. Most productions coming here are really tight, but it's the same in the UK as well so, that's just the way it is."
Arriving in Ireland for the premiere of the film, Jarrold says his latest offering was even more warmly received by Irish audiences than the British at earlier screenings, "perhaps they show their reactions a bit more here than in England?" he suggests and hopes that response will be felt at the Irish box office this weekend.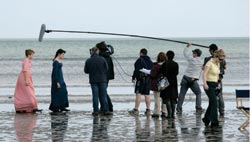 Shooting Becoming Jane in Ireland
Next up for the director is the WWII drama 'Brideshead Revisited' which is due to shoot in the UK and Italy later this year. Following his Irish experience we ask the director if he plans to work here again? "I would work here again, yes," he nods. "Obviously you've got great crews and although Dublin is very expensive - that's the downside and the traffic is not so good either, but that's true of London as well. In Ireland you're within easy reach of great landscapes and great houses, so if you have scripts that can use those things, then absolutely."
'Becoming Jane' is released across Ireland from 16 March 2007 through Buena Vista International (Ireland). 'Becoming Jane' is an Ecosse Films/Blueprint Pictures/Scion Film production, produced in association with Irish production company Octagon Films.
www.bvimovies.com/uk/becoming_jane/