Consolata Boyle
The latest work of Emmy winning Irish Costume Designer Consolata Boyle appears on the big screen this weekend with the opening of the UK romantic feature 'Imagine Me & You'. IFTN talks to the designer about her work on the film and her illustrious career to date.


Set in contemporary London, 'Imagine Me & You' is a romantic comedy with a very distinct twist – the romantic leads are women. Starring Piper Perabo (Coyote Ugly) as Rachel, the film opens with a traditional rom-com style happy ending - her fabulous marriage to the handsome Heck (played by Match Point star Matthew Goode). However this is where convention ends, and even before she's cut into her wedding cake Rachel finds herself inexplicably drawn to another person in the room, the florist Luce, played by Lena Headey (The Brothers Grimm). The story then follows Rachel's struggle with her romantic feelings for Luce and the consequent collapse of her marriage to Heck. In messing with the rom-com formula, the film's producers were no doubt taking a risk. Released earlier this year in the US, it split the critics, some calling it a timid lesbian flick ("girl on girl action is far too tame") and some saw it as a slick break from the norm.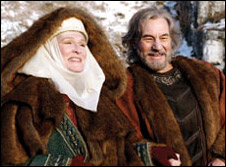 Glen Close & Patrick Stewart in The Lion in Winter
Examining Irish Costume Designer Consolata Boyle's back catalogue tells us she is not afraid to stray from the mainstream. The designer launched her film career in 1984 with Pat Murphy's acclaimed 'Anne Devlin' and is known for her masterful work on such period features like 'Angela's Ashes', 'December Bride', 'Widow's Peak' and 'Moll Flanders', in addition to her Emmy wining work on the US TV Drama 'The Lion In Winter'.
Throughout her career she has collaborated with acclaimed directors including Stephen Frears (The Snapper, Mary Reilly), Mike Newell (Into the West) and Gillies MacKinnon (Trojan Eddie, The Playboys) and has dressed some of the world's most talented actors including Julia Roberts, Ewan McGregor, Glenn Close, Helen Mirren, Gabriel Byrne, Aidan Quinn and Albert Finney to name but a few.
With such rich material, agreeing to work on 'Imagine Me & You' was an easy decision for Boyle. Written and directed by debut helmer Ol Parker, the designer asserts it was the film's alternative slant on the rom-com genre that had her hooked from the outset.
Why did you decide to work on this project?
I thought the script was very clever. I thought it was beautifully written and different. It had a little twist in it which I thought was great, the light part of it combined with a darker side, which I think always makes things so much more interesting.
Deciding what project to work on, is script the most important aspect you consider?
I think it's always a mixture of things because a film is such a chain reaction of things. The script is absolutely a key element because everybody's work is based on it and everybody draws inspiration from it.

Headey & Perabo

How did you begin the design process on the film?

With a contemporary film, or so called contemporary film be it in the last ten years, people usually think "it's contemporary so it's just a matter of shopping around", but in many ways it's more difficult than doing a period film.
I would say, on balance, I would do more period than contemporary movies so I'm very aware of the traps you can fall into.
What I do is I treat every film as if it is a period. I approach every story, every script, as if you're creating a world - just as much as you're creating it when you're dealing with the 19th/18th/17th or 12th century. You're creating a complete world that has to be coherent and I research it like that.
That gives me a coherence from which we can build a complete visual story, one that links in with what the director, the production designer and the cameraman is doing. So this edifice in which all the actors move and do what they have to do, have the freedom and the space to do it, and the comfort to do what they want to do - you create it with them – and hopefully with your costumes.

Did you do any stitching work or original designs on the production?

On a contemporary project where you need something specific, or something that you can't get a repeat on, you have to make it from scratch. The wedding dress was made from scratch because in the text the character says "I look like a meringue," and yet I wanted the dress to look good and have a coolness to it too.

This was the director, Ol Parker's, first feature film. He says he benefited vastly from the wealth of experience he amassed around him for the production. Did you feel that on the film?

Yes absolutely. He's really, really bright, as well as being such a lovely person. He's not threatened by other people's knowledge, he just drinks it up and takes it and makes it his own.

Goode & Perabo in costume
That's a wonderful thing, you really feel that you're contributing and that he's fascinated by the creation of the movie and how all the pieces fall into place. Hopefully, and I would say yes, there was that lovely feeling of being trusted.
This was a relatively young cast, did they have any input into their own costumes?
Usually what happens in many cases is there is kind of a mix but obviously the designer has to have that overall vision carried within their heads so that everything falls into place and tells the story. Then with individual actors, some have very strong opinions and some have absolutely none.
It's really interesting how different actors get their characters together, what they use to get their character together. What I really enjoy is the mix of being able to gather their thoughts, and sometimes they have the most wonderful ideas, so if I am able to incorporate their ideas without the disturbing the overall coherence of what you're doing I will. But it depends, every actor has to be dealt with separately and very sensitively, it's about taking on board the things that are in their heads about what they're doing.
The opening sequences, the wedding scene, must have been quite difficult to shoot and put together. Is continuity incredibly important for you?
Hopefully it's absolutely immaculate – because you have no control over how they are going to put it together in the edit, no risks can be taken. It needs to be completely seamless.

Lena Headey as Luce

What were your favourite designs on this project?

I loved some of what Luce wore. I loved her combination - her work clothes - with that feeling of style and yet earthiness. I used the inspiration of plants and flowers for colours, organic colour and almost carelessness, that feeling of stuff being just put together and a lack of self consciousness.
With the number of low budget movies in Ireland on the up, as a costume designer, how would you work around budgetary constraints?
I think if you really plan it very carefully before you start finding or making or purchasing, so that when you come to making your final decisions, there isn't much waste. That you're very clear on what you want and that you source from the right sources.
It takes a lot of shoe leather, a lot of physical strength and metal determination to find and look, and look, and look in not obvious places. The mixture takes more planning and more care and sometimes the discipline of that really pays off. In many cases, in life and in art, less is more. So the more disciplined you are with yourself the more you peel away, the more clarity you have. Your decisions are more emotionally pure and true when you've less to play with.
You studied archaeology in UCD before deciding to be a costume designer. How did you make that transition?
While I was at college I was always very interested in theatre, I was involved in the Drama Soc. so one thing blended into the other. Then I went to the Abbey and did an apprenticeship course there, which I don't think they have anymore, and I always did set and costumes. It was only after that that I decided costumes was my love and I stuck to that.
So it was a natural progression, nothing was a big "I am now going to do this", and the way I moved into film was that friends of mine were making films and it was a very opportune time. I was very lucky and one thing again just moved along and I moved into bigger and bigger films. It was a mixture of luck, loving what I was doing and having wonderful people around me.
You've worked with some incredibly talented actors and actresses in the past. Is there anyone who you remember as being especially great to work with?
Oh my goodness, they are all just so different. I just think of them all with love because they have the most extraordinary job, and the fact that they trust you is the most incredible thing. When you think about it, coming in and maybe you've never worked with this designer before and you trust them. It's extraordinary how utterly wonderful they are. I must say I can't single anyone out, I'm in awe of them.
And, without naming names, what is the most difficult thing working with the actors?

It's a thing of building up trust. That they can think "this person knows what they're doing" so they can get on with what they have to do. Like people, actors can be difficult and it's how you deal with those kind of difficulties, if you

Moll Flanders © MGM
say this is incredibly difficult, woah, what am I going to do?" I think if you realise very quickly people's fears and to try and allay them at all costs. You try to bring them around so that they are able to do their work. In the end, they are out there and completely exposed doing their job, everybody has that part to play so that at the end of the day, the film works, and the director has exactly what they want. It's a big negotiation.
You've managed to work in Ireland a fair bit over the years, do you enjoy working at home?
I love to work at home but the industry that we're in, it doesn't allow that to happen so much. I go where there's great work. Where I hope I will be able to do good work. I love working at home, I feel very secure and very happy and I love the stuff that's being done here. Sometimes the choice is taken out of your hands and sometimes it's very good to work away and get a perspective on what you're doing at home. Sometimes if you move around it's very good and very healthy and it's very much part of the industry.
What's your opinion on the industry at the moment?
I think it's changing and I think we're doing incredibly well. What's most important is that there are new writers, directors, producers and new actors coming up. That's the most important thing, it's absolutely vital that they be encouraged. I see that happening and I think it's absolutely wonderful.
Are you a big film fan yourself or are you in it just for the costumes?
I love film. The costumes are only one part of the whole story and obviously if they don't work it's a major distraction and a disaster. But you have to be a film fan, a lover of film, you have to be intrigued and interested in the history of film and a lover of the new and classic stuff.
What designers have influenced you the most?
I would say in the period front, Milena Canonero (Chariots of Fire, Out of Africa). She does amazing stuff, very subtle and very beautiful, she's incredibly important. And Piero Tosi, costume designer on 'Death In Venice' and 'The Leopard', he was one of the reasons I got into costume design and he does really wonderful work.
Finally, do you have any artistic goals for the future? Any directors you want to work with?
One thing I love about film is that feeling when you get to work with people again. There's a mixture of working with lots and lots of new directors, which is fantastic, and then there's that wonderful feeling of working with people where you've built up a language, sort of like a subtext of understanding and both can be incredibly creative.
I'd love to work with Terrence Malick, somebody that I've never worked with - I think he's visually stunning and elusive, Thaddeus O'Sullivan and Stephen Frears who I've worked with a lot. Working with Stephen is an absolute joy, he creates this wonderful atmosphere of creativity, actors adore him and he's complex. Just a great, great director who really draws the best out of everybody around him.

'Imagine Me & You' is released across Ireland and the UK from the 16th of June through UIP. Consolata's next project 'The Queen' directed by Stephen Frears is currently scheduled for release later this year.


By Tanya Warren