Belfast-born director Jon Wright's booze-fuelled monster movie 'Grabbers' has been picking up acclaim from film festival audiences as far apart as Galway and Sundance. Ahead of its cinema release he talks to IFTN about what drew him to the project; shooting in Donegal and the influence of legendary American director John Landis on how he approached tackling his blood-sucking monster.
Jon Wright's own little monster is running amok. As the 41-year-old director mulls over the intricacies of filming his funny, booze-fuelled Irish monster movie 'Grabbers', faint background sounds of yelps and screams gradually get louder down the phone line. "That's my son," Wright apologises, shyly, from his English home. "He's my very own little Grabber," he jokes, "I'd better shut over the door before he gets me!"
Wright's other baby, the feature film 'Grabbers', is out to get everyone else. Released in cinemas next Friday (August 10), it stars Richard Coyle and Ruth Bradley as two gardai on the hunt for a blood-sucking alien off the coast of Ireland. One of the most enjoyable Irish movies of the year, it has the potential to pull in the kind of numbers that could make it a moderate box-office success. It's also a film that doesn't take its subject matter too seriously and thrives on the relatively authentic portrait of rural Ireland that it paints. Skirting around various stereotypes, in lesser hands 'Grabbers' might have fallen into the realm of cliché, however Belfast-born Wright knows how to handle his subject matter, despite disguising his own Irish origins relatively well.
"I used to have an Irish accent once upon a time, when I was a little kid," he says in his soft, distinctly southern English accent. "My dad left Belfast when I was one because of the political situation there and we've lived all over the British Isles and Ireland. So we've lived in Edinburgh and in Dublin and ultimately, when I was a teenager, we settled in Buckinghamshire, which is where my accent is fixed. But, although I have this home-counties accent and have long-since left Ireland, I have a lot of Irish relatives. Actually they're all Irish… so I have a good sense of what Irish people are like, in my mind at least. And with Kevin Lehane's script for 'Grabbers', one of the things about it that appealed to me was this authentically Irish tone that it had. I think you see a lot of films, particularly American films, but also British ones too, that are inauthentic and play up all the 'Oirish' stereotypes and, although 'Grabbers' is skirting around very stereotypical material, it didn't do that I think."
Centred on an island community, a pub and an alien, 'Grabbers' works off a humorous, core concept that is best left unsaid for those who haven't seen the movie. This concept was another huge draw for Wright in deciding what project to take on as his follow-up feature to his 2009 debut 'Tormented'.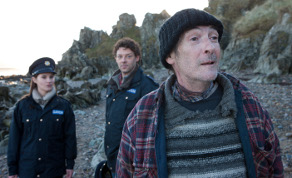 Ruth Bradley, Richard Coyle and Lalor Roddy in 'Grabbers'
"I couldn't think of another film that had done that, or I couldn't think of one that had done it in another way," he says of the mechanism on which the plot turns. "I thought it was original. It reminded me of a lot of films, particularly films from my childhood that I was very fond of. Although it's on a very different level, it reminded me of 'Jaws' and 'Gremlins'. It also reminded me of a film I'm not personally very fond of, but I know Kevin absolutely loves, which is 'Tremors'. It just reminded me of that school of late 1970s/ early 1980s monster movie where the monster is revealed very slowly and cautiously, and there's a sense of humour and sort of twinkle in the eye to the film and a sense of fun and escapism. It doesn't lean towards being dark and depressing and disturbing."
That sense of fun and escapism is heightened by the matter in which Wright has shot Ireland. Filmed over seven weeks on-location in Moville, Greencastle and Malin Head, 'Grabbers' serves to highlight the spectacular beauty of Donegal's Inishowen peninsula with numerous wide-angle helicopter and crane shots capturing the region's sweeping scenic landscape.
"I wanted to shoot it in a way… you know, to bring Hollywood production values to it, and shoot it in a way that felt epic and picture-postcard," he says. "That for me is part of why the film works. You are putting this very incongruous, 30ft-tentacled alien in to this chocolate box version of Ireland. So Donegal, was just stunning. We did recces all over Ireland and up and down all the different coasts, and Donegal just struck me as incredibly spectacular in the sense of the scale of the place. It's so enormous, so you get these beaches that are miles and miles and miles across with nobody on them. Everything seems larger than life, and I hope that we captured some of that in the movie – that sense of scale and in using the widescreen frame to its up-most. Also, Donegal has not been shot very much as a location, whereas some of the others like the Cork coast and the Kerry coast have been shown a lot in a number of film productions."
Describing his directing style as "very much influenced by the Americans", 'Grabbers' is shot with an energy that makes its 94-minute running-time fly by. "I think that I probably move the camera a bit more than the average British or Irish director," Wright offers of his fast-paced camera-style "I quite enjoy a moving camera. I think it gives the film an energy and a three-dimensional quality. When you move the camera you can see exactly where everyone is in relation to everything else, in a way that you can't while the frame is static. So yeah, if you were to analyse 'Grabbers', there's probably very few static shots, if any, in it. The camera is often steady-cam or it is on a crane or it's hand-held. That energy comes from directors like Brian De Palma or Sam Rami or Scorsese, they all do it. That's part of their tradition to have quite an energetic camera style and I suppose I'm trying to follow in their footsteps."
One director whose footsteps Wright would certainly like to follow in is John Landis, director of such seminal US movies as 'An American Werewolf in London', 'The Blues Brothers' and 'Trading Places'. Landis is thanked in the credits for 'Grabbers' and was a figure whom Wright leaned on for some advice in the run-up to the shoot. Indeed Wright had hoped to take Landis on-board as an executive producer to the feature.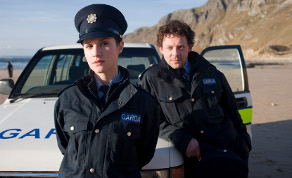 Ruth Bradley and Richard Coyle in 'Grabbers'
"He met me before we started shooting," Wright says giddily of the director who is clearly a major influence on him. "I knew that he was in London because he was working on that movie he did with Simon Pegg, 'Burke & Hare'. I'd also seen him around. I'd seen him in London, walking down the street. He'd always been a hero to me, particularly his films of a certain period where he did 'An American Werewolf in London', 'The Blues Brothers' and 'Trading Places'. That period of John Landis is absolutely brilliant, I think, so I thought that he would be a very appropriate executive producer for 'Grabbers'. "So I met him and suggested it and he was quite keen to do it, as it happens, but we couldn't get our schedules in synch. So it didn't work out in the end from a practical point of view, which was a shame. But I had a meeting with him before we started filming and he bought me a cup of tea and chatted to me about all his experiences filming movies. He chatted to me about 'Grabbers' as well and it was just very inspiring to meet somebody who has made a film that you regard as a stone cold classic. Thinking about it I don't think I've ever met another filmmaker who has made a film that I absolutely loved unreservedly and that inspired me to become a filmmaker. He's also a very affable guy as well, very genial and full of great anecdotes.
"He also obviously has a big interest in monster movies generally and he's written a book about them, which is sort of a personal journey through the history of monster movies. He's quite knowledgeable about all of that. It was just interesting to talk with him. One of his things was, "never show your monster in its entirety. Only ever show bits of it. You're kind of finished from a story point-of-view when you show the whole thing. There's a truth in that."
Holding back on showing his monster was a piece of advice Wright also took on-board when working with the cast on 'Grabbers'. With the computer-generated alien created in London's Nvizible visual effects studio, Bradley and Coyle spent much of the shoot acing shocked and horrified at "the usual ridiculous things that you have like a tennis ball on a big pole, so that would be the Grabber's mouth." The director held back on showing them any concept art on what the aliens would look like until just before they would shoot a take.
"I had these photo-realistic paintings of the Grabber that I could show to the cast," he says. "So often, if we were shooting a scene where they had to confront a Grabber, I'd not show them the pictures until the very last minute. So just before a take we'd open up the laptop and show them a few images and they'd be like 'wow, wow, that's what it looks like'. They were then able to hang on to a little bit of that shock and surprise for when we came to do the actual take.
With a number of Irish horror films such as Bing Bailey's 'Portrait of a Zombie', Ciarán Foy's 'Citadel' and Eoin Macken's 'The Inside' coming through at the same time as 'Grabbers', it seems there is now something of a boom in horror movies from Irish filmmakers. Wright offers that we are simply seeing the emergence of a generation raised on VHS movies.
"What you've got coming through now is the video generation, people who grew up with home video," he says. "So you tended to have copies of things that maybe you shouldn't have had and you were able to watch them over and over again. I do feel like there are a whole lot of people beginning to come through who are like that. I think they've already come through in America but here, it is a bit harder so it takes a bit longer."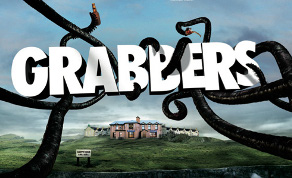 'Grabbers' cinema release poster
With 'Grabbers' ready to be unleashed on the world, Wright is currently developing two projects. The first is a science fiction movie called 'Our Robot Overlords', which is set "three years after a robot invasion of Earth and everyone is confined to their houses. Robots patrol the outside world. It's then about a gang of teenagers who figure out a way to get out and embark upon an epic journey across a small sea-side town."
The second is called 'Howl', which the director says is about "a commuter training heading outside of London which stalls in a dense forest on a moonlit night and is invaded by werewolves who are looking for an alpha male to rule their pack. It's exploring modern masculinity I suppose."
Both scripts are currently seeking finance and, though 'Grabbers' success at festivals such as Sundance and the Galway Film Fleadh has seen Wright get offered "some very interesting stuff from America", he says he is most interested in these two British-set movies. "I'm imagining I'm going to end up doing one of those things first," he says.
For now though, Wright has his "fingers and toes crossed" that Irish audiences enjoy 'Grabbers'. "I hope that the average Irish man or woman feels that it is worth making the trip in the rain to the local cinema to see it," he says, "because it was certainly made to be seen in the cinema and it was made with an audience in mind. So I hope people get to see it that way."
'Grabbers' is released nationwide from Friday August 10 through Element Distribution.
The feature film was directed by Jon Wright (Tormented) from an original screenplay by Kevin Lehane (Origin). It stars Richard Coyle (Prince of Persia: The Sands of Time), Ruth Bradley (Love/Hate), Russell Tovey (The History Boys), Bronagh Gallagher (Sherlock Holmes) and Lalor Roddy (Hunger). The feature was shot on-location in Donegal and Belfast in January 2011.
The film was co-produced by Samson Film's Martina Niland (Pavee Lackeen: The Traveller Girl) and David Collins (Once); Tracy Brimm and Kate Myers of Forward Films; Eduardo Levy (Hurt) and James Martin (The City of Your Final Destination) of High Treason Productions in Los Angeles; Piers Tempest (Quills) of The Salt Company and UK commissioning producer Bear Rock Films.
The film's executive producers are David Collins, Paul Martin (Bronson), David Martin, Cyril Mégret (Maldeamores), Samantha Horley (Killing Bono), Robert Bevan (Lower City), Michael Henry (Moon), Chris Hunt (The James Bond Story), Joe MacCarthy (Ringy) and Mark Foligno (Killing Bono).
'Grabbers' received funding through the Irish Film Board and UK Film Council. It was also financed through the Northern Ireland Screen Fund supported by Invest NI and part funded by the European Regional Development Fund.