With 'Wuthering Heights' garnering praise around the globe, the film's cinematographer Robbie Ryan is enjoying the much more agreeable climate of Los Angeles, after trudging around a wet and windy Yorkshire to shoot the film.
The Irishman had an advantage on the shoot, his self confessed appreciation for mud; "there is quote in the film from Heathcliff, 'I like being dirty', I definitely follow that mantra."
A period drama wouldn't be what one would naturally expect from Ryan and Arnold, whose previous collaborations include 'Fish Tank' and 'Red Road', "I remember saying 'what the hell! I can't believe your doing that.' I did it in school and remember thinking 'oh man that's a heavy old book'. But it's one of her favourite books, she was delighted to be making it," said Ryan, who jumped at the chance to collaborate with her again.
"She had loads of ideas of what to try and to make it different to other adaptations. It was a surprise but after hearing her ideas and what she wanted, I thought she was really going to make something different," said Ryan, "you see her other films and they are very much based on being real to the story, real to the reality of that place, location is a character."
Not that the shoot didn't have its difficulties, with weather conditions being far from mild, Ryan compares it to being on the top of Lugalla in the Wicklow mountains every day; "It's amazing up there, a lot of credit for what I do in that film really has to go to the landscape because I didn't do anything different to what I would have done on 'Fish Tank', but because of that amazing backdrop, mountains and gorgeous colours, those elements, people respond to it."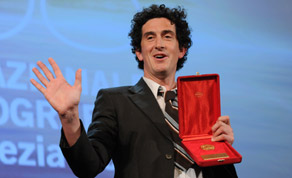 Robbie Ryan in Venice
The IFTA nominated cinematographer has come a long way since his revelation that he wanted to become a cinematographer at the age of 14. His latest collaboration with director Andrea Arnold (Fish Tank) has led to a new addition on his increasing well stocked mantle piece, the Golden Osella award from the Venice film festival.
"It was a nice surprise," said Ryan, "I didn't even know they had an award for cinematography. It was the first time it had been shown so we had a big party in Venice. When I got back on the Friday, completely exhausted, stretched out on the couch, the phone rang saying I have won an award and have to come back tomorrow. Going back to Venice to get an award off David Byrne was pretty high up there."
Being given the award from the former 'Talking Heads' frontman was a highlight for Ryan; "Venice is a cool festival because it's very artistically minded. He [David Byrne] is an all-rounder really, quite a crazy artist in his own right, when he was giving it out he said, 'I don't know why I'm up here, there is no music in this film!'" The award is given irregularly and in various categories such as directing, screenwriting, or cinematography, with previous winners including George Clooney and Grant Heslov for the 'Good Night, and Good Luck' screenplay.
The film stems from the great relationship between director and cinematographer, one which Ryan sees as vital to the process, and led to the films naturalistic style; "Whatever project she has got, at the drop of a hat I would always do her films. It's not at all like work, it's like having an adventure together, learning something new together, and you don't get that with many directors.
"She is really brave, you don't get that with many directors, I've been lucky to work with a lot of different directors but she is definitely the bravest I've ever worked with. You have to rise to that and try and be brave yourself, which is a great challenge as a camera man. Sometimes you can be led astray by getting too camera centric but she is so pure that you strip away all of your toys and just be as honest as you can with the camera, and that is a joy."
More recently Ryan has shot a film with Ken Loach (Kes), 'The Angles Share', giving him the opportunity to shoot in Glasgow, "It's a film about kids on community service who get embroiled in an adventure in a whiskey distillery, how about that for a pitch!" The film will be released early next year, with Ryan relishing the chance to work with the English director; "I learned a hell of a lot working with Ken, he is a legend."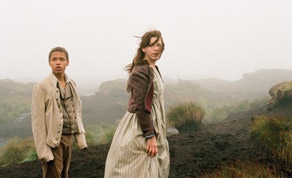 Wuthering Heights
Ryan's job can take him to locations all over the globe, including a trip to Kenya to film Gabriel Range's 'I am Slave', a shoot which turned out to be a little different to how Ryan had envisioned it; "we were filming in Kenya which was lovely, but that was a challenge. When they called me for that job they said we are going to Sudan, I thought fantastic get me there, but then I didn't read most of the script, its set in this tiny garage prison. I learned how to work in small spaces really. A lot of the time I do a project because there is something I might learn new."
So does Ryan harbour any ambitions of directing himself? "Nah, I did it once when I was in college. The thing about doing the job I do is that I get as much fun as I would out of directing. Collaborating with a director, you tend to be able to give good suggestions and good advice, and to an extent to your own little bit of directing without any of the problems that a director has to face. A director's time is just so full of different decisions to be made, being a camera man you can be pure to the visual side of things, and help direct the visual side. To me that is much more fun."
With digital photography becoming a growing reality in the film business, Ryan can see the advantages but as an admitted filmophile, he is concerned about the future of the format; "Obviously there is a sea change going on in the business, I hate to say it but film is on the ropes at the minute. I'd like to shoot on film to the bitter end. It's such a beautiful format, why make a format, take a hundred years to perfect it, only to literally throw it in the bin because it's expensive. I don't see the logic in that at all."
While there are advantages to shooting in digital, Ryan is at pains to point out that it doesn't work for all projects. "I understand digital is brilliant for realising things cheaper and letting everybody make films, there is absolutely nothing wrong with that. But personally I'll be a film fan until the end. There is a great quote another camera man said recently, 'why is everybody hyping on about digital, its like saying I've decided I'm only going to go to Tescos for the rest of my life.' I agree with that, every film should be true to whatever it needs."
Not that the cinematographer is adverse to using digital when a situation warrants it; "I haven't used digital in film but I've used it in commercials a few times. From an operators point of view those cameras are great fun, you can do so much and be so experimental."
Another of the big changes in cinema over the past few years, the proliferation of 3D, is not something that Ryan has too much time for; "I'm not a fan of at all, I'll be happy if I never do a 3D film in my entire life. I think it's purely a gimmick, it's not something I'm interested in at all."
With Ryan and Seamus McGarvey, who shot 'We need to talk about Kevin' and the upcoming 'The Avengers', the Irish are becoming a larger fixture in the cinematography world, something Ryan is well aware of; "if you look at the amount of cinematographers coming out of Ireland at the minute, its in rude health, there are a lot of really good cameramen and women coming out and doing really well all over the world."
Having studied at Dun Laoghaire IADT, Ryan can see plenty of opportunity for budding Irish cinematographers; "I think that has got a lot to do with the new technology; there is a lot more access for people. As I would say to anybody, just keep shooting. The opportunity is much more available now than when I was doing it, if you can have a dogged approach, and keep trying, that's always my mantra."
'Wuthering Heights' is released nationwide from 11 November 2011. Check out Robbie's handiwork in the trailer below.