'Savage' hits selected Irish cinemas with full force on Friday, September 17th. Written and directed by Brendan Muldowney (The Ten Steps) in his feature film debut, the harrowing film examines the far reaching effects of a violent attack on Paul Graynor, played by Darren Healy (Eamon). IFTN spoke with Brendan Muldowney about making the move from shorts to features and the unsettling areas of inspiration behind 'Savage'.
Main protagonist Paul Graynor is an alienated press photographer who lives and works in an unfriendly and threatening Dublin. Falling victim to a random attack Paul finds himself the subject rather than the purveyor of an inner city tabloid story. He tries to come to terms with the attack but the physical and psychological scars refuse to heal.
So where does an idea for 'Savage' come from? The answer, somewhat chillingly, is real life:
"It was a few things really,"
Brendan tells us.
"I was always interested in a case from the 80's about a guy called Bernard Goetz, who was known as the subway vigilante.  Basically he had been mugged in the past, and they said that he had taken to riding the subways with a gun just looking for trouble.  Six guys came up to him and he said they had been mugging him, they said they were just looking for change, and literally he just pulled his gun and shot them all and, within seconds, they were all down. There was another case in Ireland, Padraig Nall - a farmer who had been robbed many times by travellers was sitting in his barn waiting for them, when they arrived he shot one of them dead."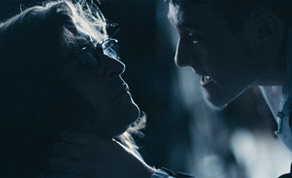 Savage
'Savage' comes from mixing these true life stories with Brendan's own interests: "I was always interested in a revenge film and I was always interested in just violence itself and how shocking it is. It's a hard one to explain but I wanted to look at things like how visual it is, how the impact of it can tell you more than actually discussing the rights and wrongs of it.  And, of course, revenge is naturally about violence anyway - that's where the idea grew from, these two real life instances and also the history of revenge films."
Having worked together on six short films 'Savage' once again brings Brendan together with fellow SP Films founder, Conor Barry (The Honourable Scaffolder). After all this time and so many shared projects – has their approach to work evolved at all? "We've worked out our system over the years," Brendan explains. "It helps that we met in college and that we co-produced a few shorts of course. Even when Conor was producing I would have been heavily involved in helping him. In a way I would be very aware of production problems but as we get more serious down through the years there would be a lot of parts to producing now which I don't know about - such as financing and cost reports. There is a lot of very complicated stuff that Conor has to know that I couldn't possibly know. Now we need to do our own roles properly. We work very well together so I am very pleased with that partnership." 
JThe film's crew boasts an impressive array of Irish talent – Tom Comerford (Through the Night) oversaw the films' lighting, Michael O'Donovan (Beauty Queen) is the film's cinematographer whilst the editor on board is Mairéad McIvor. The film's music was composed by Stephen McKeon and the production designer is Padraig O'Neill. A high calibre of experience was most definitely required for such an intense project which boasted an equally challenging production schedule: "It was intense in that we had a very ambitious script and a lot of locations," Brendan says of the experience. "We had a lot of different cast coming every day and we were shooting in at least two locations a day. So it was huge. A full crew move every time!" And yet when asked about his personal stress levels on set the answer is an unexpected one:  "Within all that it was quite - I won't say light-hearted - but it was just pleasant. Very quickly everyone was working together as a team, and very up to speed, so yes, it was quite pleasant. There were very few days where I felt the stress that really comes when you are coming to the end of the day and you have gone over an hour and you know that you are going to loose shots."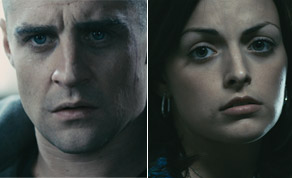 Darren Healy & Nora-Jane Noone
As to his lead actor Darren Healy? Brendan tells us the choice of casting him as Paul was a simple one: "When you see him in certain films - nearly every film actually - he has got magnetism, this screen presence. So without even an audition I just knew by looking at his previous films that he was able to do it." The actor seems to have had quite an influence on the film itself, something that comes across when the topic of the film's script is raised: "Darren had plenty of ideas," Brendan tells us. "There are two scenes in the film where he cut dialogue from the whole scene. The actors get quite a lot of free reign with the scrip and Darren would have had a lot of input as did Nora-Jane [Noone], I am not strict about that because I don't come from an acting background. I have ideas about the overall tone so, as long as they are bringing a truth to it, it's better if they bring their ideas to it. So long as everything is fitting into the overall, if I can still work it into the story and it still feels truthful, I will go with it." 
Brendan has been working on the film's script since 2005, in the years between then and the film's shoot he tells us he made very few changes: "In the original script Paul worked in a library," he says. "He was like a 30yr old virgin who worked in a library and Nora-Jane's character was a much older woman. Over the years, with script editing, it changed, so as to make it more believable. The character now is still a bit of a hangover from the old script where Paul is a little bit shy at the start when he shouldn't have been. I should have straightened that out before we went into it, but thankfully it's not a huge problem."
Already the film has enjoyed success – Mairéad McIvor walked away with the IFTA award for her editing work on the film and it received further IFTA nominations in the areas of photography for Tom Comerford; acting for both Darren Healy and Nora-Jane Noone; score for Stephen McKeon and sound for Paddy Hanlon, John Fitzgerald and Fiadhnait McCann. "It's very pleasing for me and Conor because we've worked on it for a lot of years to get it done, and it was our first feature," Brendan admits. "So I'm very pleased that we pulled it off, because it is the type of film that could have fallen really bad, really been turned back on us." 
With a history of dark projects such as 'The Ten Steps', 'The Honourable Scaffolder' and now 'Savage', does Brendan ever see himself changing direction completely and shooting a Rom-Com? "I like Rom-Coms," he says, before quickly correcting himself: "Well not Rom-Coms but I enjoy light-hearted films and there are a lot of times I am in the mood myself to watch one. What I really enjoy as a viewer, though, is being challenged. I love films like 'Irreversible' - that feeling of being challenged in the cinema. So, in a way, that is what I want to do myself."
Still on the topic of Brendan's future filmmaking choices I wonder if his feature debut, after nine short films, signals a permanent move for the writer/director. Is this the end of short filmmaking for him? "I like shorts and I do believe they are an art form in themselves and they stand alone," he begins. "But a short takes a long time to make. Maybe they don't for everyone, but for Conor and me - we do everything between us - so it takes a long time to produce it and post it and then to get it out to festivals. I suppose what I am really thinking is, I have done a lot of them and features are where there is a business. It is an industry where I can make a living, and the shorts area isn't."
So what is keeping him occupied at the moment? Several projects seem to be baying for attention. "We got a letter of provisional commitment from the Film Board at the moment so, we are trying to close the financing on a film Conor and I are working on with Fastnet Films.  It's an adaptation of a Japanese film, the book is called 'In Love with the Dead', but the script is called 'Love Eternal'. There are a few other projects; I am writing one, I am working with another company on one at the moment. So I have a few other projects, because you never know what will come off."
'Savage' is funded by the IFB and is being distributed across Ireland by Eclipse Pictures and independent distributors High Fliers.

Starting on Friday, September 17th it will be showing in the following Irish cinemas:
Cineworld
IMC Dun Laoghaire
Light House
Movies@ Dundrum
Santry Omniplex
Screen D'Olier Street
Swan Cinema
UCI Blanchardstown
UCI Coolock
VUE Liffey Valley