Robbie Ryan decided he wanted to be a cinematographer at the age of 14 when he, his friends and his cousins commandeered one of his father's Kodak Super 8mm camera and started making short films. A college course in cinematography in Dun Laoghaire's IADT fuelled that passion and he is now established as one of Ireland's most influential filmmaking exports. IFTN caught up with the cameraman to talk about the pitfalls of creative partnerships, cat-like cameras and shooting Dizzee Racal in an old folk's home.
Robbie Ryan is quite the trophy collector having shot the Bafta-winning shorts, 'Shadowscan' and 'Antonio's Breakfast'. In 2006, his collaboration with British director Andrea Arnold on 'Red Road' won a Cannes Jury prize and the 2006 short thriller 'Cubs' won a clutch of British film prizes and was been nominated for a BAFTA. And Ryan's cinematography work on last year's 'Fish Tank' saw him nominated for Best Technical Achievement at the British Independent Film Awards.
Finishing his college course Robbie left Ireland following the realisation - that "people in London would pay me for making short films which I had been doing for free in Ireland". His breakthrough came as a result of a partnership with fellow Dun Laoghaire college graduate, Billy O'Brien, with whom he made several short films including 'The Tale of the Rat that Wrote' and the horror feature 'Isolation', which is one of Robbie's rare Irish–shot projects.
Currently preparing for his fourth collaboration with director Andrea Arnold; Ecosse Films' 'Wuthering Heights', the pair's most recent collaborative effort brought about 'Fish Tank' which received huge critical acclaim. The duo has also worked together previously on the BAFTA winning short 'Wasp' and 'Red Road'. So what does Robbie put the good partnership down to? "Friendship," comes his reply. "If you get on with somebody and you both have common interests as far as visuals or storytelling are concerned then you tend to not want to look further afield because everything works for you both. Andrea in particular is really loyal to the people she works with - as far as I know all of the HoDs she did 'Wasp' with are still working with her today so she's really into keeping people she respects and sort of trusts."
That said Robbie is aware of the possible downfalls of such loyalty in his business: "I'm sure Andrea maybe would be keen to try another sort of cameraman or woman to see how that would work out but sometimes it's just pure comfort. I'm aware that loyalty is a dangerous thing in film making because you know you can sometimes get a little bit hurt if someone goes for somebody else - it's very difficult for directors. And vice versa, it can be tricky in cases when I'm not available but would actually love to work with a certain director. It all comes down to the fact that there are fragile egos out there!"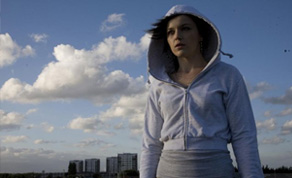 Fish Tank
The aforementioned 'Fish Tank' belies Robbie's experimental, albeit naturalistic approach to cinematography. He strove to give the film a photo chemical look and shot the feature in 4:3. Unfortunately, very few people got to see that version as the film had to be reduced to 1:85:1, as Robbie explains. "Cinemas don't project in 4:3 anymore which is a pity because we really wanted that square, almost television-like look. So basically we had to go through a digital process to reduce it to 1:85:1. It was funny because we ended up going through a whole digital process when all we wanted was to go the traditional way."
This desire for a non-digital approach reflects a strong feeling for the time honoured method of shooting on film. When asked, rather rhetorically, if he prefers film or digital an expected reply issues forth, "Oh, I'm very much sort of a filmophile really. I'm struggling with the changeover to digital to be honest with you." The reason? "I find it just a bit different - it's not as satisfying to see the instant results from digital. You have to process it and really know your technology and I don't have much interest, sort of knowledge, I guess." A pause, "It seems we are all re-designing the wheel. I think Harris Savides put it very well in an interview after making 'Zodiac' - he was asked what it was like shooting on digital and he said it was like being one of the Wright Brothers and looking at your first plane flying and in the next field a jumbo jet landed and that was film because we are basically having to learn it all over again. There is no harm, I am a big fan of learning, but it's just a bit of a shame that film is becoming a specialised medium, you know?"
Moving away from the theoretical side of things to the practical, what camera is he using at the moment? "I've come around to Panavision for when I'm shooting 35mm. It doesn't really matter about the camera, I think, it's more about the lens and Panavision lens are the best lens. They have cameras that are a little bit like an old American Chevy in that they are a bit big and are not the most ergonomic sort of cameras, but the lenses are fantastic and unbeatable in my opinion." And when he's not shooting 35mm? "16mm," he tells us. "I own a Minima. I bought one because I thought it was the most amazing thing at the time but unfortunately it's broken a few times so it's constantly in the shop (it has cost me a fortune!) but it's a beautiful camera. Aaton Minina, they make beautiful cameras for operating whereas Panavision come from a studio system which isn't totally geared towards operating. So for hand held operations Aaton's psychology is that their cameras are like having a cat on your shoulders, and that's what they pride themselves on. They have come out with some very clever cameras and they've come up with the first camera that will be a 35mm camera and a digital camera at the same time."
Alongside his preparation for 'Wuthering Heights' Robbie finished work on an untitled Gabriel Range feature in January. The project is based on a real story about a Sudanese girl who ends up as a house slave but who ultimately escapes. The crew couldn't get into Sudan to shoot the feature so they had to shoot in Kenya instead which added an additional challenge. The eclectic mix of projects is rounded off by the news that last month saw him shoot a new music video for Dizzee Rascal. "It was a good craic," Robbie tells us, "he's in an old people's home and he turns it into a disco so it was quite enjoyable actually."
As to the rapidly evolving art of cinematography? "It's a huge revolution at the minute," he says, "I've just done my first work with a Canon D7 - everybody is shooting on those now which is quite a scary future in a way. I mean, it's good scary, but at the same time it's such a small camera it's like an SLR, a little digital SLR camera."