With a new teaser trailer to top of a sell-out screening of his first feature film, Mulligan is beyond excited to chat with us about his tense and character-driven title.
'The Limit of…' sees banker James Allen respond to a family crisis, caused by his own bank repossessing his widowed mother's home.
Mulligan produces alongside Tim Palmer, Anthony Mulligan and Taine King, with a cast led by Laurence O'Fuarain and also featuring Sarah Carroll, Ally Ní Chiaráin and Sonya O'Donoghue.
IFTN: Talk me through the premise of your script and how you came to write the story
"The script idea came about from me wanting to see how I can push a character to its limits, making him break rules, the rules imposed upon us by society, our emotions and our employers, and for us as an audience to have empathy for the character. I do believe that society as a whole encourage us all to be honest, but very often it is those who are honest that are deemed insane. At first I wasn't sure what the backdrop setting of the film should be, and one day while sitting in my office in the bank, I thought 'God how did I not think of it?!' Then the backdrop became the banking industry, but ultimately the story is about love, in the strangest way."
IFTN: From both a director and producer's point of view, what was your development process like?
"It was very difficult if I'm honest. I was learning as I went. I made mistakes along the way which probably cost the project time, as I wasn't willing to let the mistakes compromise the film. This put a lot of pressure on the shoot, crew and actors, who all stepped up to the plate. Directing was an interesting part of the process and one of the most enjoyable parts is when you get that moment you and the actor are on the same page, and an unspoken bond is formed. You are both committed and from then on you know you have someone who cares about the character as much you do.
"With most of the actors I remember the exact day that happened with them. The prep process with the main actors Laurence O'Faurain, Sarah Carroll, Sonya O'Donoghue and Ally Ni Chairainwas was done over a nine month period, where I met each of them individually, maybe once every week for coffees in some hotel lobby and just talked. Those were the real rehearsals. I was very lucky with the cast I was able to attract which included David Murray, Gail Fitzpatrick, Tom Lawlor and Kevin McCormack who all volunteered their time to it based on the strength of the script."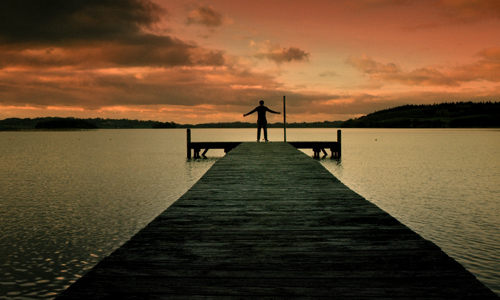 IFTN: Can you tell me a little about the locations you shot in and the crew involved?
"The main two locations were Regus Offices in Dublin 4 for the bank and then James Allen's home house was the amazing Grove Gardens in Meath, which is run by Pat and Ben Dillon. Locations took me about six months to find, going to as many as twenty houses before finding the right one. It was actually Ben Dillon who randomly contacted me through social media saying that he had read a piece about 'The Limit of…' online and he connected with the mother and son storyline within it, as they had just lost their mother. He offered their location to me and said it would be a lovely story to have told in their house. That was heartwarming and made me feel like this film was going to work!
"The crew were assembled through lots of research and randomly contacting very talented people I admired, explaining my vision in detail to them and that it would be for no pay unfortunately. I was amazed at how giving these people were for a story they believed it. They are what makes these visions a reality and their experience guided me along the way in achieving the look and feel of the film. The post production was a struggle; we had all this great footage but the people I wanted on board were hard to get hold of. IFTA Winner Nikki Moss came on board for sound design. Music Producer Stuart Gray did composing.
"Producer Tim Palmer saw a cut of the film that Nikki Moss sent him and he came on board and took the back to the editing room for another month, and the improvement through his experience of storytelling was phenomenal, and I am learning so much from him. Gorilla did the sound mix and then John Talbot came in last minute on the grade and has spent a few sleepless nights with me finishing it in time for Galway. Words can't thank all the cast and crew enough for all their hard work, commitment and energy."
IFTN: What does getting programmed in Galway now mean for the film in terms of its future and getting it in front of Irish audiences?
"It is the stage that you want to be on with a independent film. It gives it that stamp of approval especially with them taking a chance on it by putting it in their main hall. It's a great platform for the film, the actors and the crew, for us all to show our work to a large audience. I am focused on the festival circuit but ultimately we would look to partner with a distributor. For now, the dream was Galway's main stage and we are living it."