The Stag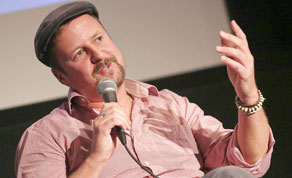 Completed
YEAR: 2013
DIRECTOR: John Butler
WRITER: John Butler Peter McDonald

PRODUCTION COMPANY:
Treasure Entertainment

PRODUCER: Rebecca Flanagan Robert Walpole

CAST: Andrew Scott Amy Huberman Hugh O'Conor Andrew Legge Andrew Bennett Brian Gleeson Peter McDonald

LOCATION: Dublin, Wicklow, Galway

EDITOR: John O'Connor
DOP: Peter Robertson
COSTUME DESIGN: Kathy Strachan
PRODUCTION DESIGN: Ferdia Murphy
HAIR/MAKEUP: Patsy Giles Barbara Duffy Edwina Kelly
SOUND: Oisin Callinan
MUSIC: Stephen Rennicks

« Go back
At his fiancée's urging, a very modern Irish groom-to-be reluctantly agrees to a stag weekend with his urbane friends, camping in the west of Ireland. Much to their chagrin, these modern men are joined by the brother of the bride, a crazy, unpredictable alpha male, and an explosive Id to their collective Ego. The Machine is a force of nature, and, under his wild leadership, up the side of a mountain, stripped of modern comfort (and, finally, clothing) their journey becomes one of accepting their position as men, and of learning to speak the truth to each other about their feelings.
Facilities: Team FX
RECOMMENDED READING
GREAT SCOTT
Paul Byrne interviews 'The Stag' actor Andrew Scott