Christmas at Dracula's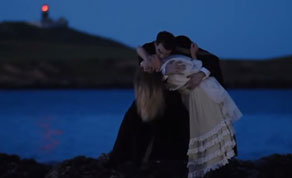 Feature Film
Completed
YEAR: 2014
DIRECTOR: Simon Mckeon
WRITER: Simon Mckeon

PRODUCTION COMPANY: El Diablo Productions

PRODUCER: Simon Mckeon Conor Dwane

CAST: Conor Slattery Jerry O'Mullane Conor Dwane Art Kelleher Michael O'Dowd Jonathan O'Dwyer Noelle Clarke

LOCATION: Co. Cork, Ireland

EDITOR: Conor Dwane Simon McKeon Harold Pimms
DOP: Cristian Paradiso
COSTUME DESIGN:
PRODUCTION DESIGN: Dharminder Singh Kang Tom Monahan John O'Callaghan
HAIR/MAKEUP: Ciara Hicks Anna Sassin
SOUND:
MUSIC: Kevin Mulcahy Cormac Brenock

« Go back
Told through the eyes of The Invisible Man, Count Dracula has hit rock bottom, so with the help of his noble companion Igor, he decides to throw the greatest Christmas party of all time. But when two killers arrive at the door, things slowly begin to spiral out of control. And Dracula's faith lies in the hands of one creature...death himself.