Irish language broadcaster, TG4 will broadcast Fear Darb Aimn Harris at 21:30 pm on New Year's Day, while viewers can watch Niall Tóibín – Everyman on RTÉ One at 21:30 pm - Sunday, December 29th.
Both documentaries were produced and directed by Brian Reddin of Dearg Films, shot by Gerry MacArthur and cut in Windmill Lane by Dave Dillon. Niall Tóibín was funded by RTÉ while Harris was funded by TG4 and the BAI.
"I'm delighted and privileged to have the opportunity to explore the lives of these two exceptional Irishmen. I knew Niall and worked with him on a few occasions. He was always kind and helpful to me and I cherished our conversations about actors and movies. We were making this documentary to celebrate his 90th birthday. Unfortunately, he missed that milestone by a few days, but he has left behind an amazing legacy of brilliant performances. This documentary is an opportunity to remember what a gem of a performer he was and how he was a genuine national treasure," said Reddin, when talking with IFTN.
"Harris was an equally colourful character on the world stage. I've always been a huge fan. I grew up watching his movies and loved films like A Man Called Horse and The Wild Geese. It was only later that I discovered his earlier work and when I saw his raw performance in This Sporting Life, I was blown away. He was an amazing actor and the fact that he was Irish made it even better. Too many people forget actors of the calibre of Harris and often their careers are confined to history. So, I wanted to make sure people remembered what a fine actor he was and what an amazing character he was."
NIALL TÓIBÍN - EVERYMAN (December 29th 21:30 - RTÉ1)
Niall Tóibín passed away on 13th November this year, just eight days shy of his 90th birthday. This documentary celebrates his long life and career, which spanned seven decades entertaining us with characters and stories.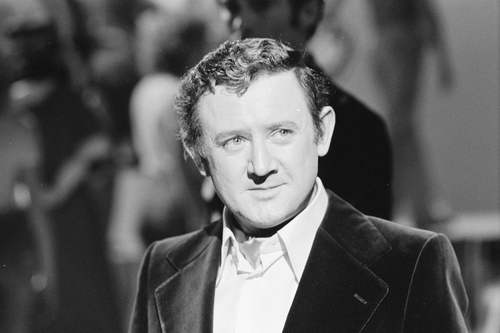 In this intimate and often hilarious documentary, Niall's daughters begin the task of documenting and archiving the huge collection of movie and theatrical memorabilia that Niall has collected over his long career. As they look back over these memories, the documentary will celebrate Niall's life and career through a series of interviews with fans and colleagues and a huge amount of wonderful archives. What emerges is a poignant and funny story of a man who has managed to excel in every field of Irish entertainment - uniquely successful on radio, stage, TV, film and stand-up comedy - as well as an insight into what made him so popular and a look at his legacy.
With exclusive access to rare family archives and countless excerpts from his TV shows, movies and stand up performances, this documentary is a rare insight into one of Ireland's greatest comical minds. Niall Tóibín – Everyman also features interviews with all of Niall's children as well as a who's who of the Irish acting world who line up to pay tribute.
Interviewees include Pierce Brosnan (who made his screen debut alongside Niall in Murphy's Stroke), Gabriel Byrne (who started off in Bracken with Niall), Stephen Rea (appeared on stage with Niall), Holt McCallany (star of Mindhunter and long-time friend of Niall) and Jim Sheridan (appeared in the Borstal Boy with Niall). Others include co-stars Fionnula Flanagan, Mary McEvoy, Des Keogh, Eamon Morrissey, Victoria Smurfit and Don Wycherley, fans Deirdre O'Kane and Jon Kenny, and his friend Colm Wilkinson.
The second of Dearg Films documentaries on great Irish actors is a profile of Richard Harris.
FEAR DARB AINM HARRIS (TG4, New Year's Day - 21:30)
Actor, writer, director, singer, poet, sportsman and one of the most notorious hell-raisers of all time, Richard Harris lived one hell of a life. For the first time ever, that life is explored and celebrated in a documentary packed with drama, intrigue, fun and hilarious stories exploring a larger than life character who lived his eccentric life to the full and left behind a body of work unrivaled by any other Irish actor.
Richard Harris was celebrated as much for his colourful life off-screen, as for his many memorable roles on screen, and his was a life well-lived. He made over 70 movies, won a Golden Globe and an award at Cannes for Best Actor.
He also won a Grammy and had an international hit with his rendition of McArthur Park, lamenting how someone left a cake out in the rain.
He was an actor who dominated any film he was in and held his own against Brando in Mutiny on the Bounty and Eastwood in Unforgiven. Between those two career highs, he starred in Camelot, A Man Called Horse, The Field and played Dumbledore in the Harry Potter series - although he did so reluctantly, only taking the part after his granddaughter threatened to never speak with him again if he turned the part down.
Featuring exclusive interviews with some of Hollywood's elite, including Clint Eastwood, Daniel Radcliffe, Robert Duvall, Ridley Scott, Jim Sheridan, Patrick Bergin and Stephen Rea, this documentary explores Harris' fascinating and colourful life both on and off-screen