Any modern sci-fi action movie is going to be, at least in part, reliant on a certain number of visual effects to help immerse the viewer in the writer and director's creation. This is particularly the case for 'Lockout', the Guy Pearce-starring sci-fi, produced by Luc Besson and directed by the Irish filmmaking duo of James Mather and Stephen St. Leger.
Perhaps once thought of as a post-production stage in the movie-making process, the visual effects industry is now more closely aligned to production. In essence, it is digital production where assets are built, computer graphics added, compositing applied and 2D finishing is put in place to help round off the final look.
As Crowley observes "it's probably worth pointing out that it sort of starts before you could even go into production."
"Pre-production and the pre-visualization," Morris adds, "are a key part of the process - to plan it properly."
As to the process of building a visual effects scene, Crowley, whose credits include 'Inception' and 'The Dark Knight', talks us through:
"Usually you get art work, production design plans and maybe maquettes (hand-crafted 3D models that animators use). So you usually start with the art department where they supply images, particularly with a film like this, so you can get an idea of what they are actually after.
"We already had a one-on-one with the storyboard artist so that's a sort of lead-off point. Then we evolved things as well for them as time went on. Things like the spaceship fighters and the MS One, the look of that gets developed as time goes on.
"In the first stages, before we really start doing shots, we start with 'look-dev', which is the building and texturing of all the 3D that go into the shot so you get a good standard look of the finished product. However, it's usually only shown as a turn table to see all sides of the 3D model, it's not really put into a shot. When the 3d supervisor, Ditch Doy, is happy we then put the element into a couple of shots as a test. Then we proceed to what we call 'layout'.
"Layout is really animation layout, particularly for a lot of the full CG shots. The full-blown shots, the spaceship shots, where you're really just doing an animatic first to show the directors and get them to sign off on those - they would be grey scale. No textures on the models or anything like that, it's really just to show the narrative. That's approved and then it's sent on to lighting where the CG elements are rendered out into layers.
"CG (computer generated) is made up of about 30 layers so the spaceships have 30 layers of different types of lighting and colour layers. All the elements (i.e. the fighters ) are put together by a compositor to finish the shots and then we would put the Earth in the background, which might be a matte painting. Then you might have the MS One, the big space station, placed over that. Then you might have the MS One, the big space station, placed over that. And you'd maybe have multiple spaceships on top of that.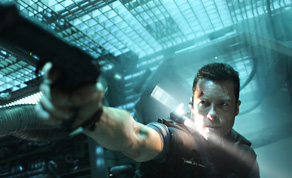 Lockout
"So it's all layered up and then you're adding in explosions, lens flares and you're adding them altogether. So it's really like Photoshop for moving images. That's the best way I have of describing it. You're just dealing with lots of different layers, you might have live action plate photography (explosions for example), people on a green screen and they're layered out with a space environment or a set extension. Then we would add flares or lighting effects, that's the kind of spit and polish at the end that makes all the shots tie-in together.
Morris adds: "The production designer was Romek Delmata. Again Romek would have worked first and foremost with Stephen and James and Luc Besson in order to get the design concept established. There was a whole approval process where the work we did we would submit it to the directors on a weekly basis. We would take on board their changes, give it back and then when they were happy with it, it would be put up on an FTP site for Besson and if he had any comments we'd hear them.
"That seemed to go quite smoothly. It was a long process, I mean we began the asset building in October (2010). We had done demos and the tests but the asset building began back in October at the same time that the shoot began.
"The shoot was in Serbia in October 2010 and it was for 10 weeks. The set was a fully constructed set. There's no CG in that. The graphics were produced in advance. They were moving graphics fed onto the TV screen so then that was the kind of cycle around that was painted into the background.
"So it was an interesting mix of physical practical and digital production and that's where James is experienced. James was also the light and camera man and co –directing with Stephen."
Ciaran adds: "The set extension shots might have a green screen element, what we call a live action plate. In the movie, a lot of the prison areas or containment area are green screen,and we would add the set extensions.
"The production design built three of the caskets and then there is an infinite amount of caskets extending out, so it's a bit like a matte painting but you can move the camera about with 3D where as with a matte painting it's just painted up as a still.
"Then there's what we call a full-CG shot, we never really say CGI in what we do. So a full CG shot is completely created in your computer and can be a mixture of elements like explosions to digital matte painting, which is DMP for short, and then obviously the rendered elements of CG like spaceships.
"Sometimes you also have what we call a 2.5D approach, using texture maps, cards and photographs. It's a sort of newish thing at the moment with Nuke, the compositing tools that we have now that we can actually photograph objects and project these images on to cards or simple 3d geometry or cards.
This process, Crowley says, is perhaps better outlined in Windmill VFX's other major project, 'Titanic: Blood and Steel', which is due to broadcast in Italy later this month.
Crowley says: "It is a better example of it , where we could shoot lots of stills photography down in The Liberties and down near Guinness's and places relevant to the period, and then use that to extend shots out and paint out all the modern electrical alarms and phone cables and then take the stills of buildings and project them onto what we call cards or simple geometry.
"So if you have a street and there's nothing there or if everything is modern, you can replace all the modern stuff by taking stills around town and taking facades of buildings and just plonking them in there and you can move the camera around as well because it's 2.5D solution. So it's like a living matte painting. Its a really simple and cost effective approach to set extension/ period work. So one month you are doing a science fiction film the next you are building Belfast in 1909 - 1912. The technology is always evolving and the work always changing so you're always having to keep up and research different things. It's what makes the job so amazing and interesting."
'Lockout' is to be released by Film District and Europa Corp. It was written and directed by Irish filmmakers James Mather and Stephen St. Leger. Mather also handled cinematography.
Visual effects were carried out by Windmill Lane VFX in a team headed by Richard Bain, Ciaran Crowley and Ditch Doy. Film editing was carried out by Eamonn Power (An Ranger).
For more on Windmill Lane see their official website here.