Duffy's directorial debut earned the top award at both the Cork Film Festival and Foyle Film Festival last weekend, with both wins now making the project eligible for an Oscar nomination in the category of Best Live Action Short Film.
We chat to Duffy about the inspiration and process behind his powerhouse project, his transition from producing to directing, and his future plans, including a feature collaboration with 'Gridlock' writer Darrach McGarrigle.
IFTN: Where did the concept for 'Gridlock' come from?
"I have always loved thrillers and genre films, especially those with a high concept. I had the basic idea for 'Gridlock' back in college actually—the story of a child who goes missing during a traffic jam and the panic that ensues—but had never developed it any further. Having had some success producing short films though, I was eager to make something in the style of the movies I grew up watching, something that would grip the audience and keep them guessing throughout.
"In many ways it was an attempt to do an American style genre film but with a distinctly Irish feel. Our writer Darach McGarrigle luckily has a very similar taste in films to me, and so we began working on the script together. We watched a lot of old 'Twilight Zone' episodes and 'Alfred Hitchcock Presents', these great 20-minute suspense stories that were able to convey a high concept and huge amount of tension in a short space of time, so 'Gridlock' was our attempt at that."
IFTN: This is your first time in the director's chair. What inspired the move?
"I wanted to be a director from a very young age, and went to IADT in Dun Laoghaire to specialize in Direction. So I had directed a few things in college, and some commercials and online videos since, but in terms of dramas and short films I had always been a producer on projects. So I was eager to direct my own short film and make the type of stories that I wanted to see. At the time, I saw that Kildare County Council had a new funding scheme for short films approaching, so I wanted to throw my hat in the ring. I pitched Darach the concept for 'Gridlock' and we wrote furiously towards the deadline. Luckily they loved the script and were willing to take a chance on us."
IFTN: Talk us through your core production team and how they came to be involved
"So I had approached Darach to be the writer, and together we worked on the script. Simon Doyle and I have our own production company called Fail Safe Films, so he came on board as the producer. Our cinematographer, Narayan Van Maele, has been a friend of mine since film school and has an incredible eye, so it was great to be able to collaborate with him on 'Gridlock'.
"After that, we were lucky enough to pull together a really strong and experienced crew, combining people we had known since college, like T.J. Duffy as my 1st Assistant Director, with crew whom we had developed a good working relationship with over the years, such as Mark Kilbride as production designer, Keith Grainger on sound, and Gareth Averill as our composer to name but a few. In post-production, it was my first time working with both Eoin McGuirk as an editor and Nikki Moss on post-sound, but they are both extremely talented individuals and really helped bring the whole thing together."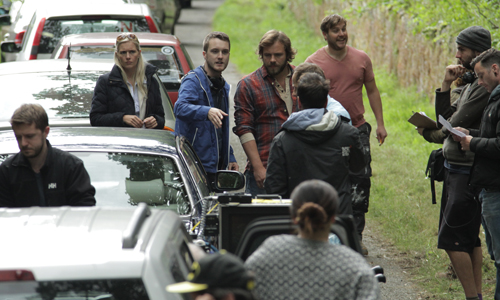 IFTN: You have a great range of acting talent involved, from 'Vikings' actor Moe Dunford to Peter Coonan, who is also involved with two other major productions this year. How important do you feel casting is to the success of short films in the festival circuits?
"I think casting is the most important job facing any director. Choosing the right actor for a role is crucial, and your film will often live or die based on this decision. I don't mean in terms of mere marketability, but on the very basic level of whether or not an audience will engage and connect with the characters, and be fully invested in your story.

"'Gridlock' was an ensemble piece, so I knew the success of the film would hinge upon the actors and their performances. I wanted actors who were excited by the material and who could work well together as a team, so Simon and I really strived to get the best cast possible. In the end we were blessed with the cast, they really elevated the script and made my job as a director a hell of a lot easier."
IFTN: Talk us through the incredible experience of taking the top prize at not one, but two major Irish festivals in a few days
"I'm still in shock! It was pretty insane. With 'Gridlock', my only goal was to just try and make the type of film that I enjoy watching. I wasn't sure it would even get into any festivals to be honest so I never expected to win anything, let alone two major awards on the same night!

"We were up in Derry for the Foyle Film Festival when I got the news about the win in Cork, and I couldn't believe it. It was such a huge surprise and I was gutted that I wasn't there to receive it. So to then go on and win again at Foyle was absolutely amazing. They are both such fantastic festivals, and to win at them is an incredible honour."
IFTN: The buzz of a potential Oscar nomination has been following the project in the last few days as well. Does the success of Ben Cleary's 'Stutterer' last year inspire more confidence in you as a short filmmaker?
"I'm over the moon that 'Gridlock' is now Qualified for the Academy Awards in 2018. It's a little surreal to be honest. But we're friends with Ben, so I guess it shows you that it's not impossible. Ben also wrote a short film I produced called 'Love is a Sting', directed by Vincent Gallagher, that is currently on the long-list for next year's Oscars. So hopefully we can all go forward from here."
IFTN: Lastly could you talk us through your future plans, both for your remaining festival run and future projects?
"We have just begun our festival run with 'Gridlock'. The entry to the long-list for the Academy Awards is next October, so we will continue to submit to other festivals around the world in the meantime, and hopefully get a chance to watch the film with international audiences and see how it is received.

"As for future projects, Darach and myself are currently in development on our first feature film. Like 'Gridlock,' it is a thriller featuring a group of people trapped in one location, and ratchets up the tension as they slowly turn on one another. We're really excited about it."
IFTN Interview: Kildare County Council Arts Officer Lucina Russell talks 'Gridlock' and Funding & Filming in Kildare