Lads mar Dads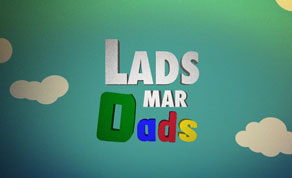 Completed
YEAR: 2013
DIRECTOR: Evan Chamberlain
WRITER:

PRODUCTION COMPANY:
Good Company Productions

PRODUCER:

CAST:

LOCATION:

EDITOR: Cóilín Ó Cearbhaill
DOP: Ross O' Callaghan
COSTUME DESIGN:
PRODUCTION DESIGN:
HAIR/MAKEUP:
SOUND:
MUSIC:

« Go back
The half hour new format takes a look at what fatherhood is really like for the first timers in Ireland today. It received backing from the BAI in July 2012. TG4 broadcasted in February 2014.