We spoke with upcoming director Andrew Ascough to find out more about his new coming-of-age documentary series The Disconnect, which explores our relationships with our screens.
From the award-winning team behind RTÉ Player Original series I'm Fine, The Disconnect takes a look at the societal changes young people in Ireland are facing as social media becomes the centre of communication and expression.
The initially inspiration to make The Disconnect came following many conversations between Ascough and his friends and family, who discussed how social media was pushing distance between one another. "I would consider myself hooked on social media, and I think most people would as well," Andrew tells IFTN. "The Internet and the vast social applications that come with it are very new to us, which is why I think we are still figuring out the boundaries."
"I wanted to make a programme that showcases young Irish people who are facing the same issue and the same questions that we all are regarding social media and our extensive use," the director explains.
Raised in Dublin, Ascough has worked across a number of short films as well as commercial work on short form brand content for social media since graduating from college in San Diego, but recounts how he has been passionate about filmmaking from a young age. "I have been making films in my housing estate since I was six years old. A lot has changed since then… As you would hope to hear!" he laughs.
"I studied film in San Diego for three years from the ages of 18 to 21. It was there that I learned how much I loved narrative short form and documentary short form I was involved with many prestigious and ambitious student films throughout my time in college. I was surrounded by driven individuals who pushed me to become better at my craft," Ascough tells IFTN.
Mainly known as a DP and camera operator during his college years, Andrew stepped into the directors seat for a few shorts he had written in his final year and found his element. "Since college I have been working on short form brand content for social media while I continue to develop my narrative and documentary projects," adds Ascough.
One of these project was I'm Fine, Ascough's first documentary series for RTÉ Player, which he made alongside the creative team behind Outlier Collective last year. The series featured four young men who share their struggles with mental and explained their own personal journey and the struggles they went through to get to the better place they are in now.
Andrew's previous experience on I'm Fine was the perfect preparation for taking on his latest project, The Disconnect. "You learn something new on every project," Ascough tells IFTN. "I'm fine was my first full TV project and it taught me how structure and organise my stories for The Disconnect. It was also my first short documentary about social issues in Ireland, and The Disconnect is the next of what will hopefully be many."
The most important thing that Ascough carried from his previous work on I'm Fine was the honest, human approach that came forward in the stories of the contributors. "I feel that Irish viewers have a no bullshit policy and they know when they are watching something real!" he laughs. "So carrying honesty and the raw humanity of my contributors is key."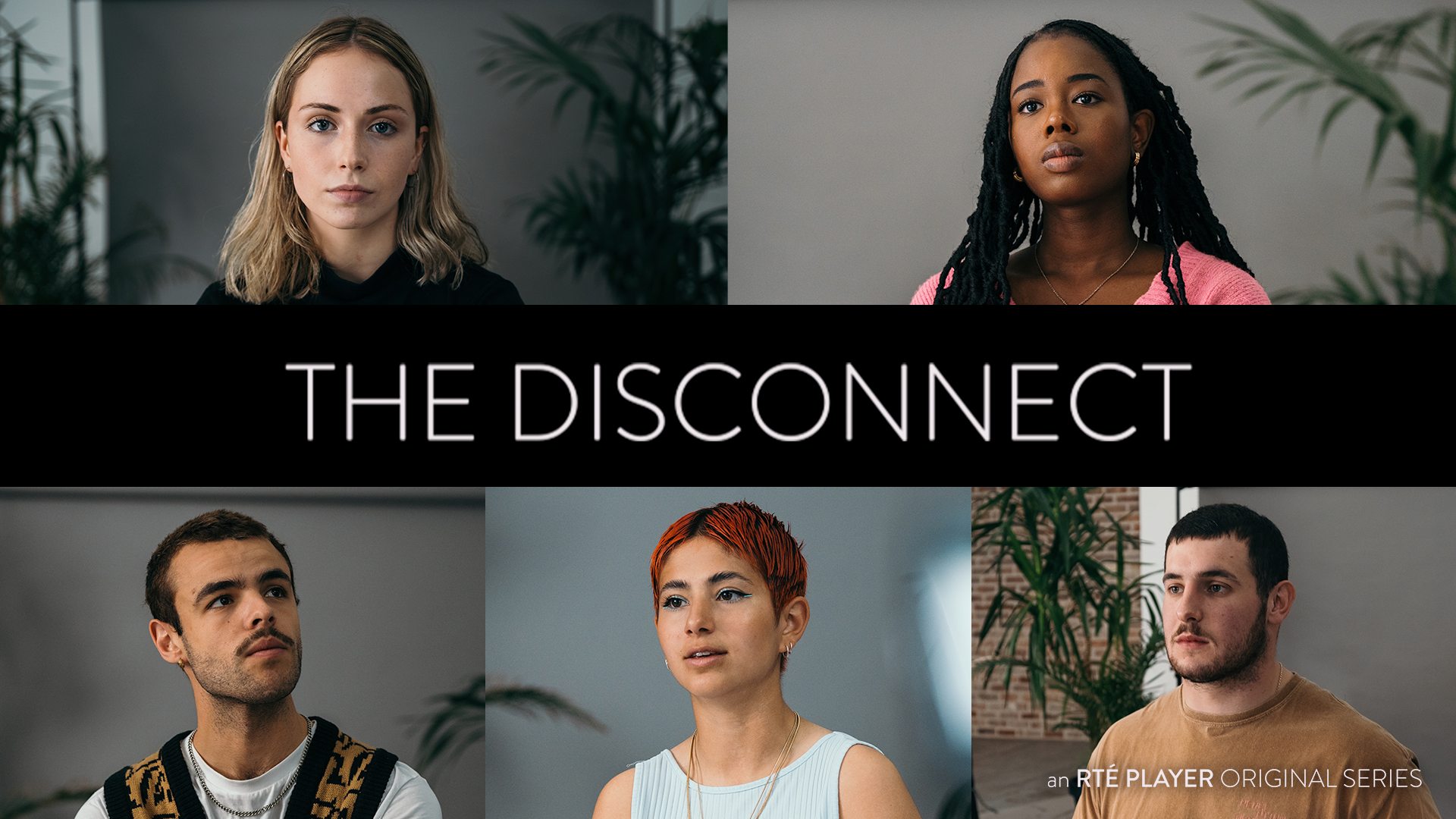 Having produced and directed on I'm Fine, Ascough sought the help of a producer for his latest docu-series. "I worked with Lisa Turnbull who runs a production company called reblis films," he explains. "Lisa handled the logistical side of the production while I focused on the creative. Having a producer always helps me to separate myself from the cold print of a project and delve into the stories."
RTÉ are developing many projects with new young creators through a program called RTÉ labs. Last year, this is the portal with which Ascough pitched I'm Fine. "I felt that The Disconnect would have similar interest among the player audience," he explains
"As an Irish person, I want to see Irish stories and hear Irish voices around the topics that we think about and talk about the most. There are already so many incredible documentaries about social media and its effects on our mental health, but I wanted to bring a young Irish voice forward on the matter."
"Working with RTÉ has always been wonderful. I am honoured that they have trusted me to tell stories on their platform and continue to support young Irish voices on their airways. I feel nothing but support and encouragement which has been wonderful."
Ascough pitched The Disconnect at the beginning of the year and it was approved for production earlier this summer. "We filmed for two days to get our interviews under the thumb. Then we took a week to process the interview content and amend our GVs according to the content," the director tells IFTN. "We then followed up and shot on-location GVs and interviews with our contributors for the following week. The week after that we went straight into post-production and spent about three weeks on the offline cut. Then everything went to colour, sound, online."
In The Disconnect, the three-episode series asks its participants how they feel about the changing expectations of their image, abilities, and interactions. The series asks these questions and more to a group of young Irish people who have grown up in a world where a phone is considered almost as important as food or water.
The series features personal accounts from five young Irish people from around the country. 23 year old Beth Pereira, who describes herself as "a traditional Wicklow gal with a dash of Indian spice"; 22 year old Mathew Harris, who is a producer, vocalist, and instrumentalist living in Dun Laoghaire, Dublin; 19 year old actress Róisín Carroll, from Ballina, Co. Mayo; 22 year old Aisha Lawal from Kerry, who works in the Dublin fashion industry; and 22 year old rugby player Jerry Cahir from Roscrea, Co. Tipperary.
"The most important part of any film or documentary is the casting," says Ascough. "90% of a film relies on the stories and the characters that are brought forward. For projects like the disconnect, I try to cast as broad a net as I could to find stories from all around the country."
"I find that documentary casting can be more difficult than narrative film casting. When creating a documentary, the vision is not scripted or set in stone like a narrative film would be. So it is up to the contributors in the documentary not just to be the character they are but also to provide the story," he adds. "Researching and networking early as possible is key to the documentary casting process. We found our contributors for a The disconnect through friends and some professional casting help. It was an honour working with all of them and hearing their stories first-hand."
Ascough hopes that audience will come away thinking more about the relationships in their lives and how much time they invest in non-digital interactions. "I know for myself I have had to do a lot of thinking on the matter, and I am still not where I want to be with that process," he admits. "I think that this program is a good watch for people who are experiencing the effects of social media consumption and want to hear different relatable stories on the issue. It is very important to question the habits that we create, and find the time to process the results of such."
"We need to remind ourselves that the people around us are more important than social satisfaction through technology. Creating healthy, long-lasting friendships and family relationships is far more fulfilling than building a social life that exist online. As so many things are changing in our world, I think it is important to consciously remember this."
Click here to watch The Disconnect, which is available on the RTÉ Player.