Creator, writer and producer Vince Gilligan is behind AMC's highly acclaimed drama series 'Breaking Bad'. Winning widespread critical acclaim and six Emmy Awards, 'Breaking Bad' follows the story of struggling high school chemistry teacher Walter White (Bryan Cranston) who turns to Crystal Meth production to earn money for his family, following a diagnosis of lung-cancer.
Vincent Gilligan, whose other screen credits include 'The X Files', 'The Lone Gunmen',  was in Galway this month to discuss writing for TV drama at an event held at  the Galway Film Centre and run in partnership with Fás Screen Training Ireland, GMIT, the BAI and TG4. IFTN caught up with Vincent at the two day event to ask him about coming to the end of the series he describes as the definite highlight of his life.
Q. How are you getting on in Galway?
A. It's been a wonderful conference and everyone has been really sweet. It's been a very flattering experience. I'm talking to you here with a Guinness in my hand, so life is good.
Q. Why are you ending Breaking Bad?
A. A big part of me does not want to end 'Breaking Bad' because I suspect and feel that it will be a definite highlight of my life and I'm having a wonderful time doing it. My crew and my cast are like family to me and I have such a good time doing the shows so a big part of me indeed, does not want the show to ever end. I'm ending it ultimately because it was always intended to be a very finite story. It's a story about a man who starts off as essentially the good guy and, by force of will, chooses to become the bad guy. At a certain point, we run out of story. I want to leave the audience satisfied and perhaps, wanting a little bit more. But that is always preferable to me than to have your audience saying "Oh My God, is that show still on the air? End it already, put it out of its misery."
Q. When you wrote the final episode of season 4 you were still in negotiations with AMC, so there was a chance that this could have been the last episode of the show. Would you have been comfortable or happy with that episode to have been the final ending?
A. That's a very good question and a part of me thinks that the answer to that is yes. I am very proud of the last episode of season four and I feel like that would not have been a bad ending of the entire series.
I have to admit that while negotiations were ongoing during the writing of that episode I sort of suspected that AMC and Sony – our two partners in producing this show – were not going to let the show die. I really suspected that the last episode of season four would not be our final episode.
In a sense you suspect what the outcome will be, but you have to protect against the possibility that the episode you are working on will be your final one and you desire to leave the audience satisfied on some level. You try to do double duty as a writer.
I guess I try to make the end of every season as satisfying as possible, just on the off chance that god-knows-what – a meteor strikes the earth or something and that's the last episode we ever do! We try to end on a high note with every season and season four was no exception.
Q. You had originally planned to kill of Jesse in Season One, what direction did you have planned for the show if you had stuck with this original idea?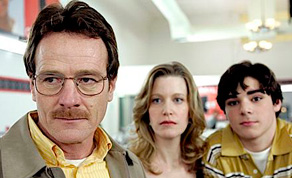 Breaking Bad
A. I didn't honestly think that far ahead. I had the intention of killing off Jesse, as you say, way back in season one. I felt that that would be a source of great drama and great excitement and it would be a source of guilt for Walt. So that Walt feels guilty and he wants revenge against the people who killed his partner. I was thinking strictly in those sorts of logistical terms. I was not thinking of the very obvious situation that was in front of me, which is that I had very luckily hired a wonderful, irreplaceable actor in the part of Jesse Pinkman. Aaron Paul who plays Jesse Pinkman is a star in the making and if there is any justice he'll be a movie star when 'Breaking Bad' is said and done. I realised early on that my initial idea of killing off his character was in hindsight a very stupid idea. So, luckily we changed our plans on that.
Q. Was it particularly difficult to say goodbye to the character Gus and Giancarlo Esposito?
A. It was very hard. I took Giancarlo Esposito into my office in Albuquerque probably about two or three months before we killed off his character, just the two of us and I was very nervous. I had to say it to him; I had to give as much advanced warning as possible and I told him, unfortunately, at the end of this season, we are going to kill off your character. I was so nervous about it. I was humming and hawing and stuttering and he just sort of sat there and very politely listened to me.
The best way I can put it is – sometimes the story dictates what it needs from the writer. In 'Breaking Bad' season four it was very much a situation of, "This towns not big enough for the two of us" and then that was sort of the situation with Walter White and Gus Fring. They were very similar in a sense – they were both very brilliant and ruthless men and one couldn't succeed unless the other one failed. They were playing something of a zero sum game all through season four. Bryan Cranston was really sad that we were loosing Gus Fring but we all kind of knew that on some storytelling level, it was best to kill off the character of Gus so that Walt could come back. The town wasn't big enough for the two of them. Or if you like the movie 'Highlander' – there can be only one!
Q. What do you look for when you are hiring writers for the series?
A. I look for writers who have a strong sense of character, a strong sense and understanding of what it is to write characters and by that I mean characters that are certainly interesting but also who behave in ways that are recognizably human. I prefer writing in which characters behave in ways that we recognize as human beings. That is a very obvious statement in a way, but sometimes writers, in an effort to be dramatic and to be interesting sometimes create an area of characters in which the characters do things or say things which are perhaps unrealistic in order to be dramatic and I look for the opposite of that.
I look for naturalism in the writing. I look for a strong visual sense with my writers. I like writing that tells a story non-verbally. Certainly, I love good dialogue – I love a turn of phrase – but having said that my favourite moments on episodes of 'Breaking Bad' are non verbal moments, when we learn something about a character in which they don't say anything or perhaps they say the opposite of what they truly mean. I prefer that kind of writing so I look for like-minded writers who believe in that kind of writing as well.
Q. How much of the overall narrative arc would you have had planned out when you start writing, say the fourth series? Would you know where it was going or would you allow yourself write the characters into situations and then attempt to write them out of it?
A. We try to know as far in advance as possible what we are writing. In other words, it is very important to me to have as much lead time as possible and to have as much time in the writers' room.
With myself included there are seven of us who sit around in a writers room, essentially for hours on end five days a week and we basically discuss every aspect of behaviour and character for our characters' on our show and the more time we have to do that the better off we are and the more product that results. I think for instance in season four, we probably had eight episodes figured out before we started shooting the first episode and in American television that is very extravagant.
That is a wonderful situation. In American TV, you don't normally have that much figured out before you start shooting. But I think that is a good way to work, if one can work that way. It is a benefit to the quality of the show. I love talking things to death endlessly with my writers and working it out as far in advance as possible and having 8 out of 14 figured out before we start shooting is a real blessing. Hopefully, when we go again, we'll have even more than that; 10 out of 13 or all of them. That would be great.
Q. How much of that would you discuss with your actors? Or would they rather remain in the dark to a certain extent?
A. Most actors would probably want to know as much in advance as possible but I have to say, one of the many reasons I love working with Bryan Cranston and Aaron Paul and indeed all of my actors is that they are very interesting and I think a bit unusual in the sense that they really do not want to know too far in advance what happens next.
Speaking for Bryan Cranston, I think the way he sees it is that in our lives, our real lives, we don't know what is going to happen next week or next month and therefore we live our lives moment to moment and I think his belief is to play Walter White he might as well use the same methodology by not knowing what is going to happen next for Walt. Just as he doesn't know what is going to happen next for him. My actors are luckily pretty comfortable with me not telling them too far in advance what is going to happen and I appreciate that very much.
Writing for the final season of 'Breaking Bad' will begin this November with shooting scheduled for March 2012. It is hoped that the new season will premiere in the US for mid-July next year.