The third and final series of IFTA winning Irish language teenage drama 'Aifric' goes into production on Monday 14th July. IFTN caught up with 'Aifric' director Paul Mercier to talk about what's in store for Aifric this time around and he reveals plans for 'Aifric: The Movie'.
The third series of 'Aifric', produced by Telegael, begins a five week shoot in Solas Studios, Tully, Connemara on Monday 14th July. The 4 x 30 min series stars Clíona Ní Chíosain in the title role of Aifric, with Mairéad Ní Chonghaile (How Harry Became a Tree), Barry Barnes (Kings, Veronica Guerin) and Kevin Ó Dwyer (An Créatúr) featuring as her eccentric family.
The programme follows the ups and downs in the life of schoolgirl Aifric, as she deals with the issues affecting all modern teenagers – falling in love, falling out with your parents, school stresses, friendship and finding your identity. The TG4 series scooped the IFTA for Best Children's/Youth Programme in 2008 and the Bronze Torc at this year's Celtic Media Festival.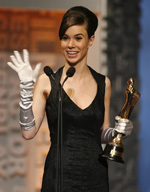 IFTA 2008 - Best Children's/Youth Programme winner
Series three is written by Richie Conway, Tadhg Mac Dhonnagháin (Ros na Rún, Turas Teanga), Roise Goan, and Trish Forde (Ros na Rún) and produced by Michael O'Domhnaill and John Brady. Paul Mercier returns to direct the third series while DOP on the shoot is Billy Keady, with Dara McGee as Production Designer.
Mercier's directing credits include award-winning short films 'Before I Sleep' and 'Lipservice', 'Tupperware' and the IFTA nominated feature 'Studs'. A renowned playwright and theatre director, his plays have received numerous accolades over the years including the Harvey's Irish Theatre Award for Best New Irish Work, The Sunday Tribune Arts Award, the Rooney Prize for Irish Literature and an Edinburgh Fringe First Award. Mercier is founding member and artistic director of the Passion Machine theatre company.
Are there any new cast or crew in this series of 'Aifric'?
The same cast is in this series, maybe one or two new young actors for new storylines and Aifric's new love interests, but the main cast are the same but they are all a little older now. We have the same core crew that were here for the last three years.
What can we expect from the third series of 'Aifric'?
This series is more of a quartet, dealing with four particular themes: cyberspace; the teenage obsession with self image; reality TV and the other big storyline is Traolach, Aifric's little brother, falls in love for the first time. The Aifric character is seventeen going on eighteen in this series so she is becoming an adult and at that threshold stage in her life.
Will the format be the same for this series?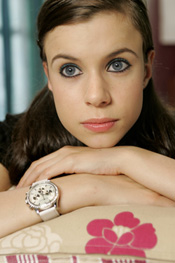 Cliona Ní Chiosáin as Aifric
No, this time there will be four half hour episodes. Series one and two were much longer, there have been 21 episodes done so far. This series is shorter for two reasons – firstly, because the funding isn't the same as it was before and, secondly, this time the story is developed differently. The other series would have storylines running throughout the whole series whereas this time every episode deals with a particular topic.
How do you find working with the younger actors on the show?
It's rejuvenating. The teenagers keep you young, though they can make you very old - every parent will tell you that! They're great, a great bunch to work with and it's a good ensemble spirit as well, which is always very important. Obviously the show is focusing on one character, but the whole class are valued as much as one person. And as long as we keep the working relationship like that, the way things get done creatively will continue as they have always done.
So this is the last series of 'Aifric'?
Well basically this is the last series but this isn't the end of 'Aifric'. It will hopefully come into being as a film project, but from now on that's it as the TV series. If we follow our plan of action the film should go into production next year. It's very early days but the process has already begun. It's a growing process, an organic process and it is one that has been responding to how the kids have grown as well. The same creative team and cast will be involved. The cast are young adults now and the subject matter has had to change and the way we do things has to grow along with them rather than forcing them to be something they're not. It has received development funding from MEDIA and the Irish Film Board.
What have you been working on since directing the last series of 'Aifric'?
The other side is my theatrical work, my company is the Passion Machine Theatre Company and I'm under commission to the National Theatre as well so there is work that I have to do but the thing is that 'Aifric' just takes up so much time really.
Do you have a very different directing style for TV then you have for theatre?
Yes, definitely, it's completely different. I don't know how you would describe my directing process. I don't use storyboards for directing, I find storyboards are good for some people but they just don't work for me at all.
You formerly worked as an Irish teacher. Why did you decide to make the move from teaching to directing?
When I was a teacher I was directing plays anyway, so it wasn't a case of saying "I'm leaving that to become this". When I was teaching it was almost like one fed on the other, one received stimulus from the other and I was producing and putting on plays while I was teaching. Then there came a time where one was going to suffer if I kept doing both, so I decided to do one well and give it the time and that's the way it worked.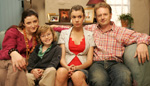 Aifric Series 1
Why do you think that 'Aifric' was such a hit with viewers?
I think that it works as a teenage drama because it can just be itself and have its own integrity. It doesn't have to make any excuses for the fact that it's in the Irish language because it doesn't matter what language it's in. The programme is teenage orientated, it is coming from them, and though the crew are a lot older, the story is coming from the kids and there's a sense that it's about them and their world - their point of view, rather than forcing something on them. There isn't a sense that it's ticking boxes because it has to be teenage drama. The series is really a reflection of their generation and where they're at, which is why these four subjects will hopefully strike a chord or touch a nerve with the viewers.
'Aifric' is funded by the BCI, Bord Scannán na hEireann, Section 481 and TG4.

For more info on 'Aifric' go to www.aifric.tv