Talented Kids Performing Arts School & MVW Talent Agency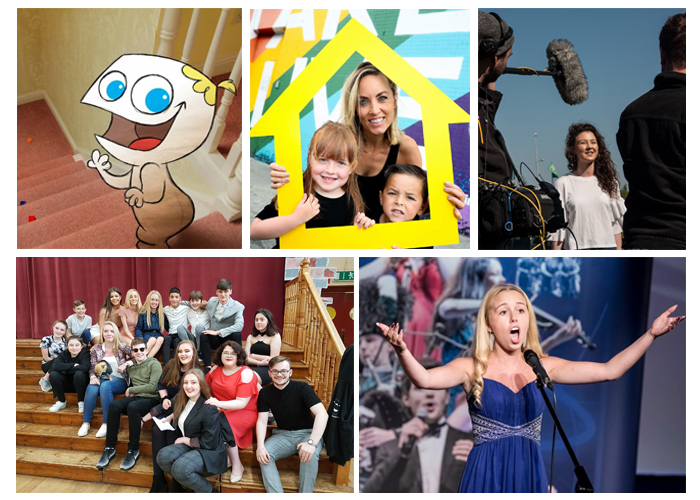 Talented Kids Performing Arts School and MVW Talent Agency, Ireland will recommence classes from:
Friday 15th September 2017 in Scoil Mhuire School Hall, Convent Road, Clondalkin, and;
Saturday 16th September 2017 in Kilcullen Community Centre.
Classes are varied and include:
Singing
Dance
Drama
Modelling
Musical Theatre
All classes are open to boys and girls from aged 3 years up to ADULT
Our Classes are taught by experienced and qualified professionals. Students of all ages will enjoy our classes which are taught in a friendly and encouraging atmosphere, where they will meet new friends, be encouraged to participate and perform in shows, events, tours and competitions, but most importantly they will develop a strong confidence which is needed to get ahead, not only in the world of Showbiz but is also an essential tool for life.
For more information, please contact Artistic Director and Agent, Maureen V Ward on 087-248 0348 or email talentedkids @ hotmail.com or mvwtalent @ gmail.com
See websites for enrolment forms and term details: www.talentedkidsireland.com and www.maureenvwardtalentagencyireland.com
MVW Talent Agency:
Students of all ages (babies - adults) can also avail of being represented by our extremely successful top agency. Credits include students and clients of all Ages in leading roles in:
Feature Films including:
The Man Who Invented Christmas (starring Christopher Plummer & Dan Stevens)
The Professor & The Madman (starring Mel Gibson & Sean Penn)
I Kill Giants (starring Zoe Saldana)
Dublin Old School
Don't Leave Home
Metal Heart
Michael Inside
Seize
Muse
A Date For Mad Mary
Mammal
I.T. (starring Pierce Brosnan & Anna Friel)
Sing Street
The Lobster
Dare To Be Wild
Short Films including many Award-Winning Shorts:
Writing Home
Tomato Can
God's Own Children
A Nation Holds Its Breath
Heartbreak
Lily
Gridlock
Deep Shock
TV Soaps & Series including:
Fair City
Red Rock
Little Women (BBC production starring Angela Lansbury)
Paula (BBC Production)
Red Water (Eastenders Spin-off )
Rebellion 2
Little Roy (CBBC)
Abrakidabra (RTÉ Juniors)
It's All About Me (RTÉ Juniors)
Current TV, Radio & Web Commercials including:
Apple Inc. Beats By Dre With Conor Mcgregor
Lidl
McDonalds
Ballygowan
Liberty Insurance
Kerrygold (USA & Canada)
Avonmore
Smyths
Calor
Direct Line
Ford
Plusnet
Tesco
Conot Éireann
Lyons Tea
St Vincent De Paul
Energia
Elvery's
Dunnes
Grants Boilers
Chill Insurance
Miwadi
ESB
Glenisk
Animations Including:
Captain Morten And The Spider Queen
Luis And His Friends From Outer Space
The Burrows
Purple Turtle
Brewster The Rooster
390
New Nickelodeon Cartoon Soon To Be Revealed
Photoshoots & Campaigns including:
Dublin City Library
KBC
Simon Community Campaign
Kildare Village
Plan International
Musical Theatre Productions including:
Miss Saigon (Bord Gais)
Once The Musical (Olympia)
Oliver (Bord Gais)
Big (Bord Gais)
Chitty Chitty Bang Bang (Bord Gais)
Annie
Sound Of Music
Christmas Carol
Wizard Of Oz
Beauty & The Beast
Bugsy Malone (NCH)
Gaiety Panto
Olympia Panto
Helix Panto & More
Variety Shows:
Gaiety Theatre
Olympia Theatre
The Helix
Bord Gais
Belfast Opera House
Cork Opera House
Her Majestys Theatre London
Fashion Shows:
Arnotts Fashion Show
Bloom
LOL Fashion Show
Various Catwalk Shows Around Ireland In Hotels & Shopping Centres
World Championship Overall Titles & Competitions:
Many of our students and clients have Won Overall World Champion Titles in Acting & Singing
2009: Darragh Kelleher for ACTING
2010: Susan Mary Ward & Philip Emmet for SINGING
2014: Jeannette Murphy for ACTING
2015: Susie Power for ACTING
Our students won 100s of medals each year they attended including Industry awards, Overall Awards and Multiple Scholarships.
Scholarships:
Our students are multiple winners and recipients of scholarships for full time and part time training including:
Millenium Dance Complex USA
New York Conservatory of Drama
New York Film Academy
Niamh Quirke better known as Fair City's "Rachel" has just left Ireland to go and study in New York Conservatory Of Drama on a Full Scholarship for her 2nd Year
IFTA Nominees:

Two actresses nominated for Best Actress for Film and TV Drama at the Irish Oscars

Oscar & Golden Globe Award-Winning Films

We have had clients in leading roles in Philomena & Albert Nobbs

Music Videos:

Featured clients in The Script, The Coronas, Sinead O Connor, Paddy Casey, Hozier & more.

Junior Eurovision:

Ella Pepper has successfully made it to the "Song for Ireland" Finals with her own song she co wrote with our teacher Susan Ward in Gaelic. This will be televised in Autumn 2017. We would like to wish her all the best!!!

The Soloist 2017-2018:

Katie Weir has just been announced as the overall winner of The Soloist national competition winning a generous bursary and will perform in prestigious venues in Ireland and abroad with the CBOI for 2017-2018.